Modern Design with a Western Twist
As a designer, it's always a process to really understand what the client wants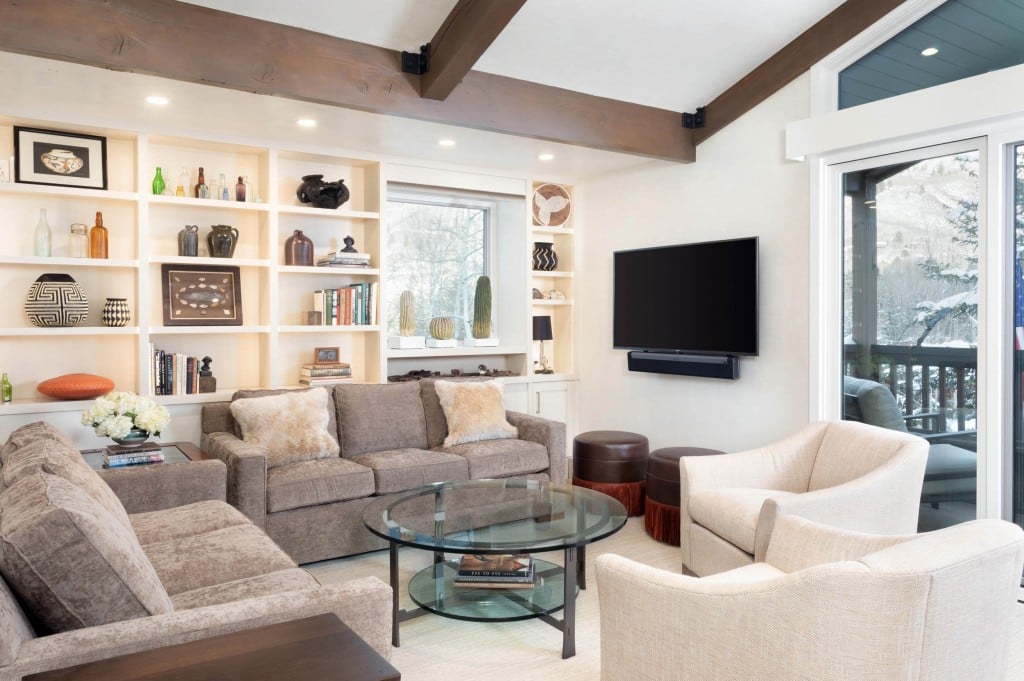 Is it possible to combine Western and Modern design? That was the question I asked myself when a recent client sent me images for a renovation ranging from colorful cowboy art to unique mid-century modern light fixtures.
She had recently purchased this downtown Aspen condo from her father's estate. Both she and her children grew up spending summers there, staying in this condo that was on the borderline of overflowing with Western and Native American artifacts and art pieces.
She wanted something more modern, light, and welcoming. At the same time, she wanted to pay homage to her father and his image, who happened to be an icon himself.
The plaster walls and fireplace give a western feel and work as a simple backdrop for the framed Native American rug. I found that modern furnishings really helped complement the look. We also added long leather fringe to the rolling ottomans for a more western look.
Lighted built-ins in the living room provide an attractive display for old glass, artifacts, and relics found by her father in and around the Aspen area.
The cerused oak cabinetry and hammered bronze hood add a rustic feel to this otherwise modern kitchen.
The master bedroom features quilted art made from antique silk cigar ribbons that were used to wrap bundles of cigars in the late 1800's.
Off-white convex hex tile adds character to the modern look of the guest bath. The barn lights and cerused oak cabinets add a western touch.
I designed these custom beds to imitate a live edge and incorporate much needed storage. The wool bedding is both fitting and practical.
Anne Grice is the Principal and Owner of Anne Grice Interiors, an interior architecture and design firm based in Aspen, Colorado. View their profile or contact Anne at 970-429-4148.
Content for this article provided by Anne Grice Interiors.