An Urban Retreat in the Middle of the Rocky Mountains
The mountain eclectic design features rich textures layered over a clean, crisp palette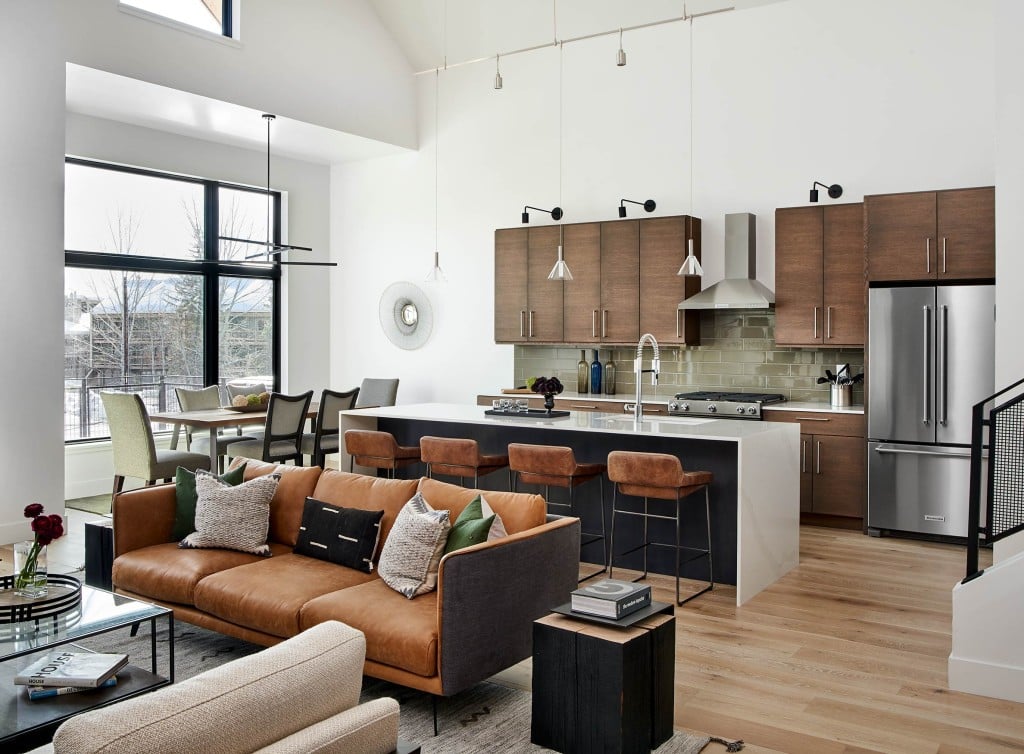 In 2021, Steamboat Springs opened a new development near the base of Steamboat Ski Resort that offers an urban oasis in the middle of the mountains. The architectural design team on the project combined touches of modern and industrial, creating an eclectic, relaxed mountain neighborhood that would appeal to a variety of tastes.
The interior design team was tasked with designing a generous triplex unit that we defined as "Mountain Eclectic," with the overarching goal of creating a modern mountain retreat that layered rich textures over a clean, crisp finish palette. The team designed a look unique to Steamboat that didn't feel overly "traditional mountain" with a heavy, dark palette or too standard "mountain modern" with the typical grays palette, layering in warm elements like caramel leathers and pairing them with fun rich colors like greens and oranges to create a getaway that felt fresh and fun.
To achieve this look, the team used a combination of wools, leathers and linen furnishings accented by pops of color in the unique handmade pillows by Bryar Wolf. The two-tone leather and fabric sofa grounds the room and is flanked by two custom-made shou sugi ban and steel side tables. By mixing economical staple pieces with specialty handmade accents, we created a curated, luxurious look at a budget-friendly price point.
Feature fixed finishes such as the black powder-coated mesh railing and cast concrete fireplace cladding give the room a slightly industrial feel, while the muddy green glass backsplash adds a touch of shine. Rift oak cabinets and quartz countertops round off the look with a modern edge.
Upstairs, we continued the theme of layering textures to create a modern, yet eclectic palette. The primary bedroom features a stunning photograph by local artist Brooke Welch complemented by nature-inspired lamps and a luxury-woven throw. Mixing in a few designer pieces into the space gives it a luxurious, expensive feel without going over the top.
The guest bedroom gets its pop of color from rust-colored suede pillows that create a beautiful backdrop for the textural bedding, and a featured photograph, also by Welch, ties the room to its Steamboat Springs roots.
By layering pops of color, textures and well-placed fine art, we delivered a product that feels fresh, unique and tied to its place.
Sarah Tiedeken O'Brien is a partner at Vertical Arts Architecture, a Colorado-based architecture firm specializing in creating some of the nation's most unique residential and commercial spaces. View their profile or contact Sarah at 970.871.0056.
Content for this article provided by Stel House + Home, Vertical Arts' storefront shop offering eclectic, unique home décor products and services.