An Elegantly Rustic Cabin in Steamboat Springs
This sophisticated timber frame home in Colorado creates the illusion it was built a century ago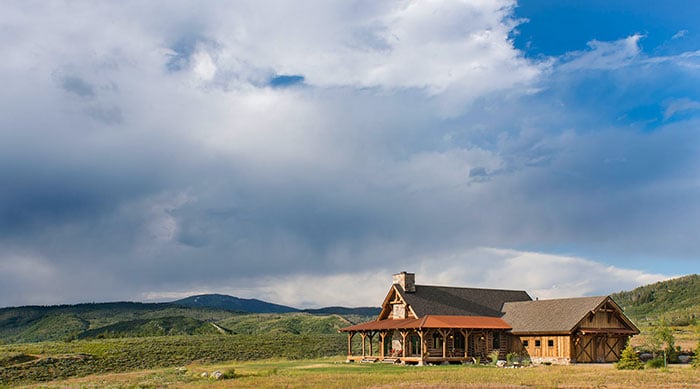 Set amongst the historic beauty of Steamboat Springs, Colorado, this 2,415-square-foot timber frame cabin perfectly echoes the local heritage—with a modern approach.
The homeowners wanted a cozy retreat that would seamlessly fit into the style of homes found in the charming Colorado ski town. The result is this bold, rustic-style home—which creates the illusion it was built a century ago and yet is supported by a modern-day building solution that includes highly energy-efficient structural insulated panels (SIPS) for the walls and roof.
The rustic cabin includes a traditional wrap-around porch; large, hand-adzed timbers; chinked wood siding; hundreds of unique finishes; and beautiful 360-degree views.
Each piece of the home's local beetle kill siding was handcrafted. The darker logs with chinking were chosen to replicate a traditional log cabin look, just as the metal on the exterior echoes old mining shacks found in the area.
Decks and porches on all sides of the home keep the sun at bay and offer cover from the snow, while still inviting the stand-out vantage points into every nook and cranny of the home's interiors. Large outdoor living spaces (under partial cover) lie on the property's east elevation, taking advantage of the sunrise and providing shade in the cool evenings.
The home's interiors are decorated with traditionally rustic materials, fixtures, and furnishings. This cozy style, completed by the great room's large masonry fireplace, invites you to get comfortable and stay a while.
Celeste Raygosa is the Design Manager of M.T.N. Design, the award-winning, in-house design firm for PrecisionCraft Log & Timber Homes, a company that has been creating distinctive mountain style homes for over 25 years. View their profile or contact Celeste at 800.729.1320.
Content for this article provided by PrecisionCraft Log & Timber Homes.