2 Spectacular Kitchen Makeovers in the Vail Valley
Opening up walls to create fresh new spaces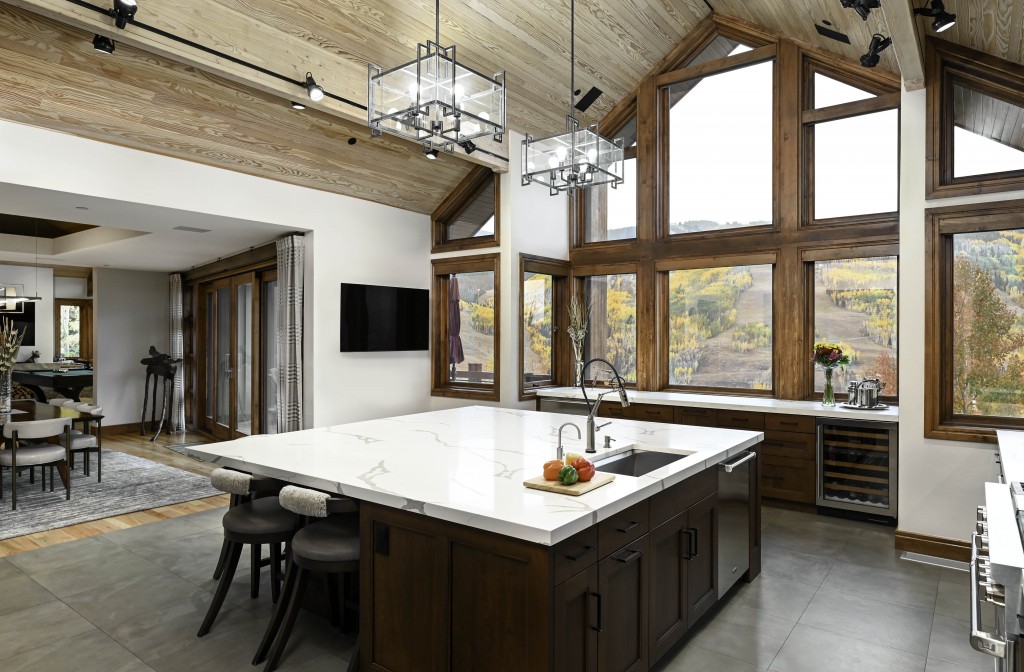 Recently, we renovated two incredible homes in the Vail Valley–one in Spraddle Creek Vail and the other along the Eagle River in Eagle. Both sets of homeowners had purchased homes that felt cut up and outdated.
The homeowners had the same goal of modernizing their new purchases by opening up walls in order to create more livable space and improve flow.
In both cases, we were able to turn dated mountain dwellings into fresh, timeless spaces for the families to enjoy for generations to come.
Eagle River
BEFORE
This home had been on the market for a while but it was in the right location and had good bones. The rooms on the main floor were dated and cramped. Although the kitchen was connected to the family room, it was separated from the dining room and living room by a huge wall. The savvy buyers had a beautiful vision of what it could become.
AFTER
The kitchen wall was removed to exponentially open up the space. This not only improved flow between the kitchen, dining room and great room, it allowed access to the beautiful views of the Eagle River.
The cabinets, countertops and appliances and lights were all updated and new hardwood floors were carried throughout all of the rooms to create flow and a more cohesive look.
As seen on the right side of the bottom photo, a bar area was also opened up by removing the top part of the wall. A structural post needed to stay in place but the views expanded greatly.
Spraddle Creek
Before
The original kitchen in this home had a classic Alpine look, with chunky, orange-toned wood casing around windows, weathered green cabinetry, and dark slate tile on the floor. The kitchen was tucked away, separate from the dining and living spaces.
On the left side of the photo, you'll notice a pass-through window that connects to the rooms on the other side. The homeowners love being in the kitchen and wanted a more efficient space that felt connected to the rest of the home.
After
We took down the pass-through wall entirely, opening the kitchen to the dining space and family room beyond. The casing and window frames were gel-stained with a neutral stain to take away the orange hue. Cabinets, countertops and appliances were updated and new large scale tile flooring was installed. A large island housing the sink and dishwasher, with flexible seating was centered in the space.
Photos courtesy of Katie Harmon at HawkDigital.
Ingrid and Sean McGinley are the owners of Meadow Mountain Homes, a boutique custom builder located in the Vail Valley of Colorado specializing in luxury homes. View their profile or contact them at 970-926-2824 for more information.
Content for this article was provided by Meadow Mountain Homes.