The Next Generation of Bathtubs
Today's leading-edge luxury bathtub designs are crafted with a calming connection to Mother Nature in mind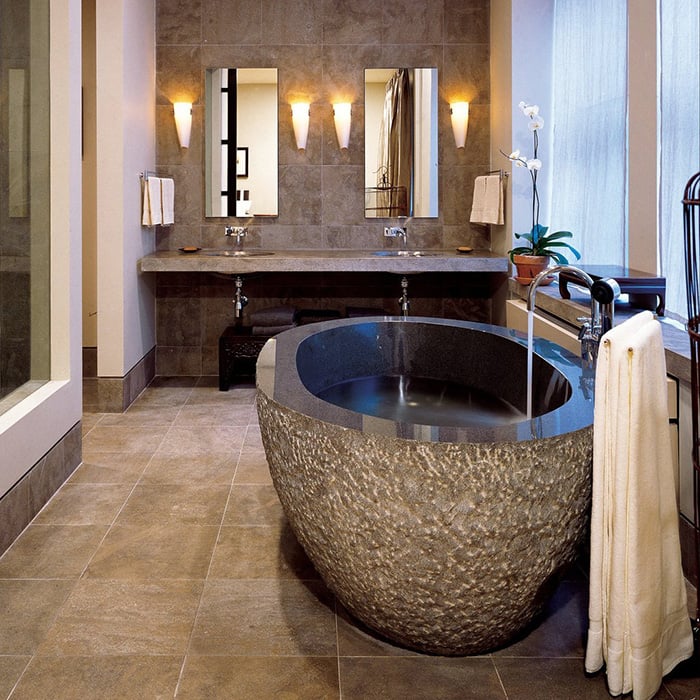 Imagine dipping into a natural hot-spring pool in the forest, after a tough-yet-rewarding hike. Smooth rock, warm water, steam rising—it's one of the most luxurious scenes of mountain life.
A high-end home in the Rocky Mountain West aims to bring this scene indoors to the most private and relaxing room of the home: the master bath. With large spaces dedicated to freestanding baths and uninterrupted views of the surrounding landscape, well-designed master bathrooms in the mountains put their tubs on full display as the pinnacle of indulgence.
Today's leading-edge luxury bathtub designs are carved out of the Earth's natural elements, with a delicate balance of over-the-top lavishness and Mother Nature's grit. Whether they're crafted of sandstone, marble, granite—or scientifically designed with zero gravity in mind—these sleek tubs are pushing the envelop in the luxury department and are perfect contenders for your master-bath statement piece.
This gorgeous tub—dubbed "The Papillon"—was carved from a single piece of granite. Its name, which translates to "butterfly" in French, refers to its wing-like shape. The swirling pattern of the rock is beautiful in soothing grays and whites.
This circular tub is both a modern design and a storybook of the past. Crafted from a single piece of sandstone, its layers display a record of geological time.
A reminder of smooth river rock, this marble tub in "Honed Marquina Taupe" is an award-winning design that soothes the soul.
Say hello to a modern incarnation of a millennia-old tradition: the Japanese soaking tub. This design is crafted of black granite, with a futuristic vibe.
Tall in shape with a seat inside, soaking tubs are the perfect oasis after a long day on the slopes. Carrara marble has both cooling and insulating properties, which means this marble design will retain heat while you watch the snowfall through the window.
Talk about natural—this gray granite tub easily looks like it could have been plucked straight from the outdoors.
Not your average tub, this Carrara marble design is geometric. Perfection from all angles.
This chic, round tub is crafted of travertine, a light-colored rock deposited from mineral springs—bringing the hot-spring experience indoors.
This tub isn't crafted from Earth's elements. In fact, it's designed with outer space in mind. Engineers developed this floating tub after studying the calming effects of zero gravity on the brain. This design alternates how air is dispersed into the water and recreates the zero-gravity experience.
Shimmery and luxurious, this metallic granite tub mimics the way light reflects off of the water.
Margaret Van Dagens is on the marketing and communications team for Jefferson Bath & Kitchen, an online curation of environmentally friendly kitchen and bath products. Contact them at 609-924-0762.
Content for this article provided by Jefferson Bath & Kitchen.