Oprah Winfrey's New Home in Telluride, Colorado
Of course, it's outrageously cool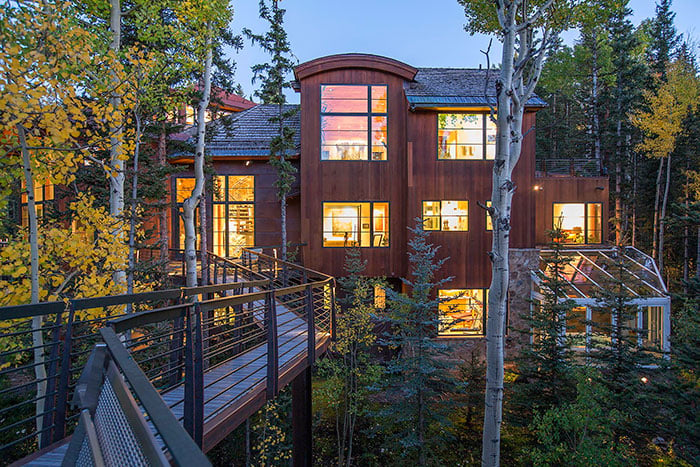 So you've purchased 60 acres (the largest lot!) in Telluride, Colorado's highly coveted Mountain Village—congratulations! Now where do you stay while your gorgeous mountain retreat is being constructed?

Photo: Copyright Joe Seer
Well, if you're the Oprah Winfrey, you go ahead and purchase another Telluride home—completely furnished—as  your "temporary" slopeside stay.
Yes, we're not even talking about Oprah's permanent-residence-to-be here. In addition to real estate in California, Chicago, Hawaii, and Tennesse—and, may we quickly remind you, 60 acres of land in Telluride, Colorado she spent nearly $11 million on—the famous talk show host and CEO of the Oprah Winfrey Network is now the proud OWNer of another Telluride property: a $14 million high-tech home formerly owned by businessman Bob Wall, who spent five years having it thoughtfully designed and built.
The property's 8,706-square-foot floorplan includes 5 plush bedrooms, 6.5 spa-like baths, and a chef's kitchen, as well as these lavish extras sure to fit Oprah's lifestyle:
a fully equipped fitness room (perhaps for her Weight Watchers resurgence)
a game room with a wet bar and a pool table
a 7-person indoor hot tub with retractable windows
a custom "etched and fiber-optic lighted glass bridge" which arches over the living room, connecting the master suite with the rest of the home
a theater
a guest house
a 3-car garage
The home's former owner Bob Wall operated as chief executive for companies like Theatrix Interactive Inc. and Clarity Wireless—and this mountain retreat, built in 2001, reflects the same focus on all things technological.
For example, in the cold winter months, radiant heat systems keep the driveways ice- and snow-free. How convenient that must be for Oprah's driver! It's rumored that even indoor plants can be watered via iPad remote access, and one of those spa-like baths boasts a $70,000 limestone tub programmed to regular the temperature of the water. Such luxury!
We're not surprised that Oprah's new Telluride stay is fully equipped with high-tech extravagance. But since the retreat seems to not have even been on the market at the time she bought it, we're thinking something in particular caught Oprah's eye, other than its 3.25 acres and its proximity to Tom Cruise's Telluride home.
Perhaps one of the following ridiculously awesome features sealed the deal for the spiritually inclined and global-minded multi-billionaire.
A TREETOP FIRE PIT
First, the home has 6 view-maximizing decks—one  of which is literally among the treetops!
A 35-foot-high stainless-steel platform observation deck, complete with a private fire pit and views of the San Sophia Range, is reached by a walkway that Bob Wall had created to sway with the trees. (The deck alone cost around $140,000 to build.) We suspect this secluded branchy spot hit Oprah in the heart strings, as she's been known to rave about the oak trees on her California property.
"There's a group of 12 oak trees … that I call 'my disciples,'" she's been quoted saying. "Their branches form a canopy over the ground, and I sit underneath them for inspiration."
And from a Super Soul Sunday snippet, entitled, "Breathing Space: Experience Nature's Beauty," Winfrey adds, "Nowhere do I feel more connected and at peace than right here under the oaks in my backyard."
We imagine a swaying treetop meditation at dusk is right up Oprah's alley.
FULL OF AFRICAN ART
Carefully displayed throughout the home are various pieces of African art, as Bob Wall is a well-known art collector. With her passion for African lineage—further indicated by the Oprah Winfrey Leadership Academy for Girls in South Africa and her stint on the PBS four-part series "African American Lives"—we suspect Winfrey appreciates the home's African décor.
A WINE-LOVER'S FANTASY
What better way to kick back, relax, and chat with your best friend Gayle than with an over-the-top wine cellar? And Oprah's new residence comes equipped with something a little bigger than what you'd call a cellar. The home has a—wait for it—56-foot-long wine tunnel, which holds 1,600 bottles of vino.
The wine cellar was designed to simulate the feeling of exploring an old historical mining tunnel, complete with water mists, sound effects, upcycled wood from an old Utah railroad trestle, and faux stone walls.
There is even a private steel funicular, crafted to mimic an old mining car. This totally gratuitous amenity carries 4 ski-clad people from the house to the Sundance Ski Run in one minute flat—and cost $240,000 to create. That might just be the most expensive one-minute ride to the slopes we've ever heard of!
SEE ALSO:
Tom Cruise's $59 Million Telluride Home
A Contemporary Paradise in Telluride
Traditional Italian Alpine Design in Telluride