A Montana Farmhouse Made of Glass
Along the banks of the Bitterroot River, The Farm at McCauley Butte maximizes its mountainous views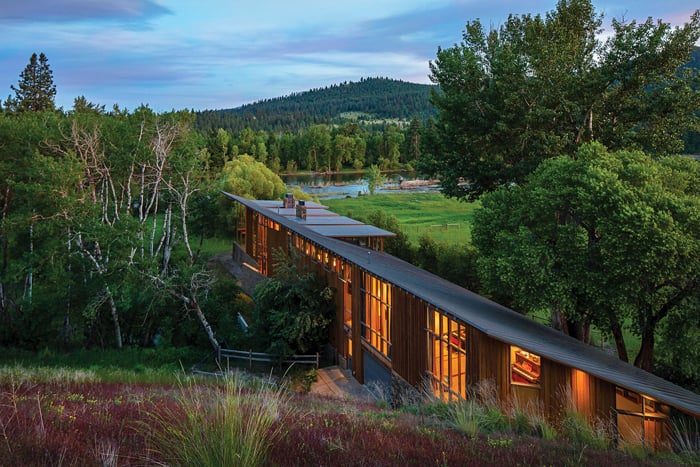 Just outside Missoula, Montana, along the lower banks of the Bitterroot River, sits The Farm at McCauley Butte, a beautiful and unique glass home that maximizes its mountainous views.
The Farm, which was designed by Cutler Anderson Architects, takes in the beauty of the Montana foothills with expansive architectural glass walls. The property—which runs along a north-south axis and is situated to face westward—flows as gracefully as the river with its modern design.
The 6,800-square-foot, four-bedroom, four-and-a-half-bath home pays homage to its surroundings with organic interiors. The nature-inspired design is adorned with native Montana fieldstone, columns of Douglas fir, old-growth maple flooring, and sheetrock panels that appear to float above the ceiling. Outdoor space is also maximized; the covered entry portico and generous screened patio provide a scenic spot for al fresco dining.
Take a tour through The Farm at McCauley Butte below.
DESIGN DETAILS
ARCHITECTURE Cutler Anderson Architects INTERIOR DESIGN Pamela Guth, Trappings Studio