A Forever Home in Edwards, Colorado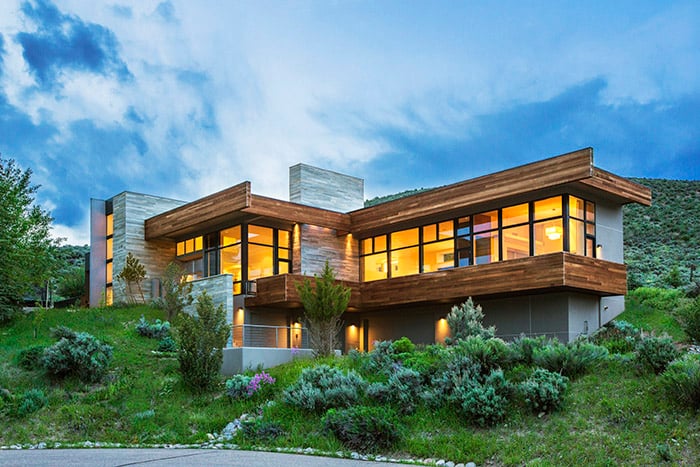 Nestled in Edwards, Colorado, this sleek, contemporary home offers some truly gorgeous panoramic mountain views—the kind you could enjoy every day for the rest of your life and it would never grow old.
And that's exactly what the homeowners—Manhattan transplants—were looking to create. After frequently visiting the area to escape the city life of their tiny New York apartment, they decided to take the plunge, become full-time Colorado residents, and overhaul this property overlooking the Lake Creek Valley.
The original home was a 2,200-square-foot southwestern design built in 1994. After taking the property down to the stud, the renovation added another 2,600 square feet—more then doubling the home's layout.
The redesign also updated the home's contemporary flare. The four-bedroom home's lower-level exterior is covered in gray stucco, while sections of burnt cedar, glass, and a gray quartzite blend seemingly float above it.
The final product is a thoughtfully crafted forever home where the homeowners can raise their two teenage daughters—and where they can retire (and play!) once the girls have flown the coop.
With the environment and sustainability in mind, the main porch design boasts thoughtfully calculated solar shades to block the sun at just the right angles—all while offering breath-taking vantage points of New York Mountain and Finnegan Peak.
The outdoor living area is also a cozy spot to adore the views, complete with a metal-screened shower, plush seating, a spa, and an outdoor bar and grill. The tall element pictured on the left is the master suite, and giant sliding glass doors are pocketed into the wall, leading to the home's main living area.
A modern fireplace adorns the zinc paneling of the great room, which is furnished by an eclectic set of modern pieces from the family's former vacation home in upstate New York. The home's L-shaped layout, accentuated by gray-washed oak flooring, creates a bright and open space between the living, kitchen, and dining areas. Pictured above, a hallway leads back to the master bedroom.
A custom-made bed was designed for the master suite, complete with a pop-up TV. Frosted-glass panels frame spacious his-and-hers closets.
High ceilings and a blend of marble create luxury in the master bath.
Kyle Webb is the principal at KH Webb Architects PC, a Vail, Colorado-based design and architecture firm. View their profile or reach Kyle at 970-477-2990.
Content for this article provided by KH Webb Architects.