A Family Getaway Built into the Hillside
Nestled on a secluded site in Bridger Canyon, Montana, this home is the perfect spot for rest, relaxation, and spectacular views.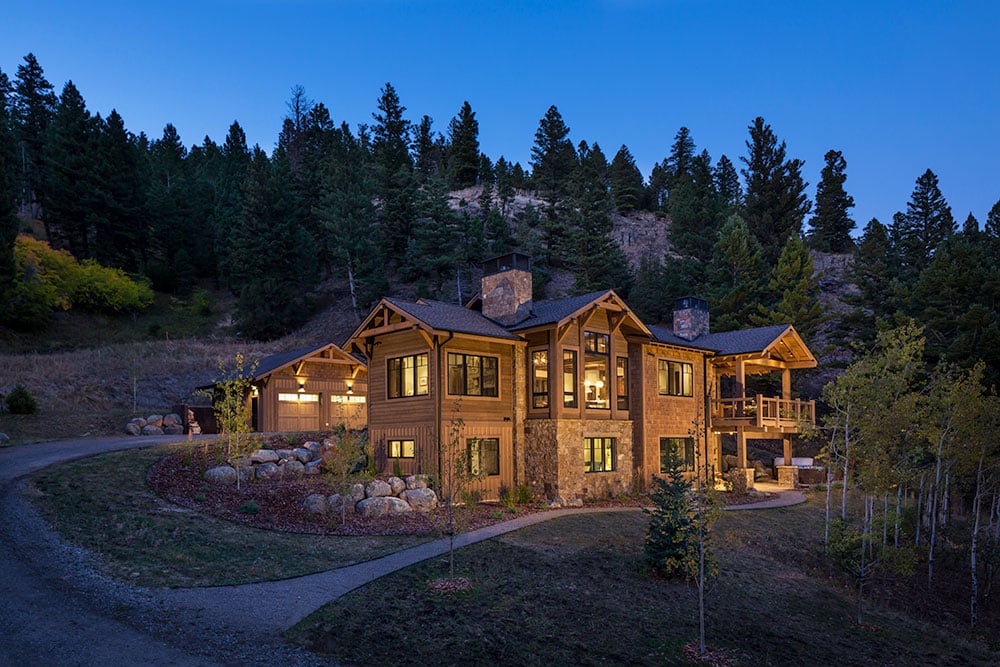 Photos by Karl Neumann Photography
The secluded 20-acre lot of this hillside retreat in Bridger Canyon, Montana, provided a welcome challenge to position the home high up a small ravine. The elevation offered an overlook of a dense natural aspen grove, good solar exposure, and close proximity to natural rock outcroppings. With an abundance of natural sunlight, broad hillside views, and a strong connection to the site, the result was well worth the effort.
In addition to the stunning views, the home was designed with a few other things in mind: the ability to handle a family of five, provide enough garage space for the needs of remote living, and offer amenities that allow the owners to maximize the full enjoyment of their location (and each other!).
Accentuated by large fir timbers, oak ceilings and floors, a double-sided rustic Montana stone fireplace, and oversize windows that provide ample natural light, the great room truly takes center stage on the main level of this family's abode.
The main gathering space seamlessly connects with the dining area, the show-stopping kitchen, and views of the surrounding evergreens.
A buffet on the dining side of the walk-in pantry allows for holiday serving and all the lovely dishes that come with it. The dining table is ready to serve eight people, while the island can take on four more. A door leads to an elevated outdoor porch—which also has private access to the master bedroom—providing the perfect wildlife-viewing spot.
Rounding out the home's main level is the mudroom with brick textured floors and an attached two-car garage.
The lower level is the hang-out zone, with two bedrooms, two bathrooms, a recreation room, and a bar, with cabinet doors that hide access into a secret wine tasting room.
After a nice sip of wine, a door leads out onto the lower patio, where a wood-burning fireplace and a spa tub built into the hillside await.
DESIGN DETAILS:
ARCHITECTURE Brechbuhler Architects CONSTRUCTION Max Millen, M-Squared Construction CABINETRY (minus the barnwood cabinetry) Arlie Naeher, Davis Cabinetry
Andrew Brechbuhler is the principal architect and founder of Brechbuhler Architects, a Bozeman, Montana-based architecture firm specializing in high-end residential homes. View their website, or contact Andrew at 406.522.0369.
Content provided by Brechbuhler Architects.