The Impact of Bronze Hardware
Handcrafted bronze hardware provides standout style, giving a home a one-of-a-kind character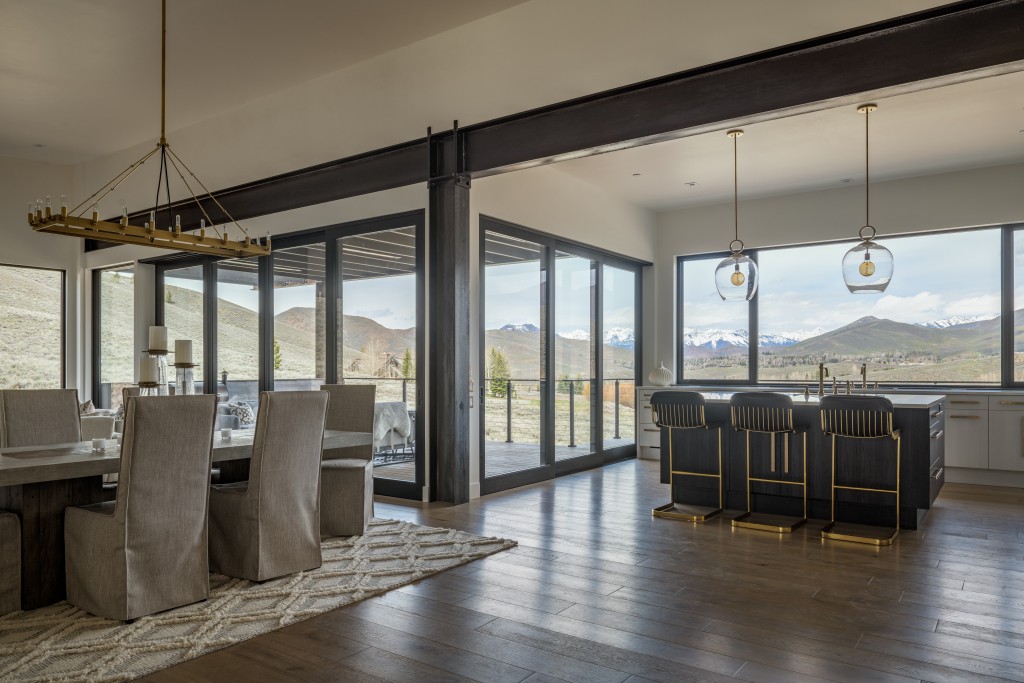 Sometimes the smallest details can make the biggest impact on a home's look and feel. Such was the case with a project which included our hardware in Elkhorn Village, just outside of Sun Valley, Idaho. The gorgeous new-build home features clean, contemporary lines and a flowing open floor plan. Expansive windows throughout perfectly frame sweeping views of the Boulder Mountains. The homeowners love to entertain, but also love to relax and enjoy the peaceful environment surrounded by natural landscaping.
The home has an overall feel of comfortable elegance, and the addition of handcrafted bronze added exponentially to the home's allure. Throughout the home bronze accents—from entry door handles and cabinet pulls to wall sconces and everything in between, including the kitchen faucet— stand out like jewelry. Bronze exudes an innate warmth and richness and gives off a welcoming presence that can be seen and felt in every piece throughout the home.
The entertainer's kitchen is inviting while remaining harmonious with adjoining spaces. Two-toned cabinetry—creamy white on the perimeter and charcoal hued on the island—is adorned with the contemporary silhouette and slim profile of our Edge Collection cabinet pulls in Silicon Bronze Light.
Rocky Mountain Hardware bronze deck mount faucets crown the main sink, prep sink on the island and the sink in the butler's pantry at the far end.
On the far wall of the kitchen, Charlie sconces feature Designer Textures escutcheons with White Bronze Brushed frames and White Bronze Dark inlays.
The massive windows over the kitchen sink provide miles of unobstructed views of the Boulder Mountains beyond.
Once again, our Edge Collection cabinet pulls in Silicon Bronze Light dazzle the cabinets adjacent to the stainless steel range.
Bold wallpaper in the powder bathroom adds a sassy, unexpected touch to the home's sleek contemporary look. Edge Collection bar cabinet pulls in Silicon Bronze Light adorn the dark-toned floating vanity.
The powder room door also features two-toned Designer Textures hardware with a White Bronze brushed frame and White Bronze dark inlay.
Double Charlie sconces with Metro Collection escutcheons in Silicon Bronze Dark Luster flank the artwork in the entryway to the primary suite.
One of our most contemporary collections, the Metro Collection is urbane yet minimalistic in essence and showcases the intrinsic simplicity and strength of handcrafted bronze. The project's grand steel entry features Metro Collection door hardware with a rail lever in White Bronze Brushed.
Christine Kirby is the Marketing Director at Rocky Mountain Hardware. For nearly 30 years, RMH has been creating custom handcrafted bronze hardware and accessories of impeccable quality and enduring beauty. View their profile or contact them at rockymountainhardware.com and 208.788.2013.
Content for this article provided by Rocky Mountain Hardware.