Protecting Your Log Home's Natural Beauty
The benefits of using a high-quality wood stain and finish for your log, timber or custom wood homes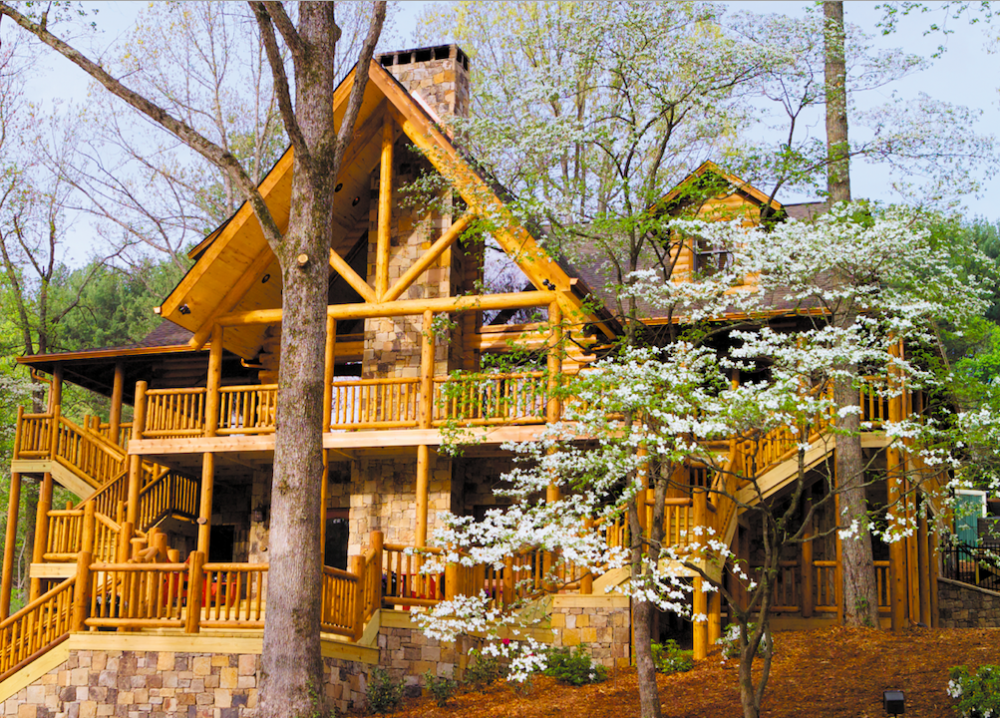 You've invested in the beautiful log home of your dreams. Now, you've got to figure out how to maintain that beauty.
The right stain and finish system define the aesthetic appeal of your log home, enhancing the striking beauty of the wood's grain and natural color. It also serves as a shield for your home's precious building blocks- the logs. Doing your research and choosing the right product for your home will ensure a successful and long-lasting result.
It can be an overwhelming task as there are many products and companies to choose from. But, heads up, they are not all equal.
Here are four important factors to consider when choosing a stain system: appearance, longevity, value and environmental impact.
Appearance: Every homeowner wants their home to look its best
Whether you're aiming for a color palette of warm honey, spicy cinnamon or rich walnut, the right stain enhances the color, clarity and depth of the finish on your log home while allowing the natural beauty of the wood grain to emerge. The finish should complement, not cover up the wood. Investing in a quality tinted stain mean fewer touch-ups over time, allowing you to spend more time enjoying your home instead of maintaining it
Longevity: And they want it to last
A high quality clear coat is necessary for preserving the longevity of your wood home. It will protect from water damage and the fading and bleaching effects of the sun. In addition, the smooth surface of a clear coat repels dirt and dust and makes maintenance a snap.
In terms of water protection, the hallmark of a quality product is the ability to "breathe". In other words, a quality product will both repel rain and also allow trapped moisture in the logs to evaporate. And when it comes to UV protection, the more UV light that's reflected off the surface, the slower the color coat will fade and less the wood fibers will be exposed to photo-oxidation. Not every product on the market offers UV protection, so do your homework.
Environmental impact: Choose an environmentally-friendly option
Homeowners have never been more environmentally conscious. For many of them, it is important to pick a stain that is formulated to meet or exceed emission standards established by the EPA as well as state and local restrictions. A high quality product should be free of formaldehyde, which is a known carcinogen. In addition, low VOC (volatile organic compounds) water-based systems meet stringent environmental requirements in every state.
Value: Invest in a quality product
Choosing the right finish for your log home can be overwhelming. There is a wide range of stains and clear coats at different price points on the market. But here's a fact to keep in mind- a low quality stain (with a lower price tag) will expose your home to element in 2 years or less while a high performance stain (with a higher price tag) typically lasts 5-8 years.
In the long run, it's actually less expensive to apply the very best quality stain system, despite its higher initial cost. Labor costs will also be lower because you won't have to reapply as often. Overall, you'll end up spending less time and money protecting and maintaining your log home over the years.
Tony Huddleston is the Vice President of Sales and Operations at Perma-Chink Systems, the largest manufacturer of log home chinking and sealants. Contact Tony at tony@permachink.com.
Content for this article provided by Perma-Chink Systems, Inc.