Optimizing Vertical Circulation
Stairs are one of the most important considerations in your home's design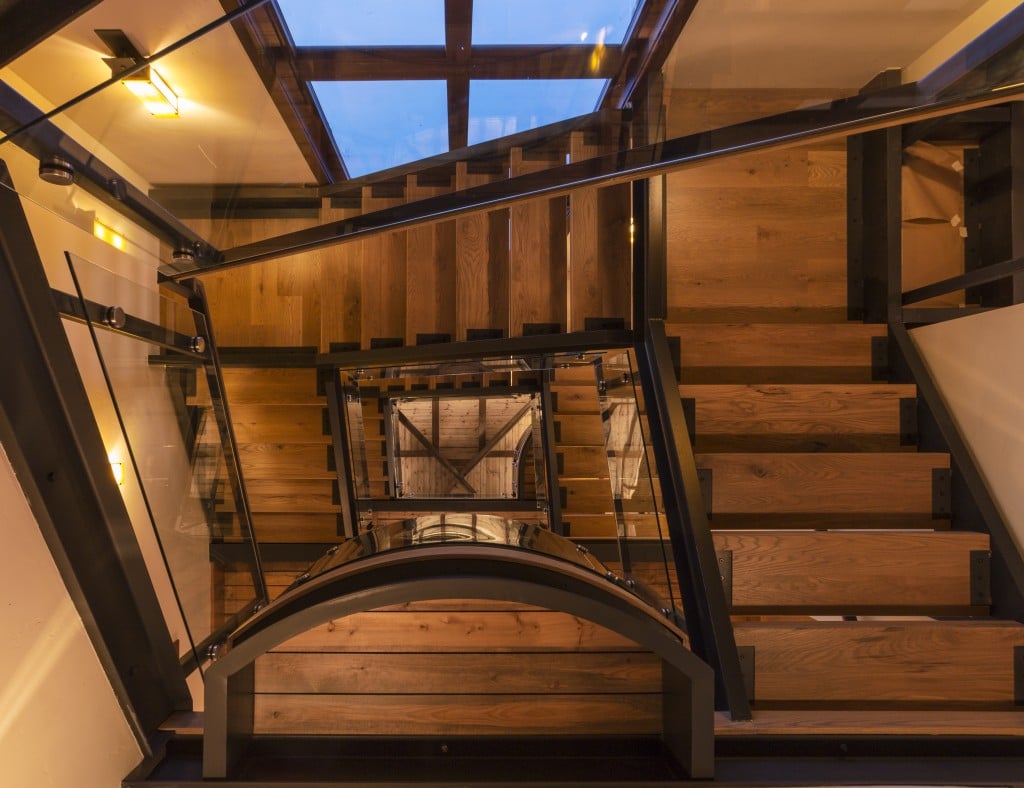 Vertical circulation, as applied in architecture, refers to the relationship between the levels of a home and how people move between the various floors. In residential design this sometimes includes ramps and elevators, but usually vertical circulation refers to staircases. Stairs not only affect how the floors are linked together and how the home flows, they also affect the design aesthetic.
Whether you choose a design that is discreetly tucked away or one that takes center stage as a statement piece in your home, stairs are one of the most important considerations in your home's design.
Vertical circulation is especially important for mountain homeowners, who usually have to contend with sloped building sites and want to have their main living space on the upper levels to take advantage of spectacular views. This often means a ground-level entry with stairs leading up the home's living space. The challenge is how to make the stairs as interesting and inviting as possible.
Strategies
Many factors go into planning a home's stairs, including choosing a central location for the staircase, utilizing wider treads and incorporating landings into the home's overall design.
The most striking designs involve choosing a central open space for stairs to radiate (or wrap) around. Not only does this provide the ideal flow, it makes a dramatic statement. Stairs with wider treads are more comfortable to navigate and ease the flow from level to level. Many newer homes feature open timber treads, which provide an open view across the living space.
One important design rule to consider is the wider the stair tread, the lower the riser height needs to be; otherwise the stairs can feel too steep and people may feel like they may fall down the stairs.
Landings are a great way to incorporate design details into the home's overall layout by adding bookshelves, storage cabinets, artwork or large windows framing a beautiful view to enjoy while passing through.
Aesthetics
The sky's the limit when it comes to making the stairs in your home a unique statement piece. Styles vary from steel frame and timber stairs to framed staircases; details change the look depending on your chosen materials.
Tread treatment can vary widely from striking woods to custom woven runners that complement your decor. Handrails and guardrails can be constructed from wood, steel or glass. Spindles and newel posts can be as elaborate or ornate as you'd like. We often like the simplicity of designing the handrail and guardrail as one continuous piece.
Michael Olsen, AIA is the founder of Michael J.K. Olsen Architects, a Steamboat Springs firm that offers a full range of professional design services, including master planning, residential, multi-family, commercial and more. View their profile or contact Michael at 970.870.1584.
Content for this article provided by Michael J.K. Olsen Architects.