Mountain Views, Far and Near
Capturing the primary views, secondary views and special features unique to each site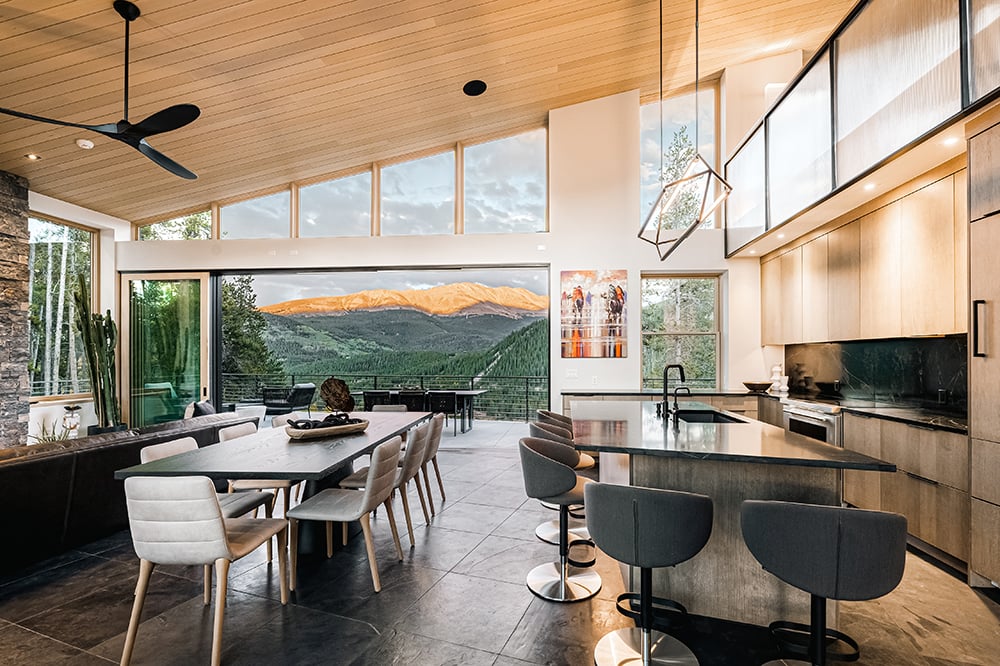 Sponsored Content
A quintessential feature of mountain homes are views that soar far away, over hills and valleys to distant mountain peaks. However, one note does not make a symphony. In addition to capturing the big view, a mountain home should also be sensitively designed to protect and live in harmony with the natural features that make mountain properties so special.
There is no question how breathtaking and awe-inspiring it can be to gaze through an expansive picture window out to a distant snow-capped mountain range. These vast and stunning views feel best when admired from larger living and gathering spaces like great rooms, dining rooms, and decks.
Therefore, pinning down the placement and orientation of main living spaces is often the first focus of architects early in the design process, and for good reason. Meticulous planning, clever design, and ongoing coordination between architects, builders, and surveyors is required to ensure the architecture frames the big view perfectly.
But careful consideration and planning should not stop there- a home on a beautiful mountain property should turn its head and look around to engage with the natural beauty of the site on all sides.
When visiting the site before beginning design work, it is critical for architects to identify not only the primary view, but also secondary views and special features unique to each site. Quaking aspen and pine groves, peaceful meadows, and striking rock outcroppings must be protected and framed by the architecture just as much as the grand 'money shot' view.
Not all rooms and spaces in a mountain home can or should be designed to capture the same long-distance view. Smaller rooms and private areas feel more personal and intimate when they are connected to their immediate surroundings. Whether it be the view from the bathtub, the shade patterns from trees outside that move across the hallway floor, or the vista from your workshop- these small moments and views create an immersive and harmonious living experience that embraces what it means to live surrounded by the beauty of the mountains.
Jayme Ciacio is a Project Manager at TKP Architects, an award-winning architecture firm based in Golden, Colorado. View TKP's profile or contact TKP Architects at 303.278.8840.
Content for this article provided by TKP Architects.