Cliffside in Telluride
A secluded, contemporary mountain home is engulfed in vibrant-colored views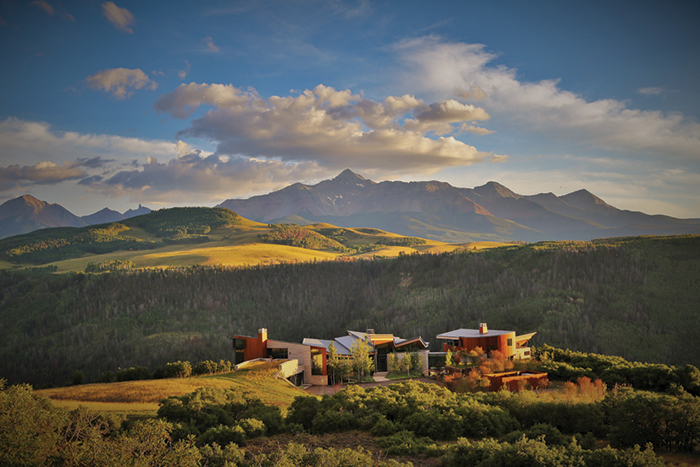 With absolutely zero 90-degree angles used in any part of the architecture and situated on a private peninsula overlooking the Town of Telluride from 500 feet above, this home displays an immense amount of admiration for the Rocky Mountains. In fact, it has been dubbed "Sunset Ridge," perhaps for its secluded vantage point of vibrant-colored dawn-and-dusk skies.
Nearly 12,000 square feet, the home is embellished with contemporary art deco furnishing and is equipped with seven bedrooms and 10 bathrooms. The home was designed to mimic the natural richness of the San Juan Mountains with open and bright spaces with plenty of panoramic views of the peaks.
The open and modernized style that accentuates the natural beauty in Telluride was meticulously designed by Poss Architecture + Planning and Interior Design.
Andy Wisnoski, partner and director of design at Poss Architecture, acknowledged the team's intentions of going against the grain with a nontraditional architecture and design model for this area.

Photo by Josh Johnson
"Homes (are) typically more traditional and rustic – usually darker, heavier materials. All those things were counterintuitive to what we wanted to do. We wanted it to be very open, bright and airy that takes advantage of all the view the beautiful nature of that property," he says.
The 35 acres of land surrounding the home is practically untouched, creating what feels like a personal national park just by stepping outside.
The home also comes fully furnished with upscale luminous pieces generating an inviting atmosphere despite the highly emphasized contemporary touches. The designer appropriately paired the wood-walnut siding with the metals in the roof and limestone in the flooring to create more of a rustic feel that was warming instead of cold. These concepts impeccably married together the combination of cozy and luxe without deflecting away from the extravagance of the property.

Photo by Josh Johnson
The floor plan includes the quintessential requirements of home, but with a twist. The main living space is comprised of a kitchen with a light-up island, dining area with a stunning spherical light centerpiece, and living room stocked with couches next to the glass double-sided fireplace. However, journey below, and the natural light continues to beam in to the family room, bar area and theater.
"No matter where you look, you're capturing glimpses of the surrounding landscape and mountains. It's a very dramatic kind of experience," Wisnoski says.

Photo by Josh Johnson

Photo by Josh Johnson

Photo by Josh Johnson

Photo by Josh Johnson

Photo by Josh Johnson
DESIGN DETAILS
ARCHITECTURE Les Rosentstein, architect and partner, Andy Wisnoski, partner and Director of Design, Mike Hamberg, architect and Senior Project Designer Poss Architecture + Planning and Interior Design INTERIOR DESIGN Melanie Grant, Principal and Director of Interior Design, Poss Architecture + Planning and Interior Design​ BUILDER Paul Ricks, Fortenberry and Ricks, LLC LIGHTING DESIGN (exterior and interior) Robert Singer and Associates KITCHEN DESIGN Bulthaup​ LANDSCAPE DESIGN DHM DesignSaveSaveSaveSaveSaveSave