An Artful and Inviting Telluride Home
A Houston family enjoys Telluride's natural splendor in their reimagined home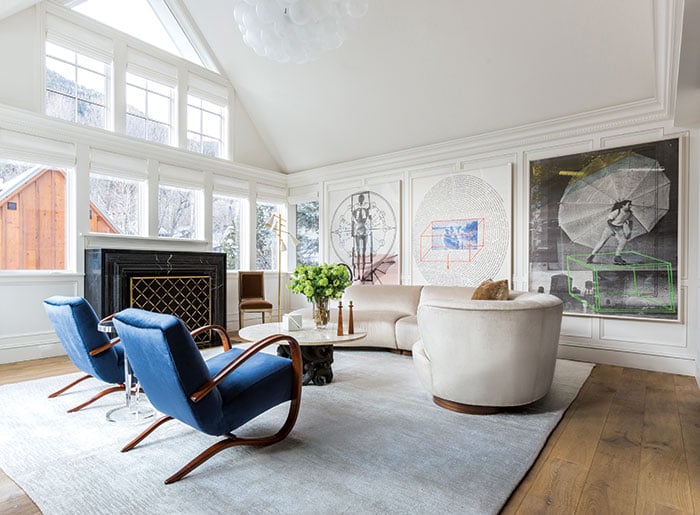 Telluride, Colorado, has long held a special spot in the hearts of Houston couple Ken and Jaime Merideth and their three children, who have spent many summers there, first in a small cottage and more recently, a more spacious house located just steps from the shops and restaurants downtown. "When the kids drop their bags on the floor, they say, 'We're home,'" says Jaime.

A modern white chandelier by David Weeks illuminates the newly created breakfast area, which is furnished with a built-in corner banquette and chairs covered in jewel-toned fabrics around a Florence Knoll table with a Nero marble top.
While the property has many of the attributes they were seeking, including a large yard and magnificent views of Mt. Ajax, the Victorian dwelling's dated finishes didn't suit the family. On the recommendation of a friend, they hired Marie Flanigan, of Marie Flanigan Interiors, to reimagine the space. "They wanted a clean aesthetic that was still warm and inviting," Flanigan explains. "It's a backdrop for their unique furnishings and art collection."

In the cozy media room, a custom sofa in Holly Hunt fabric and a vintage mustard velvet chair from Found balance the walls lacquered in Hague Blue by Farrow & Ball.
Inspired by the posh apartments in London, where Ken often traveled for business earlier in his career, the designer incorporated handsome new wall moldings, which have been painted white to match the walls throughout. In the living room, the woodwork frames a large-scale triptych by Robert Rauschenberg that takes up nearly an entire wall. A curvaceous sofa by Vladimir Kagan and a pair of vintage chairs in blue velvet by Jindrich Halabala juxtapose the linear moldings. "We loved that duality," Flanigan says.

Coordinating perfectly with the artwork by Sol LeWitt, an iron stairway railing juxtaposes the Alabaster paint by Benjamin Moore in the stairway.

A stone slab from Omni Surfaces distinguishes the bespoke powder room and makes a striking backdrop for the custom floating vanity by Jensen Design.
The moldings have been carried throughout the interior, integrating precisely with the new built-in banquette in the breakfast area, for example, where a modern white chandelier is suspended over a midcentury-style table with a Nero marble top. In the galley kitchen, the countertops, backsplash and range hood are covered with white Calacatta Vagli marble accented by simple oak shelves. "We wanted the space to breath," Flanigan explains.

Re-covered in Pierre Frey fabric, the vintage swivel chairs in the master bedroom are one of the husband's favorite spots to sit and watch the mountains. The artwork is an original by Richard Serra.

In the master suite, a brass chandelier from Apparatus plays off of the ruched silk on the custom headboard.
The media room, by contrast, is an enveloping space with dark blue lacquered walls and a matching tufted velvet sofa accented by a mustard-yellow velvet chair. "It's about being comfortable, cozy and wrapped in the room," Flanigan says, pointing to the thick shag rug. One of many brass elements, a vintage waterfall-style console table adds another layer.
The dark wall color is just one of the many bold design moves throughout. In the guest suite bathroom, a dark hexagon tile floor with three different finishes glimmers in the light. And in a secondary bathroom, the light from an oversized pendant reflects off of the dark subway tile and wood ceiling planks.

A brass-framed mirror from Accents in Iron pops against the dark wall tile from Materials Marketing in a first-floor guest bathroom furnished with a custom vanity by Jensen Design with a stone top from Omni Surfaces.
The third-floor master suite is just as bespoke. On the stairway landing, a wall of new built-in cabinetry with brass-and-antiqued-mirrored doors sets the tone for the luxury bathroom, where an inlaid brass channel in the floor separates thick slabs of Thassos and Calacatta marble. Perhaps most dramatically, the room's low ceiling has been blown out, exposing the high peaked roofline. "We wanted to celebrate the architecture," Flanigan says.
As the clients prepared for their red-eye flight from Houston to nearby Montrose, Flanigan and her team were putting the finishing touches on the project. Over the course of three days, they installed everything from the rugs and furnishings to the flowers on the table. "I'm really proud of the detail that went into this home," Flanigan says. "We pushed the limits on what had been done in Telluride, and it shows."

A brass floor inlay separates long strips of Sivec White and Calacatta Matarazzo marble in the master bathroom.
It's an ideal fit for the Merideths, who enjoy the natural splendor that makes Telluride so special. One of their favorite activities is stargazing from their deck, where they can often hear the bands jamming at the many downtown summer music festivals. "The best memories that our kids have are in Telluride," Jaime says. "It's a slice of heaven."

The guest room's furnishings include a custom upholstered bed in Holland & Sherry fabric by Joseph Company.

Custom moldings have been designed to frame the triptych by Robert Rauschenberg entitled "Autobiography" in the living room, where a sofa by Vladimir Kagan and velvet-covered chairs by Jindrich Halabala surround a fireplace clad in Nero marble.
LIVING WITH ART
Making art a part of your life should be anything but intimidating, explain Ken and Jaime Merideth, who have filled both their primary residence in Houston and their stylish summer retreat in Telluride with striking pieces by renowned artists such as Sol LeWitt, Agnes Martin and Robert Rauschenberg. VISIT MUSEUMS "Educate yourself about the best artists in the world, and you'll begin to understand what you like in art," Ken explains, noting that in a museum there is no pressure to buy. And while it might not be possible to invest in original works by the great masters, there are often more accessible options. "Buy an edition of a famous artist, or look for a living artist who was influenced by them," he says. DON'T BUY ART FOR A SPECIFIC WALL OR ROOM When the Merideths make a purchase, they take their time before deciding where to display it. "We live with it for a while," Jaime says. "It's about what it makes you feel when you walk in the room." Most importantly, the couple say, buy art that you love, that means something to you, and that you want to live with. LIGHT IT WELL Marie Flanigan often incorporates art into her designs, and she says that proper lighting is crucial. "You want a soft, even glow on the entire piece with no noticeable hot spots," Flanigan says.
DESIGN DETAILS
INTERIOR DESIGNER Marie Flanigan Interiors CONSTRUCTION James and Sinny Richardson Builders
As seen in the March/April 2019 issue
RESOURCES
KITCHEN PAINT Trim: Benjamin Moore Alabaster in satin finish Wall and Ceiling: Benjamin Moore Alabaster in flat finish COUNTER/BACKSPLASH Calacatta Vagli (2cm thick); 2″ high counter with eased edge runs from counter to ceiling as backsplash from Omni Surfaces CABINETRY Custom cabinetry with cabinets in Vitrea PG 120 Frosty White and suspended shelves in Synthia KH 233h Antique Oak from Leicht PLUMBING from Elegant Additions STOOL Round Wood Stool from M. Naeve BREAKFAST TABLE Florence Knoll table with Black Nero Marble Top from Lynn Goode Vintage BREAKFAST CHAIRS Dering Upholstered Dining Chair in Grey Wash with Purple Linen from FOUND For the Home ROMAN SHADES from Telluride Window Coverings BANQUETTE SEAT FABRIC Perennials Rough 'N Rowdy Fabric from Perennials at David Sutherland CHANDELIER Kopra Burst Large White Gloss Chandelier from David Weeks STAIRWELL PAINT Benjamin Moore Alabaster in flat finish RUNNER Treveet runner in sterling colorway from Stark Carpets LIVING ROOM PAINT Benjamin Moore Alabaster in Satin COFFEE TABLE Monteverdi-Young Travertine Coffee Table from Lynn Goode Vintage (closed) SOFA Vladimir Kagan Sectional Serpentine Sofa from 1st Dibs ANTIQUE CHAIR Upholstered accent chair with wood frame from FOUND for the Home FLOOR LAMP Brass and White Enamel Stilnovo Four Light Floor Lamp with ivory cones from Lynn Goode Vintage (closed) LOUNGE CHAIRS Jindrich Halabala Lounge Chairs from 1st Dibs RUG Velvet Silver Silk Rug from Madison Lily CHANDELIER Cloud XL 37 from Apparatus Studio FIREPLACE MANTLE Nero Marble in Polished and Honed Finis from Materials Marketing BUILT-IN BAR stained Wood in Black from Jensen Design BAR BACKSPLASH & SHELVING New York Marble from Omni Surfaces TV/PLAYROOM PAINT Farrow & Ball Hague Blue in Lacquer Finish SIDE TABLE Gold Lacquered Bamboo Table from Lynn Goode Vintage ACCENT CHAIR Vintage Chair with Channel Back and Yellow Velvet Upholstery from FOUND For the Home SECTIONAL Custom sectional in Holly Hunt fabric from Joseph Company SECTIONAL FABRIC Holly Hunt Great Plains Cloud Nine in Deep Sea colorway OTTOMANS Shia Regency Faux Black Shagreen Gold Leaf Pouf from Kathy Kuo Home AREA RUG Ivory Shag Rug from Madison Lily Rugs ROMAN SHADE FABRIC Holly Hunt Great Plains Cloud Nine in Deep Sea colorway ROMAN SHADE TRIM Samuel & Sons Verdon ÉPINGLÉ Border Trim [color: 41 Linen] by Holly Hunt from Samuel & Sons SMALL DRINK TABLE Cigar Side Table in Gold Leaf from Mecox SURFACE MOUNT Circuit 3 light fixture in two-tone finish from Apparatus Studio POWDER BATHPAINT Benjamin Moore Alabaster in satin finish VANITY Custom floating vanity with stained wood surround from Jensen Design MIRROR Varese Round Mirror from Accents in Iron (closed) PENDANT Swedish Brass Pendant by Torsten Orrling for Hans Agne Jakobsson from Lynn Good Vintage ACCENT WALL Silver Dragon Stone Slab from Omni Surfaces MASTER BEDROOM PAINT Benjamin Moore Alabaster in satin finish BED Custom upholstered ruched velvet headboard with stained walnut platform from Joseph Company HEADBOARD FABRIC Traviata Bronze Silk from Clarence House SWIVEL CHAIRS Vintage Swivel Chairs by Milo Baughman from Lynn Good Vintage SWIVEL CHAIR FABRIC Viggo Charbon Cotton/Silk from Pierre Frey DRINK TABLE Monaco French Art Deco Regency Antique Brass Drink End Table. Brass base with mirrored top from Kathy Kuo Home OTTOMAN Custom Hair on Hide Ottoman from Joseph Company AREA RUG Handwoven Mohair Pile Rug in Deep Blue from Carol Piper Rugs CHANDELIER Large Arrow Chandelier in brass finish from Apparatus Studio WINDOW SCONCE Selfoss Sconce by Aerin, black with hand-rubbed antique brass from Circa Lighting BED SCONCE David Weeks Shell Sconce in Black Satin from David Weeks Studio BEDDING Plush Home MASTER BATHROOM VANITY COUNTER Silvec White Marble (2 cm thick); 6″ High Counter with eased edgefrom Omni Surfaces FLOORING & WALLS Calacatta Matarazzo marble (2cm thick) from Omni Surfaces ACCENT FLOORING Silvec White (2 cm) from Omni Surfaces BRASS DECORATIVE FLOORING STRIPS Brass inlay from Schluter Systems VANITY FRAME Custom Brass Frame from Accents In Iron VANITY DRAWERS Custom Wood Drawers from El Dorado Woodworks STOOL Velvet Stool from AREA CHANDELIER Cristol Tiered Chandelier by Aerin (hand-rubbed antique brass with white stripe) from Circa Lighting SCONCE Tassel 1 Sconce in Brass from Apparatus Studio TUB Oval freestanding tub with unlacquered brass floor mount tub filler from Elegant Additions SHOWER with full glass surround, aromatherapy steam system, and exposed Samuel Heath fittings from Elegant Additions BEDROOM TWO BED Custom upholstered bed in Holland & Sherry fabric (Duet Russet) from Joseph Company NIGHTSTANDS Alene Nightstand in Dark Mushroom faux linen from Made Goods NIGHTSTAND LAMPS Cleo Table Lamp by Kelly Wearstler from Circa Lighting  AREA RUG Custom 100% Wool Handwoven Flat Weave Area Rug in black and natural from Carol Piper Rugs