A Return to Simpler Times in McCall, Idaho
Whitetail Club provides old-fashioned family fun in a picture perfect setting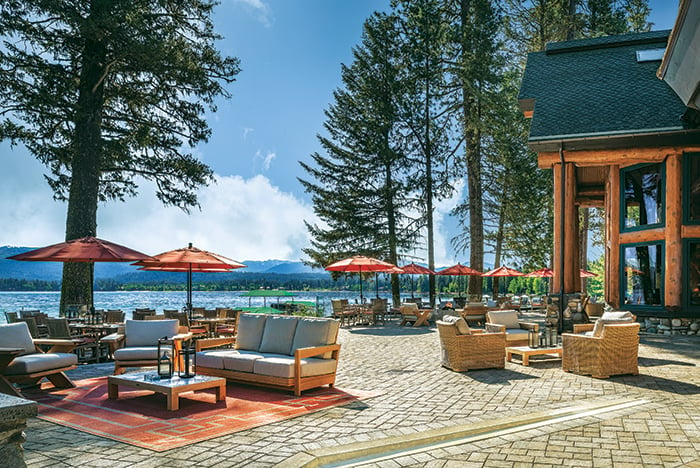 Homeowners Annie and Aaron Dykas first experienced the Whitetail Club about five years ago at a New Year's Eve party. "The indoor tennis facility was completely transformed into a fantastical Narnia with trees adorned with fairy lights," says Annie. She was enchanted. "I remember saying, 'Aaron, we need to buy some property and join this club.'"

The 1,400- to 2,500-square-foot Shore Cottages offer the only opportunity within the Whitetail Club to live just steps from Payette Lake and a private sandy beach.
Whitetail Club, a private 1,300-acre real estate community and club, is located near millions of acres of unspoiled wild lands: national forests with miles of hiking and snowmobile trails, mountain streams and glacial lakes brimming with trout and salmon, the trackless Frank Church River of No Return Wilderness.
Custom home lots and Shore Lodge Cottages on the southern shore of glacial-and-pristine Payette Lake offer the picture-perfect setting for vacation homes or year-round living. Although it feels like a remote hideaway, Whitetail Club is only five minutes from downtown McCall, Idaho, called one of America's "best secret ski towns" by National Geographic.

Move-in ready cabins are offered in three furniture packages—from rustic to contemporary

When the owners are not in residence, many homes in the community can be put into short-term rental pool, which is administered by the Shore Lodge. Some of the current homeowners say they first experience Whitetail Club by renting
A short time after the New Year's Eve party, the Dykas family bought an acre located midway between the golf clubhouse and the Fish & Swim Club. They built a 4,400-square foot, two-story rustic-modern cabin "including patios with fireplaces for almost-all-weather outdoor living," says Aaron. Their home is five minutes from golf and swimming and 10 minutes by golf cart to the clubhouse on the lake. They spend three-quarters of winter weekends and most of the summer here.

Architectural styles (subject to a review committee) can be log-and-timber or Mountain Modern
"We raised our children at Whitetail Club," says Aaron. Annie, agrees, adding, "It feels like a real community … the kids walk everywhere and are perfectly safe." Over the years, the family has enjoyed the old-fashioned Fourth of July party, fishing derby days and family golf days "where the youngest out on the course may be only three years old and is having a great time."

Many members keep their boats in the resort's full-service marina

Some homeowners come to Whitetail Club for summer and winter weekends; others come for a few weeks or a month. Still others live here full time

The 7,200-yard, par 72 golf course was designed by Andy North and Roger Packard
Club activities include championship fishing, golf on the Andy North-Roger Packard-designed alpine course, indoor and outdoor tennis, whitewater rafting, overnight campouts for kids, the Fish & Swim Club (a favorite of children and teens), vintner-and-chef dinners (a favorite of the grown-ups) and, in winter, sledding hills (with hot chocolate) and a cut-your-own Christmas tree party.
"With very little effort, both kids and parents can have fun here," says Annie. "And we've made life-long friends."