5 Ways to Mix Modern & Bohemian Style
Create a chic, cohesive design that's all your own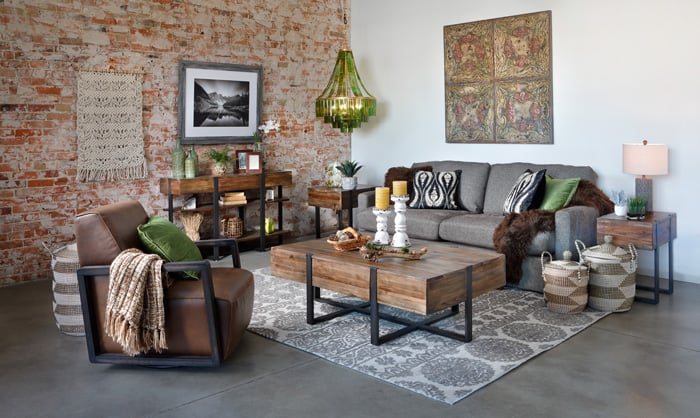 Antiques and eclectic novelties might be your favorite way to personalize your space with your own unique style, but it might be hard to mix these accent pieces with brand new modern furniture. Global decor and rustic finds emphasized in traditional bohemian style will make any room stand out, but by complementing funky, vintage pieces with updated, mid-century modern furnishings, you can create a cohesive design all your own.
Learn how to get modern bohemian style for your space with these five tips.
1. Build around mid-century modern-inspired furniture
Mid-century modern style has been around since the mid-1930s, and is still popular today due to its versatility—making it a great design to use in your modern bohemian room. Furniture that places an importance on functionality and minimalism consists of sleek lines and organic, geometric forms in order to create an understated look that can be bold, timeless and everything in between. Splayed legs, thin tabletops, slender track arms, and tight, tailored cushions emphasize this no-fuss design concept that thrives on simple silhouettes. Mid-century modern furnishings are crafted of wood, glass, metal, plastic and other traditional and non-traditional materials, so there is no limit on the possibilities for your furniture. We love pieces from this style since they blend so well with any décor and create a balanced base for those eccentric, bohemian accessories that instantly amplify your room's appearance.
2. Pile on the textiles
If you want to incorporate a little boho chic attitude into your home, you probably realize fabric is what gives this unique style its flair. Your mid-century modern furniture might look a little basic at first, so use textiles to bring in pattern and color. Upholstered seating, woven blankets, and accent pillows that are mismatched in damask, ikat and silk will give your sofa, bed or chair an eccentric up-do, while macramé wall hangings, tapestries, bed canopies and curtains made of cool cottons, hemp and light linens are a great way to add texture to your walls or windows and add an airy element. Layered Persian and braided cotton rugs are also a great way to add bohemian flair to your floor.
3. Add organic texture
Keep your space comfortable with natural materials that reflect earth-loving bohemian design. Rattan chairs, wicker baskets, tables made from tree roots or stumps and other reclaimed wood furniture will resemble the salvaged antiques that compose this free-spirited style. To make your space feel lived in and loved by Mother Nature, using distressed finishes that showcase the natural wood grain will give your room a rustic touch that will provide a rugged contrast to the clean, cutting-edge, mid-century modern furniture.
4. Combine colors, patterns and neutrals
The variety of texture and materials in your modern bohemian space means you also get to play with pattern and color. Mix funky tribal patterns and brightly colored fabric featuring animal and plant motifs with soft, simple neutrals found in modern design for a truly unique combination. Jewel tones in fuchsia, teal, red, dark blue and golden yellow pair nicely with white, beige and gray, creating a put-together color and pattern scheme that's not too crazy on the eyes.
5. Accent with bohemian flea market finds
Your modern bohemian styled space wouldn't be complete without accessories, so make sure you display your love for travel by decorating shelves, tables and windowsills with any family heirlooms or trinkets found abroad. Collectibles are a creative way to make your space your own, and cultivate the quirky, bohemian design. Flea market finds such as antique furniture, pendant lights or vintage chandeliers, Moroccan poufs, candles and potted plants will also add character to your space and provide cozy aesthetic.
Blending two design styles might seem challenging at first, but mixing modern and bohemian trends is about having fun with old finds and new furnishings. The opportunities for this unique style are endless, so get started on your modern bohemian space and stretch your imagination.
Marissa Kozma​ is a Copywriter for The Showroom @Furniture Row, a fine furniture retailer and interior design center in Denver, Colorado. View their profile or contact them at (303) 296-9514.
Content for this article provided by The Showroom @Furniture Row.