5 Hidden High-Tech Touches
Here are five favorite ways these Montana homeowners added an element of surprise and technological magic in every room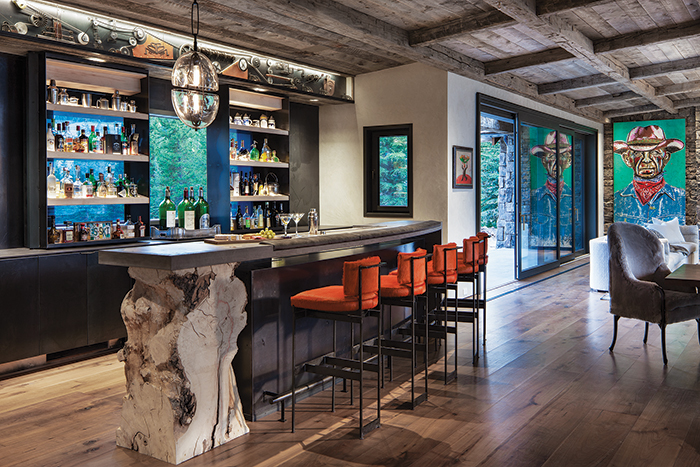 "We wanted to have some magic in every room you walk into," says Hap Brakeley of his getaway home in Montana's picturesque Yellowstone Club. He and his wife Sue worked with their design team to add an element of surprise in each space via hidden high-tech functionalities. Here, a few of their favorites.
1. WARM WELCOME
The Brakeleys traded the traditional ding-dong doorbell tone for a more modern greeting. Each time a guest rings, "Welcome to My House" by rapper Flo Rida plays throughout the home.
2. CLOSING TIME
Situated in the main living space, the bar (pictured above) is where the Brakeleys do most of their entertaining. "It's where Hap reigns supreme," Sue says. Once the party dies down, bottle shelving can be concealed by retractable steel covers that operate with one click.
3. SECRET SOAK 
On the back patio, a hidden hot tub is unveiled with the push of a button. An 8-by-12-foot section of the patio sinks down, becoming the floor of the hot tub, while water pours in from the sides.
4. BEHIND DOOR NO. 1 The basement wine cellar can only be accessed via a hidden door that's password-protected.
5. NO ADULTS ALLOWED
​In an upstairs media area, a teal 4-foot-tall "hobbit door" opens to a 5-by-5-foot play space enjoyed by the Brakeleys' toddler granddaughter.