Wood Flooring: The Perfect Merging of Nature & Luxury
Tips from the pros at Hakwood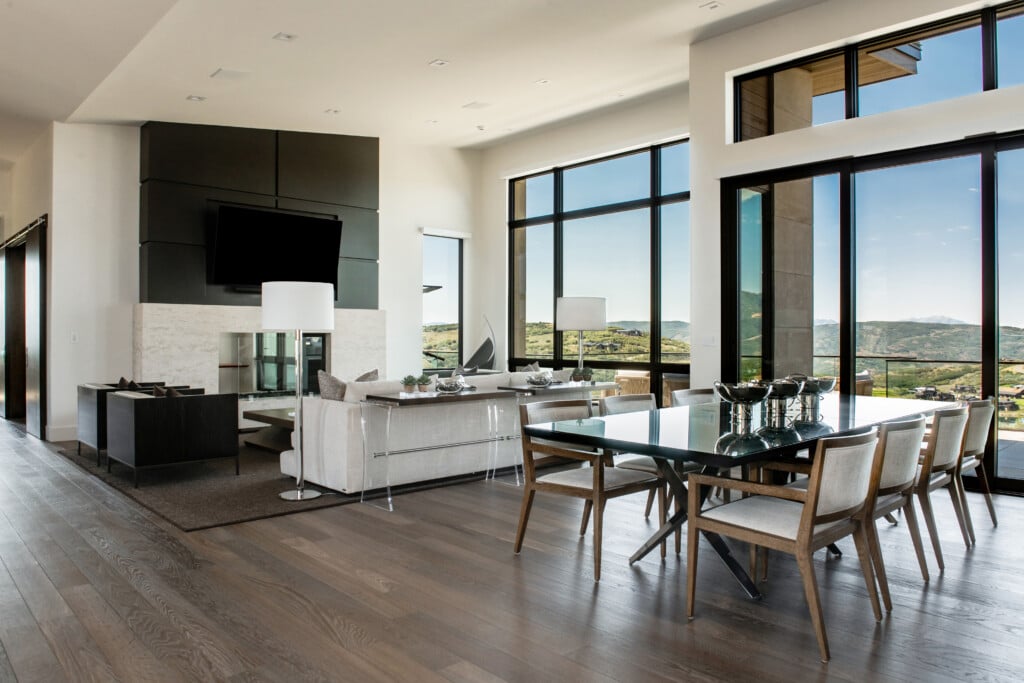 Sponsored Content
Living in the Mountain areas provides one with the opportunity to enjoy the picturesque beauty of nature. The surrounding landscapes are perfect for those who love the great outdoors and enjoy the crisp air, clear skies, and breathtaking views. But what if you could bring a touch of nature into your home while also adding a touch of luxury? The answer is simple – wood flooring.
Wood flooring is a sustainable and durable solution that provides homeowners with a lifetime of enjoyment. The warmth, refinement, and luxury it brings to an interior can't be matched by any other material. The natural beauty of wood flooring is a perfect complement to the natural surroundings of the Mountain areas, making it an ideal choice for homeowners who value style, luxury and sustainability.
Refinement & Warmth
Wood flooring brings a sense of refinement and warmth to any room. It is a perfect complement to natural materials such as stone, brick, and wood beams, which are commonly used in the Mountain homes. The natural beauty of wood flooring adds a touch of elegance to any interior.
Durability & Sustainability
One of the main advantages of wood flooring is its durability. It can withstand a life-time of foot traffic, spills, and heavy furniture. This means that it is perfect for homes with children and pets. Moreover, wood flooring is a sustainable solution. It is made from a renewable resource and can be recycled after its useful life. Wood flooring offers durability and low maintenance. It is easy to clean, and with proper care and maintenance, it can last for decades. Unlike other flooring materials, wood floors can be refinished to restore their original beauty and extend their lifespan.
Bringing The Outdoors In
For nature lovers, wood flooring is an ideal choice. It brings a piece of nature into the home and provides a connection to the surrounding environment. Wood flooring can transform any living space into a natural oasis that promotes relaxation and a sense of well-being. It provides an earthy warmth that makes your home feel cozy and inviting. Whether you choose a dark or light wood tone, it can bring a natural beauty and timeless elegance to any room.
Choosing The Right Wood Flooring
Choosing the right wood flooring for your home can be a daunting task. With so many options available, it is essential to select one that matches your style and budget. Two of the most popular European hardwood species for flooring are:
European Oak- it is the most popular option for its luxurious appearance, durability and natural grain pattern. It has a timeless appeal and can complement various styles, from traditional to contemporary.
European Ash- it has a unique grain pattern that can range from creamy white to dark brown or even black. Its versatility makes it suitable for various styles, from modern to rustic. It is also a sustainable choice.
Wood flooring is a fantastic way to bring nature and luxury into your home. It offers a warm, natural beauty that can transform any living space into a calming oasis. With its durability and low maintenance it is an excellent investment that you will enjoy for many years to come.
Danny Stofregen is the marketing manager at Hakwood, a Dutch-based hardwood flooring brand with a sales office in Naperville, Illinois. Hakwood, Inc. has combined over 40 years of innovation with traditional techniques to become the global leader in high-end wood flooring. All products are exclusively designed and produced in-house in the Netherlands using only the finest European hardwoods. Reach out to their U.S. sales team at ussales@hakwood.com or contact them at 630-219-3388.

Content for this article sponsored by Hakwood.