7 Ways to Make Antiques into Stylish Storage Solutions
Skip the big box stores and invest in something timeless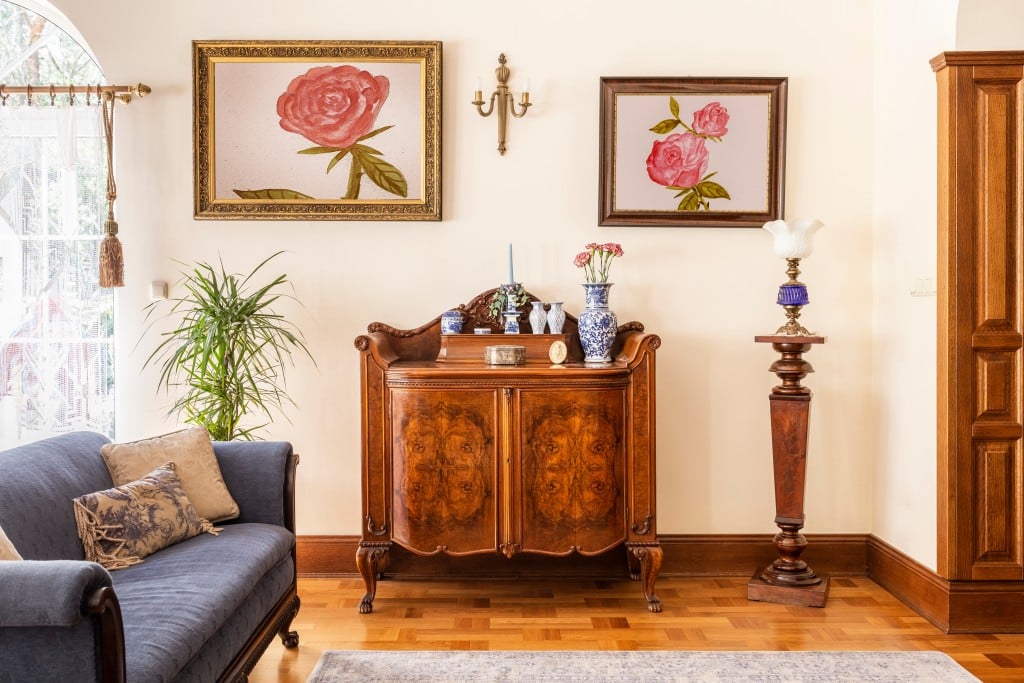 Looking for more storage for your home, cabin or ski lodge but want to do it with style? Antiques add warmth and beauty to your home and can serve as showcase pieces with rich history and colorful stories.
In addition, antiques can be a wise investment because their value, unlike newer pieces, has the potential to increase over time.
Here are seven ways to incorporate antiques to help solve your storage problems while adding a bit of European elegance to your home.
Look for a
statement piece
to double as a linen closet
This French Louis XV Linen Press, with its deep mahogany patina, smooth curved lines and detailed, brass escutcheons accenting the doors would be perfect for linen storage.
The upper gallery consists of two arched, recessed, panel doors with two broad shelves inside perfect for sheet and towel set. The lower gallery features two wide, deep drawers suitable for storing oversized items like blankets and comforters.
Don't overlook
small spaces
This petite carved oak two-door cabinet has a charm of its own and is small enough to fit just about anywhere. It features a carved, drop-down top door that opens to a single shelf and a lower door with a simple linenfold carving that opens to two additional shelves.
A small piece like this would be perfect for stowing drink coaster and playing cards, stationary and photos, or craft materials for easy access.
Think outside of the box with your
kitchen island
Talk about personality! The surface of this antique rustic work table has a beautiful patina that would brighten up any kitchen. The table has a hinged top that opens for storage plus caster wheels to easily move it around according to your needs. Pull it up front and center for preparing everyday meals or stash it away when you have a big get together.
Center your family room with a practical beauty
Practical and versatile, this rustic Scandinavian pine trunk would warm up any cozy space as a coffee table with extra blanket storage beneath the hinged top. Nestled in the middle of a comfy sectional on top of a soft shaggy rug, this trunk would be the perfect centerpiece.
Corner cabinets are a great space saver
Corner cabinets tuck nicely into otherwise unused areas in any room and provide ample storage for whatever you need. Think linens, china, glassware, etc.. This lovely oak version features a warm golden patina, elegant cabriole legs and fives removable shelves tucked behind stylishly carved doors.
Choose a charmer for a
side table
You can bet that nobody else in the neighborhood has a piece as unique as this one. Made in the 19th century, this side table would add charm to your sitting area with its intricate carvings and curious angles. On the practical side, the top lifts up to reveal a deep storage area with a drawer below.
Invest in storage with style
Nothing gives a home more personality than furniture that comes with its own history. This early twentieth century German carved oak cabinet would provide tons of storage and mesh nicely with a myriad of styles. Three adjustable wood shelves provide plenty of room to display your treasures and the decorative carved cross work on the wide front door makes it one of a kind.
Searching for storage doesn't have to be a mundane endeavor. Take a day and go on an antique hunt and find something that not only serves your purposes but does so with panache.
Maggie Erickson is the store manager at Ski Country Antiques & Home, a shop that specializes in one-of-a-kind antiques from northern Europe as well as new home décor items. View their profile or contact Maggie at 303-670-8726.
Content for this article provided by Ski Country Antiques & Home.