Selecting Your Outdoor Furnishings
Advice from the pros to help you make wise choices, plus extras to take your space to the next level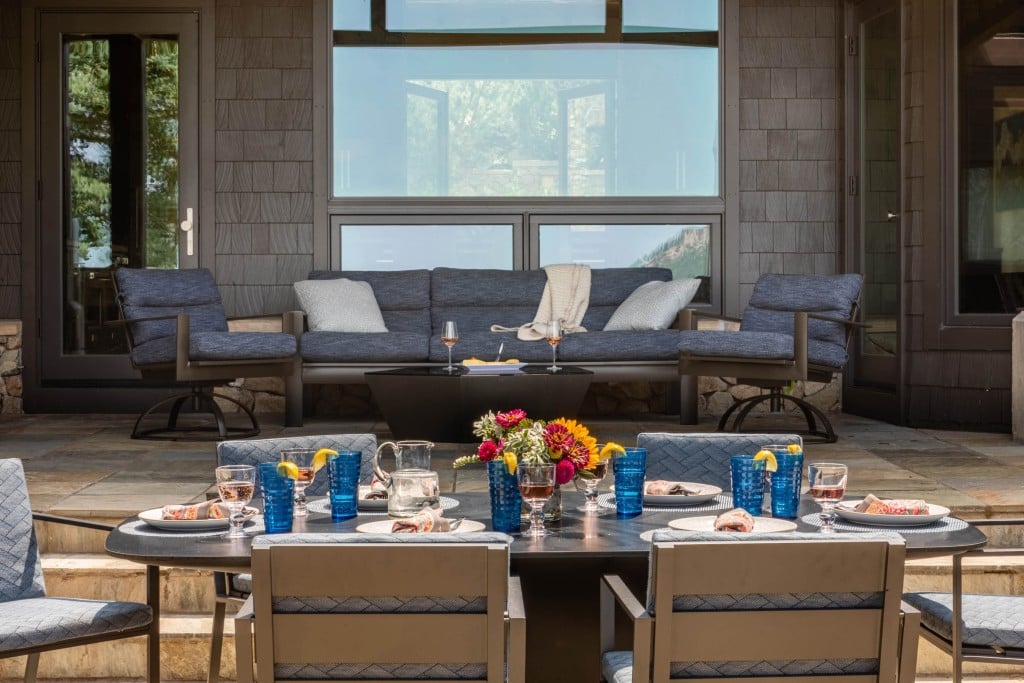 Spring is here in the mountains, and we can't wait to be outside on our decks and patios. To help you plan a fun summer relaxing, dining, and entertaining we've put together a list of key things to consider when choosing outdoor furniture.
Function
The furnishings you choose for relaxing around the fire pit may be very different from what you choose for sitting at a table or lounging by the pool. Here are a few questions to ask yourself before choosing furnishings:
What sort of gatherings are you hoping to accommodate?

Do you want to be able to easily move furnishings around?

Do you want removable cushions? If so, where will you store them in winter? They can take up a lot of room!
For example, the upholstered lounge chairs above are attractive and comfortable, yet easy to move around.
Location/Exposure
Will your gatherings be out in the open, exposed to the elements? Or under a covered patio? Does your entertaining space have a sunny southern exposure? Or is it located in a mostly shaded northern location? It's very important to choose furnishings designed to suit your space's location.
For example, these low-maintenance sling chairs are comfortable, quick-drying and allow for ultimate flexibility- perfect for a sunny spot.
One item our clients love is an articulating, rotating, moveable umbrella. These umbrellas are long-lasting and easy to use. They also have very heavy bases to keep them stable and upright in high wind areas.
Layout
Designing your outdoor layout isn't much different from designing your interior layout. Consider circulation, conversation areas and function. For example, you will want to put the dining table near the kitchen door or the outdoor kitchen.
Definitely consider your views, whether it's a majestic mountain view or your pretty potted plants. Try not to design everything in a rectangular fashion. Curves and circles can feel more relaxing.
Durability and Weight
Furniture made from powder-coated aluminum with 100% solution-dyed acrylic fabrics is great for areas with a lot of sun exposure. On the other hand, you would only use teak furniture in a covered, protected area.
In addition, if you experience high winds, as many of our mountain clients do, you will obviously want to choose furniture (and cushions) that are on the heavier, more substantial side.
Style of Your Home
If your home is more contemporary, continue the theme with your outdoor furnishings. You can have a little more fun with your fabrics, but it's nice to have something from the interior color scheme repeated outdoors. Even the throw pillows can tie it all together. Of course, consider your exterior home colors, deck color and/or hardscape as well.
Plus, Extra Touches:
After you choose the furnishings for your outdoor space you will want to accessorize to give it your own flair. Here are a few suggestions for items that will definitely take your outdoor space up a notch!
Lighting
Uplighting in trees, downlighting, umbrella lights, step lights and fairy lights all add drama. Don't forget to refer to your local "dark sky" ordinance before going too far.
Area rugs
Use them as you would indoors; you'd be surprised by the difference they can make. Make sure you look for low-maintenance polypropylene or our favorite brand, Chilewich—they are so easy to clean and are a great way to cover an unattractive concrete patio.
Outdoor kitchen
An outdoor kitchen with a built-in BBQ, pizza oven, outdoor fridge, etc. makes your outdoor living space the real deal!
The built-in pizza oven in this space was designed in an authentic Italian style, giving the patio area an ambiance of celebration every day.
Plants
Potted plants, hanging plants and a well-manicured garden makes the difference between a just-okay patio and a relaxing outdoor retreat.
Privacy wall or hedge
if your space is small and you are looking at your neighbor's home, a privacy wall or hedge is a game-changer. A stone wall or carefully spaced row of trees can do the trick.
Chaise lounges
Consider a luxurious chaise lounge or two positioned in key viewing areas to set the stage for truly unforgettable moments.
Anne Grice is the Principal and Owner of Anne Grice Interiors, an interior architecture and design firm based in Aspen, Colorado. View their profile or contact Anne at 970-429-4148.
Main photo credit: Jeremy Swanson.
Content for this article provided by Anne Grice Interiors.