More Than a Store
Aspen's Maker + Place mixes small-town warmth and big-city cool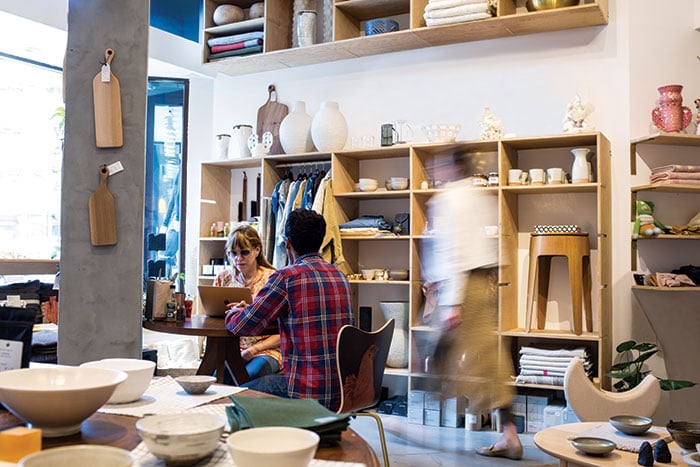 When you find the place where you belong, sometimes it's just a natural fit. Michaela Carpenter was only a baby when she and her mother, Candice Carpenter Olson, began visiting Aspen from their home on the East Coast, but the mountain town quickly cast its spell. Carpenter returned to attend high school in Aspen, and after studying textile design in London she felt the call of the mountains once again. "Aspen really pulled me back," Carpenter says. "It has a magical combination between a city and a town—it's not that easy to get to, yet we get people from all corners of the world."

A purchase wrapped and sent to a new home with c's "Sacred Calligraphy" blessing.
The notion of opening a shop snuck up on the mother-daughter duo. "The idea actually came when my mom and I traveled to Amsterdam," Carpenter explains. "There were all these incredible retail spaces that were multi-use—for example, one was a reclaimed denim and boot shop, and they had a coffee bar where you could sip espresso while you tried on boots that were all handmade, and you could actually meet the craftsmen." That kind of open approach to sharing carefully crafted goods appealed to the pair.

Yield double-wall glasses line up behind a leather dopp kit from Westward Leather Co. and a hand dustpan in walnut by Hannah Beatrice Quinn, with Japanese homewares from Lue Brass.
So, when a 1,000-square-foot retail space with a cozy courtyard location in the heart of Aspen became available, Carpenter and Olson decided to take a risk on opening their own place. "I presented a business plan to her and she said, 'Let's do it!'" Carpenter recalls. Olson was still living in New York at the time, but she ended up moving to Aspen six months after helping her daughter launch the shop in July 2017. "We kind of accidentally built a family business," Carpenter says with a laugh.

Cast porcelain cups by Aspen-based Liz Heller.
From the beginning, Maker + Place has been more than just a regular store. "Our philosophy is, when you surround yourself with objects that have meaning, and narrative and a connection to another human being, your life is going to become that much more rich," Carpenter says. With a simple, clean aesthetic—white walls and concrete floors, with plywood shelving built by Carpenter's husband—the space is a blank canvas for an ever-changing array of mostly one-of-a-kind gifts, accessories, ceramics and tabletop pieces. "We're a global craftsman space, with things you can add to any home," Carpenter says. Local Coffee House, a sister business, now shares the space and attracts a loyal crowd of regular patrons.

Michaela Carpenter devotes attention to each small detail of the family-run shop. "We want people to feel like they're at home," she says. "Like they're locals, even if they're visiting."

The sun-filled shop in the heart of Aspen offers a gathering of hand-crafted home goods, including a Cerchi oak side table by Fabiano Sarra and a carafe and thumb tumblers by Hanselmann Pottery. Hand-thrown bowls by Yutaka Kawahito and Hampson Woods cutting boards create an artful display, with extra-large, white, hand-structured vases by Snowmass-based Giselle Hicks on shelves above.
Like Aspen itself, the shop is a sophisticated fusion of old and new. "It's very European, very urban—like we've almost brought a European city to Aspen," Carpenter says. "But we also get feedback that it feels like 'old Aspen,'" she explains. "The owners are there every single day; we know all of our customers by name, we know their dog's name, we know their kids' names." In Aspen, Maker + Place simply feels like home.
As seen in the March/April 2019 issue