Montana High Style
The fundamentals of mountain chic are black and white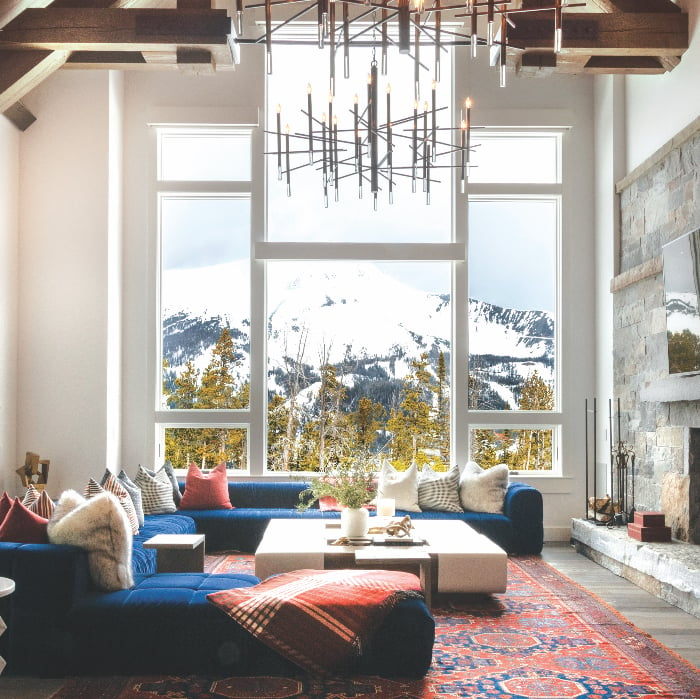 Lindsey Treasure knew she was in for a good time when her clients Andrew and Odelia Nikou not only requested a steam room large enough for après ski gatherings at their Yellowstone Club residence, they wanted the tiles to effervesce in a very particular shade of blue. Knowing what her client envisioned wasn't likely to be found on a Pantone fan deck, the interior designer searched until she landed on the perfect tint of cobalt. "The tiles and mosaics are all variations of that blue, and it's totally over the top," says Treasure, noting the addition of twinkle lights that emulate the night sky only make it more so.

RH chandeliers complement the intricate trusswork.

Accessories like the Uttermost brass hand and knot sculptures from Interlude Home add a personal touch.
While fun spaces to congregate were certainly a key consideration for the family-oriented CEO of Open Gate Capital and his former fashion model wife—they have three children under the age of 4—having a home that emulated their own sophisticated sense of style carried equal weight. "We wanted a chic mountain home with cool, nontraditional designs," says Andrew. Treasure in turn adopted a strategy that melded her clients' ideas with her own, yielding striking results.

In the kitchen Troscan counter stools line the island, and alder cabinets are stained a custom color.
When the Nikous wanted a 16-foot-long blue velvet Arflex sectional in the great room, for example, Treasure countered with an equally grand indigo-and-orange Persian rug that warmed the overscale space. "I love the antique rug with an ultramodern Italian sofa," says Treasure, who then complemented the complex timber pattern in the ceiling with two sizeable geometric light fixtures. "I wanted something scale appropriate that would blend with the architecture rather than compete."

In the recreation room the modular sofa is by RH and the coffee table is Noir.
The intricate trusswork was among the many contributions of architect Nick Fullerton, who designed the residence as a spec home. "All the rooms were set up for mountain views but the great room was a bit tougher," he explains. "In order to see all of the mountain from the set-back kitchen required complex truss configurations."

A DWR sleeper sofa provides extra sleepover space in the loft, where the swivel chairs are by Lee Industries.

A hand-painted Visual Comfort lamp makes a statement in the junior master suite.
Purchased by the Nikous in the framing phase, the couple embraced the layout, view-grabbing fenestration and stone fireplaces of the original design but decided to make their own mark with the finishes. Clear alder cabinets in the kitchen and bathrooms and built-ins throughout were part of an intentional neutral backdrop for the ensuing decorative layers.

Phillip Jeffries wallpaper offsets the Century Furniture four-poster guest room bed.
But Andrew and Odelia's affection for bright hues—pervasive in the great room and the lower-level game room, where a wall of backlit amber onyx behind the bar inspired orange accents—took a turn in the private spaces. There black and white prevail. "My cars are black, my watches are matte black, and black and white are two colors that are yin and yang," says Andrew.

In the master suite an Italian Martinelli Luce lamp rests on a Bernhardt nightstand.

A hair-on hide bench and a Jaipur Bristol rug in the junior master are among the many textural elements.
Armed with that information Treasure outfitted some of the bedrooms in variations of black, white and gray, and in deference to Odelia's modeling background, proceeded to dress rather than decorate the sleeping quarters. In the master the relative simplicity of a white leather-wrapped bed and gray hair-on hide nightstands allows for a chair constructed with animal horns to be a statement maker. And in the junior master where Odelia likes to retreat with their 9-month-old, curvy white lamps with a black swirling pattern and a swooping lounger topped with sheepskin are both fashionable and feminine.

A Live Edge bed from CB2 and a nightstand by Four Hands distinguish one of the guest rooms.
In a daring move, and in a nod to Andrew's favorite hue, the office is outfitted with wood veneer wallpaper, a glass desk and a leather chair, all in shades of ebony. "Rather than feeling dark it feels very rich and sexy," says Treasure, noting her execution of all the rooms shared a common goal. "Everything is geared to their style and the way they live, and this house is all about being luxurious, comfortable and inviting.

Dramatic Phillip Jefferies wallpaper backs an RH desk and chair in the home office, and the lamp is by Visual Comfort.
EBONY & IVORY
Navigating how to decorate with black and white can be anything but black and white. But for a Big Sky residence, interior designer Lindsey Treasure cracked the code for creating two-toned rooms that are both stylish and welcoming.
MIX IT UP "You can use different patterns on the walls, pillows and other accessories as long as they are all in the same color tone so they complement each other," she suggests. PAPER IT Especially in small spaces like powder rooms, a strong black- and-white graphic motif can have real impact. "If you use an intricate paper in a bedroom, make sure everything else is a little understated so nothing else is competing for attention," Treasure adds. DON'T FORGET TEXTURE Sheepskin throws, nubby rugs, raised patterns on blankets and pillow covers are cozy and anti-bland.
DESIGN DETAILS
ARCHITECTURE Fullerton Architects INTERIOR DESIGN Alder & Tween Design Co. 
As seen in the January/February 2020 issue
RESOURCES
GREAT ROOM SOFA Strips Sofa by Arflex from Dzine Elements OTTOMAN Oasis Cocktail Ottoman by Holly Hunt from Kneedler Fauchere, Denver Design District SOUMAK Antique Caucasian Wool Soumak Manufacturer from ABC Home KITCHEN STOOL Bella Counter Stool by Troscan from Town Studio, Denver Design District
DINING ROOM CHAIR 413 Cab Dining Chair by Cassina from Light Spot DINING TABLE Custom MASTER BEDROOM BED Custom King Bed NIGHSTAND Parkin Nightstands from Bernhardt TABLE LAMP Pipistrello Table Lamp from Martinelli Luce CHAIR Elka Chair from Bernhardt MASTER BEDROOM OFFICE DESK Rivet Desk from Restoration Hardware DESK CHAIR Oviedo Desk Chair from Restoration Hardware TABLE LAMP Stylus Large Angled Table Lamp in Dark Walnut and Polished Nickel with Linen Shade
from Visual Comfort WALLPAPER Yacht Club – Onyx Spar Wallpaper Manufacturer by Phillip Jefferies from Town Studio, Denver Design District REC ROOM Cloud Modular Collection Manufacturer from Restoration Hardware COFFEE TABLE Vert Coffee Table by Noir from Ivystone STOOL Pepper Counter Stool by Holly Hunt from Kneedler Fauchere, Denver Design District POOL TABLE Maze Pool Table from Elevate Customs FOOSBALL TABLE Maze Foosball Table from Elevate Customs JR MASTER BEDROOM BED Custom King Bed NIGHTSTAND White Hall Closed Nightstand from Restoration Hardware TABLE LAMP Balla Large Hand-Painted Table Lamp in White and Black Stripe with Linen from Visual Comfort BENCH Mansfield Bench from Bernhardt CHAISE 1549-21 Chaise from Lee Industries RUG BRI21-Bristol Area Rug from Jaipur Living LOWER GUEST SUITE #3 BED Landscape Live Edge Bed from CB2 NIGHTSTAND Suki Nightstand – Burnished Black from Four Hand BENCH Wra Black Bench from CB2 LAMP Bayliss Lamp from Visual  RUG SCD22-Scandinavia Area Rug from Jaipur Living LOFT SLEEPER SOFA Vesper Queen Sleeper Sofa from Design Within Reach COFFEE TABLE Hudson Coffee Table from Four Hands CHAIR 5909-01SW Swivel Chair from  Lee Industries LOFT BEDROOM BED King Bed discontinued NIGHTSTAND Kingston Nightstand from Four Hands TABLE LAMP Cruche Table Lamp from Currey and Co DRESER discontinued DOWNSTAIRS GUEST BEDROOM BED Artefact Wildwood Poster Bed from Century Furniture NIGHTSTANDS Corinna Bedside Table – Grey from Interlude Home WALLPAPER Phillip Jeffries – Against the Grain – Midnight Marquetry TABLE LAMPS Kelly Wearstler Armato Small Table Lamp in Porous White Ceramic with Oval Antique-Burnished Brass Shade from Visual Comfort VIGNETTE COASTERS West Elm discontinued BRASS HANDS Hold my Hand Sculputre from Uttermost KNOT SCULPTURE Trefoil Knot Sculpture from Interlude Home VASE Restoration Hardware Hand Blown Carved Glass Vase White BOWL Raw Edge Large Onyx Bowl from Roost