Go Bold With Mix-and-Match Design Styles
A well-blended aesthetic brings energy and meaning to any space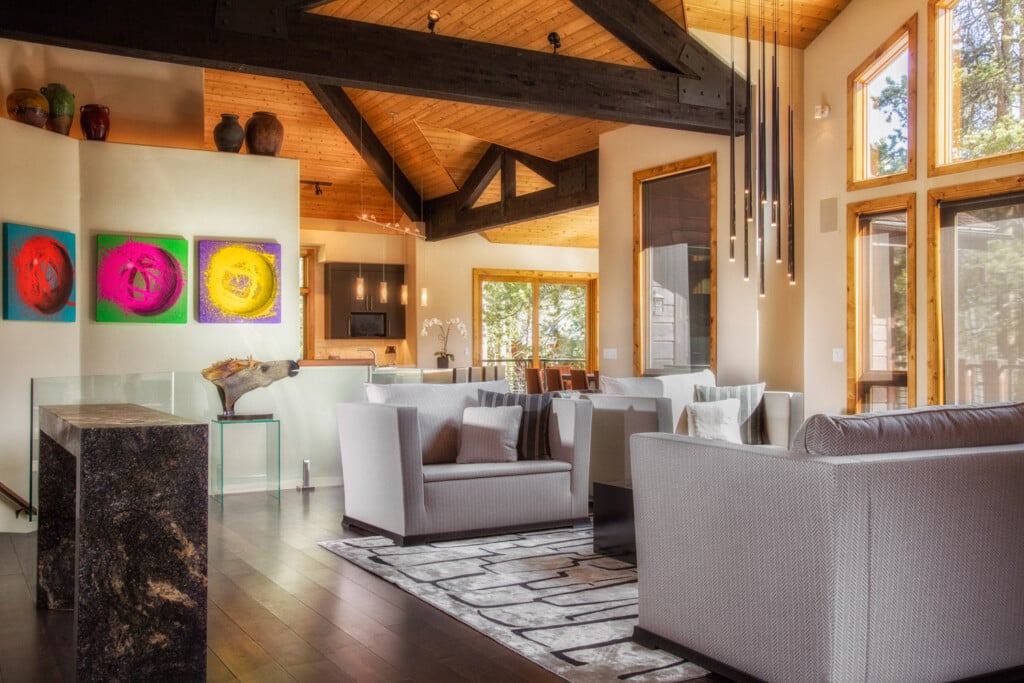 Sponsored Content
When it comes to design, you don't have to get trapped in just one style. Mixing and matching can result in an eclectic and cohesive look. Antique rugs, chandeliers and sacred statues—all considered more traditional when it comes to interior design—can lend a very sophisticated look to an already modern home when paired well.
For instance, the burnished tones of an antique rug or runner can reflect the warmth of a sliding, reclaimed wooden barn door leading into a bedroom or living room. And just as wood, reclaimed or otherwise, mirrors nature outdoors, so, too, can fountains or enlarged photography of nature. It's a refreshing way to usher the outdoor lifestyle into your home.
Ornate rugs can also bring richness into a sacred space, yoga studio or sitting area adorned with a Buddha statue and/or a Tibetan thangka. Sacred spaces like these create a peaceful vessel which offers respite from busy days, reminding us to pause, take a breath and express gratitude for all the beauty that surrounds us.
By all means, incorporate treasured keepsakes into your design. One of our clients transported their beloved Murano glass chandelier to each home in which they lived. In their East Vail home, we installed a transparent, illuminated Cristallo quartzite countertop, which complemented the chandelier that could have otherwise been a sore point but instead became a focal point.
A brilliant way to mix and match successfully involves using splashes of color. Thin, red cushions on metal stools at a breakfast bar highlight bright red apples and flowers on the countertop. Yellow, blue or even green chairs with sleek lines and a contrasting pillow color can also add a pop of colorful fun, blending modern with, say, a more traditional stone fireplace in a great room.
Colorful, abstract art displayed with contemporary light fixtures ushers in an up-to-date aesthetic to mountain architecture characterized by wooden beams or ceilings. Don't be afraid to bring in plenty of art—whether it hangs on the wall or stands out in sculpture form. When arranged properly on shelves and in nooks, sculptures of all shapes and colors can create a refined, chic and even playful feel that inspires the eye and the spirit.
And kids' rooms are always a fun place to add colors and accessories that complement and contrast each other. Wooden bunk beds lend a natural, mountainy feel, while bedding depicting cartoon characters, colorful bean bags and stuffed animals create a whimsical feel.
Of course, texture is always wonderful to play with when mixing and matching. A shiny sequined pillow on a chair or at the end of a sofa with a fur pillow on the other contrast one another nicely. You may even want to turn an heirloom fur into a few pillows. Blankets are also a cozy way to add texture and offer comfort on cooler summer nights leading into the fall and winter.
Likewise, patterns always enhance design. Patterned pillows on beds or sofas, along with textured or patterned abstract artwork, can really pull a room together. Upholstering modern shaped chairs with paisley, or other traditional fabric, is a great way to mix and match and soften clean lines. For a sentimental touch, add a pillow made out from grandma's needlepoint and place it on a special chair.
If bright colors don't suit your style, consider incorporating warm hues of browns and maroons to complement darker kitchen cabinetry or darker beams and wooden ceilings. One bedroom we designed blended a blue upholstered headboard and footboard with a blue duvet, orange and brow-toned pillows and a rust-colored curtain. You might also want to opt for white, placing white cushions on brown barstools to complement white and gray marble kitchen countertops and backsplashes.
When it comes to designing your home, don't be afraid to mix and match. When it's done right, it only enhances your living space.
Architect/Builder/Designer Kasia Karska is the owner of the boutique design-build firm, Kasia Karska Design, located in Vail Valley, Colorado. The talented team at Kasia Karska strives to create unique environments for their clients, full of infinite potential, tranquility, and inspiration. View their profile or contact Kasia and her team at 970.688.5748.
Content for this article is provided by Kasia Karska Design.
Photos provided by Brent Bingham Photography