Live in the Limelight
Luxurious lodging in Snowmass, Colorado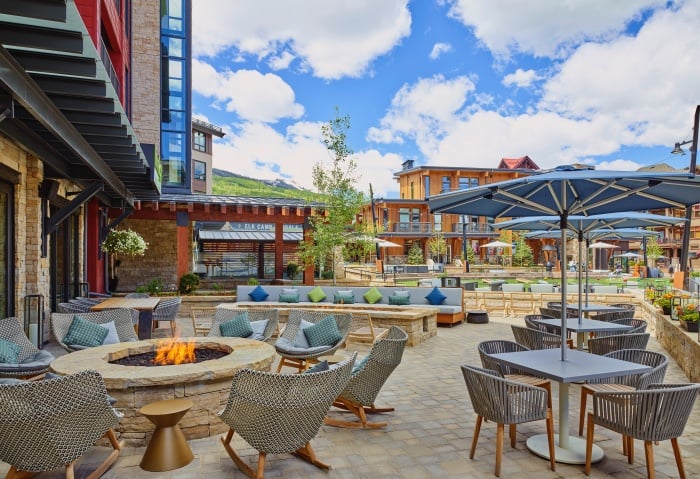 Paparazzi won't hound you and you won't be followed by throngs of fans, but regardless, you'll feel like a star at Limelight Hotel.
Limelight Hotel is a new property located at the base of Snowmass Village. This area has changed significantly since we visited three years ago. It's truly a fun spot to stay, with activities for everyone from youngsters to grandmas. Plus, it's just as short ride on Sky Cab (fondly referred to as Skittles) to the mall at Snowmass Village.
During the ski season, Limelight is a ski-in/ski-out hotel, making it a great basecamp at any time of year. In the summer, children of all ages love the plaza directly in front of Limelight Hotel. In the winter, this plaza magically becomes an ice rink.
One of my favorite aspects of the hotel is the patio. This year-round courtyard features tables, fire pits and lots of seating. Plus, it has a front-row seat to activity on the plaza. It's where we spent every evening during our three-night stay at Limelight. It's the perfect spot for a nightcap in Snowmass.
The hotel has a contemporary feel with a splash of mountain enchantment. For instance, there's cozy seating around the lobby fireplace as well as a large modern screen behind the check-in desk that displays gorgeous photos of the surrounding scenery.
Our corner room had wonderful natural light from three windows. It also included a small kitchenette as well as a nook that served as a workspace for my husband who spent time here doing drawings and speaking on the phone with clients during our weekday stay.
In keeping with the comfy bed theme we've been encountering at new hotels around Colorado, the Limelight features luxurious bedding which included impressive pillows.
We took advantage of the huge spa pools on a daily basis during our stay. There is a warm and cool pool plus nice poolside furnishings and two flickering fire pits. It's an incredibly "instagrammable" area. Plus, there is nothing better than a soak after a day on the mountain, whether your skiing, biking or hiking.
Other amenities include a beautiful breakfast buffet each morning for guests, a five-story climbing wall inside the hotel, a fitness center, a hotel and airport shuttle, ski and boot storage and a kids room. Limelight is a pet-friendly hotel in Snowmass, so Fido can come along.
The Lounge is the ideal spot to aprés ski or grab or meal. Live music is often on the schedule and the two guitarists who played on the evening we dined here were outstanding. Our dinner was good too and included Limelight's French fries that come with three dipping sauces. In addition to these savory fries, The Lounge features wood-fired pizzas that are already a local favorite in Snowmass.
Whether you visit during peak color season or you come ready to ski the four peaks of Aspen Snowmass, Limelight Hotel is an exceptional choice for lodging in Snowmass. They also have hotels in Aspen, Colorado and Sun Valley, Idaho.