Lighting the Exterior of Your Mountain Home
Four important considerations to keep in mind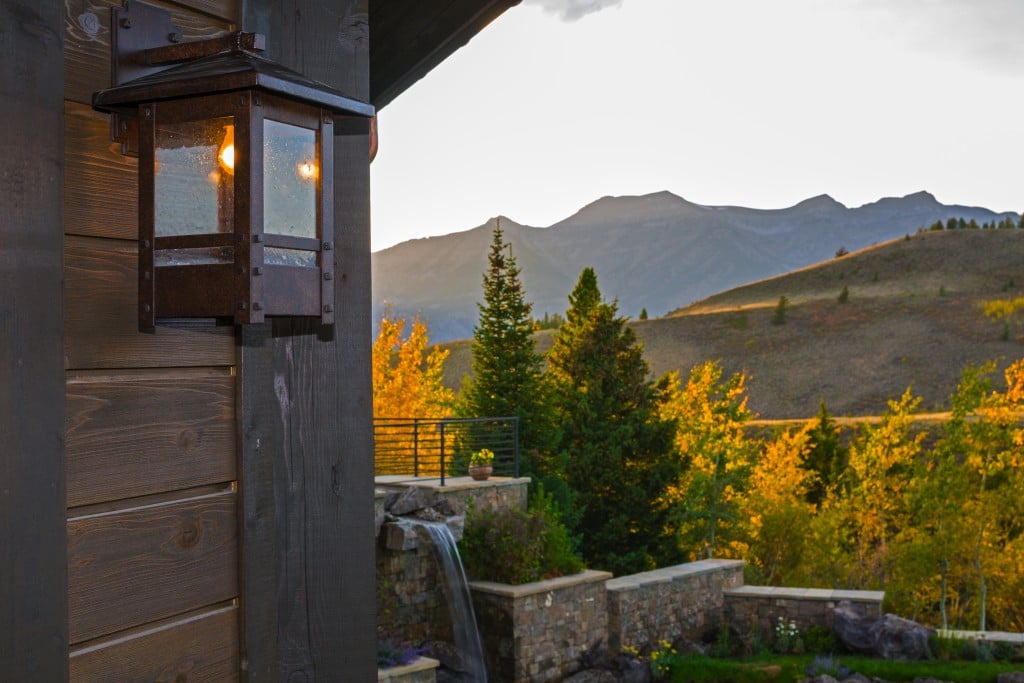 Whether building a new residence or remodeling an existing one, it's often a challenge to find ideal exterior light fixtures for the luxury mountain home. Given the distinctive architecture, rugged climate and dark sky-friendly lighting requirements of most mountain communities, homeowners purchasing outdoor lighting should keep these four considerations in mind.
Bold Size & Scale
Like the surrounding landscape, mountain architecture is typically grand in scale. Many mountain homes incorporate oversized facades, windows, front doors and covered entries that require generously scaled fixtures to match. But architectural scale presents a problem for outdoor lighting.
Take exterior wall sconces, for example. A height of 24 inches is probably the minimum size suitable for most mountain homes, but less than 10% of off-the-shelf outdoor light fixtures are available in that size or larger. Most decorative lighting is manufactured offshore, so it's deliberately smaller in scale to minimize material and freight costs. The key is finding outdoor fixtures that are well-suited to the architectural scale typical of mountain resort markets.
Weather Resistance
The dirty little secret about most decorative outdoor lighting is that it rarely looks as good as the day it's installed. Climate factors frequently cause fixtures to fail, even in just a year or two. High altitude and variable mountain climates are tough on exterior fixtures.
Like any metal-based architectural products, exterior light fixtures are highly susceptible to finish fading from heavy UV exposure as well as to corrosion from factors like temperature variability. In the Intermountain West where the average elevation is over 6,000 ft, the sun's UV rays are up to 60% stronger than at sea level and annual temperatures range from -30 to 90+ degrees Fahrenheit.
Your best bet? Look for a company that is AAMA certified- this is the outdoor architectural industry's finish performance standard for UV and corrosion resistance. It requires outdoor fixtures to be fabricated in aluminum, pre-treated with a marine-grade coating and finished with specially formulated 'super durable' AAMA 2604 powder coat paints.
Dark Sky Compliance
The term 'dark sky' refers to the absence of artificial light in the night sky, and there's no question that dark skies are often viewed as an added benefit of living in a mountain town. By contrast, 80% of people across North America cannot see the Milky Way due to night sky light pollution.
Many mountain communities across the U.S.– including Sun Valley, Jackson Hole, Park City, Vail, Aspen and Telluride, to name a few– have adopted dark sky regulations intended to promote enjoyment of the night sky. Most dark sky lighting codes include low-lumen outdoor light fixtures with fully shielded and downward directed light sources that do not exceed 3,000k in color temperature.
There aren't many architectural quality dark sky compliant fixtures available that suit the luxury mountain home. Most are entirely function-focused, too small in scale, and not built to last in challenging climates. With that in mind, be sure to look for outdoor lighting certified as dark sky compliant by the International Dark Sky Association, which is the industry's authoritative voice on night sky pollution.
Energy Efficiency & Low Maintenance
Finally, with any outdoor lighting the issues of energy consumption and maintenance can't be ignored. In large homes with multiple outdoor light fixtures, the energy bill is often significant, and service issues like bulb replacement are an expensive and time-consuming hassle.
Particularly for outdoor lighting, LED is the ideal choice. LED consumes 10-20% of the energy of incandescent bulbs and lasts up to 25 times longer. Fortunately LED retrofit bulbs are now widely sold, so trading out incandescent bulbs is a no-brainer. And higher-end outdoor fixtures often include integrated LED, which eliminates the bulb entirely.
Levi Wilson is the VP of Design and Founder of Hammerton, a leading U.S. manufacturer of custom handcrafted decorative lighting. Under its Hammerton Studio brand, the company offers a wide selection of outdoor lighting that is both AAMA certified and Dark Sky compliant. Contact Levi at 801.873.8095
Content for this article provided by Hammerton.