Kitchen, Simplified
Three sculptural elements come together to form the perfect kitchen workshop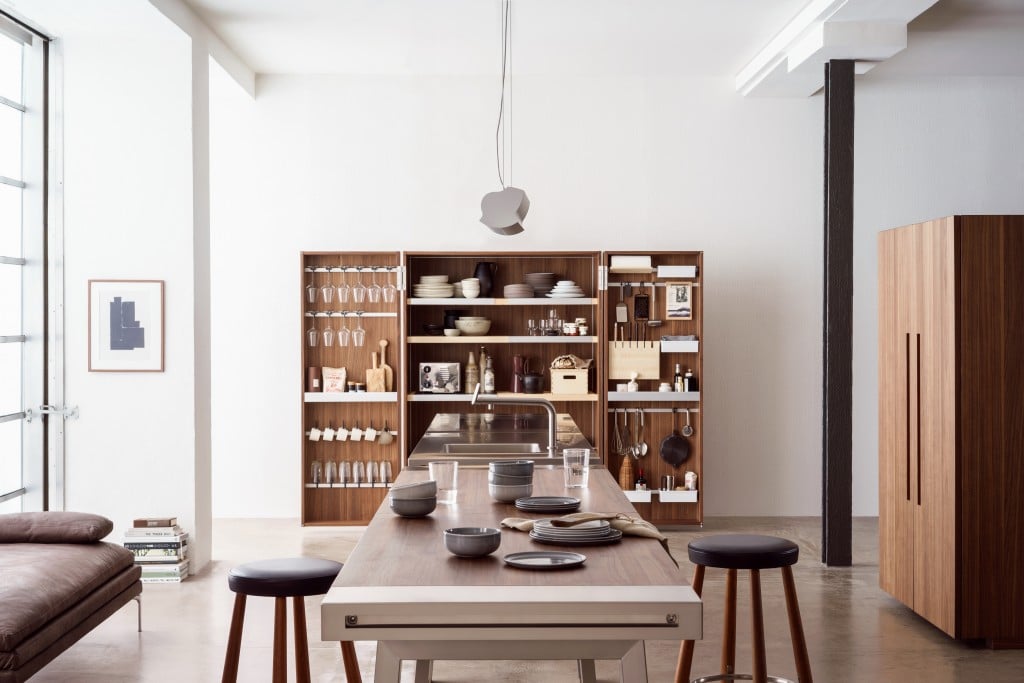 Planning the kitchen of your dreams doesn't have to be complicated. In fact, it's possible to create a beautiful and functional kitchen workshop with just three sculptural elements: the kitchen tool cabinet, workbench and kitchen appliance cabinet.
These freestanding elements can be combined however you like in the room and can even be taken with you when you move to a new space. The flexibility and mobility of these elements is ideal for wide open loft spaces, guest cabins, second kitchens and more.
Take a look at the unique elements that not only reflect the clean lines and simple sensibility of modern kitchen design, but also create an uber-functional space to create magnificent meals and enjoy memorable gatherings with family and friends.
1. Kitchen Tool Cabinet
With a kitchen tool cabinet, your entire kitchen workshop is right at your fingertips when you are prepping meals, and neatly stored behind doors when you're not. Simply open up and voila! Perfect access to your entire kitchen domain with all the kitchen utensils you need, neatly within reach and stowed away in their designated spot.
2. Workbench
A kitchen work bench is an incredibly multi-functional piece of furniture. It combines the work surface, water source, cooking area and most importantly, an eating area into one all purpose space.
Center your kitchen workbench in your kitchen space for maximize efficiency and pull up a few stools to create a gathering spot for all.
3. Kitchen Appliance Cabinet
A kitchen appliance cabinet complements your kitchen workshop and accommodates larger equipment like the oven, dishwasher and refrigerator. When the cabinet is open, everything is easily within reach and when it is closed, it's all beautifully hidden away.
Jed MacKenzie, CKD, and William Landeros, CKD are Senior Project Designers at bulthaup Denver Aspen. With showrooms in Denver and Aspen, bulthaup services all areas of the Rocky Mountain West and specializes in designing signature kitchens. View their profile or contact them at 303.777.5409.
Content for this article provided by bulthaup Denver Aspen.