Honoring Elements of Character in Older Homes
Deciding what's worth preserving and what needs to be freshened up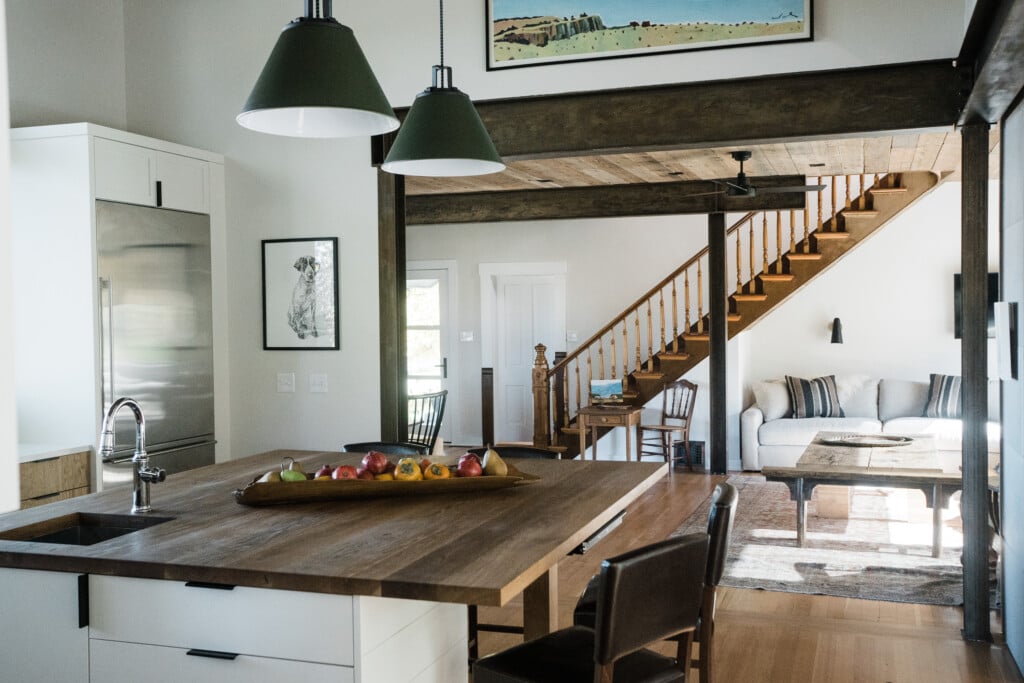 Sponsored Content
Owning an older home brings with it a responsibility of stewardship. Every home tells a story, and a home that has survived decades, even centuries, comes with a unique tale that is worth preserving. That said, a home must also be livable by today's standards. The key to a successful historic renovation is finding a balance that honors the past with fresh and functional design.
Recently, we remodeled a historic Montana farmhouse and wanted to share the many valuable tips we culled from the experience. Here are a few considerations to help you decide which elements of character in an older home are worth preserving.
Historical Significance and Authenticity
It is essential to preserve elements that contribute to the historical value and authenticity of your home. Architectural features, original materials, and unique design elements that reflect the home's era and architectural style can be key to maintaining its character and charm.
Deciding what to keep and what to remove can be tricky. Keep in mind that over the years, other remodels may have occurred in the home, so work with your designer and contractor to ensure the historical accuracy of items under consideration. Items that are not historically accurate and also don't serve a purpose to the new design are an easy decision: they don't need to stay.
For those items worth keeping, ask yourself how replicable the item may be. Say you love the doorknobs, but you're a couple short. Do your research to see if you can find the resources to obtain more before you rule them out.
Structural Integrity and Safety
Prioritize elements that are structurally sound and safe. Anything compromised in terms of stability or safety should be addressed during the remodeling process. Safety always takes precedence over aesthetics. Is it safe to keep? Is it up to code? Could it have been made with asbestos? It may not be worth saving a lovely fireplace that is not working correctly or is structurally unsound. Alternatively, a beautiful vintage chandelier can easily be rewired to be UL-listed and undoubtedly worth preserving. Working with a skilled team with experience working with vintage homes is imperative.
Functionality and Modern Living
Keep elements that are functional and align with your modern lifestyle. Consider how existing features will enhance or hinder your daily activities. For example, you might choose to remove existing kitchen cabinets that weren't constructed at the proper height for modern living. There's no need to feel guilty installing something more practical and at proper working height.
But just because you're taking something out doesn't mean you have to remove the integrity of that item from the house. Many items can be replaced with more contemporary versions with the same aesthetic. For example, we often use Shaw sinks in our historic homes. They have the look we're going for with greater functionality. And just think, by replacing an older item with a similar, more workable item, you are allowing that feature to live in the home for another hundred years.
On the other hand, elements that can be repurposed for practical use while preserving their charm can be valuable. For example, if you love the home's unique windows, keep the frames but replace the glass with energy-efficient insulated glass. As always, work with vendors and companies with historical restoration experience and create products meant to last.
Personal Attachment and Sentimental Value
Hold onto the charming historical elements that hold sentimental value to you and your family. These could include features that evoke memories or emotions which contribute to your connection with the home. Maybe the home's staircase is precisely like the one that was in your grandparents' home. Perhaps the windows remind you of your honeymoon in Vienna. The reading nook on the landing brings back memories of hours curled up with a good book when you were young.
There are a lot of decisions to be made, and doing so with a discerning eye gives more provenance to the historical elements you meaningfully select. Weaving the old and the new together honors your feelings of attachment while creating fresh design, resulting in a unique, charming, one-of-a-kind home you'll love.
In our opinion, things worth keeping:
Original hardwood floors

Built in hutches

Original door knobs and window latches (can sometimes be tricky to save, but there are resources to help you find matches)

Metal floor vent covers and ceiling returns

Uniquely shaped windows

Stained glass

Free standing tubs in good condition

Pedestal sinks

Stair details (beautiful newel posts and spindles)

Original millwork, chair and picture rails

Transom windows (unique features that improve airflow and allow more light into a space)

Wallpaper (vintage wallpaper likely won't survive a remodel. However, you can rescue a few pieces and frame them as artwork)

Tile, fireplace hearths (many vintage tiles were American made in unique colors and patterns you can't find today)

Vintage beams and ceiling details such as tin panels
Sara Marcille is Principal Interior Designer at Mountain Home Collective located in Bozeman and Whitefish, Montana. Dedicated to creating thoughtfully authentic and luxurious interiors, their offerings are uniquely tailored to their clients' visions and needs. Contact Sara at 406-579-2324, email her at sara@mtnhomecollective.com, or visit mtnhomecollective.com.
Content for this article provided by Mountain Home Collective.