Home for the Holidays
A traditional Wyoming log cabin gets a modern makeover and a dose of holiday cheer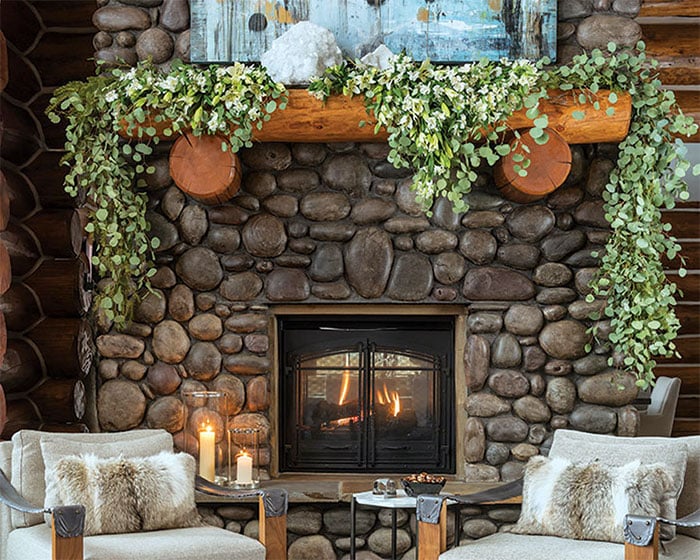 A couple living in Idaho's Teton Valley area planned to build a new rustic-modern home with light-filled contemporary interiors nearby. But when they saw a four-bedroom log home on a beautiful 10-acre property in Alta, Wyoming, with mountain views, mature trees, a live creek, space for a barn, guesthouse and ponds and no visible neighbors—absolute rural peace—they had a change of heart.

The purchasers of a home in Idaho's Teton Village hired WRJ Interior Design to transform their log cabin in time for the holidays
"It was the property that spoke to us," recalls the owner. There was a problem, though. "We had zero interest in a log home. We felt it was too much wood, too rustic and too much maintenance."
The couple asked Rush Jenkins and Klaus Baer of WRJ Design Associates to take a look at the house, wondering whether it was possible to create a modern and contemporary feel despite the logs. The house has great bones, a very open floor plan, and a beautiful river-rock fireplace. Jenkins told the homeowners, "We can work with this."

Seasonal greenery and a river-rock fireplace create an inviting backdrop for a pair of luxurious chairs with leather armrests, linen upholstery and fur pillows
Sabrina Schreibeis, senior designer at WRJ, assisted Jenkins and the homeowner with the transformation, changing the palette throughout the home and replacing the front door, creating a bright and grand entryway. Vera Iconica Architecture helped redesign the kitchen and update the bathrooms. Drywall was repainted from a yellow tone to a creamy white, while the floors were refinished to a dark grayish hue that provides a strong contrast to the walls and makes the white chinking pop. Statement items like elk antler chandeliers were replaced with more contemporary fixtures that are cleaner and lighter. Sumptuous fabrics were introduced throughout; the quiet cream, gray, white and blue tones work well with carefully curated contemporary art pieces.

The new front door, designed by WRJ, transforms a traditional entry

A mix of fabrics and textures creates cozy, inviting interiors
When dark falls early and the valley is covered with snow, the home glows with seasonal spirit thanks to holiday styling by WRJ's Amanda Jordan. It is then that the transformed home's charm is most fully appreciated by its new owners. "It feels like a mountain home yet is very current and contemporary," the wife says. "It's sophisticated and chic yet very warm. We've fallen in love with it and are thrilled with the results."

The kitchen achieves airiness with glass-fronted cabinets, Taj Mahal quartzite countertops, smoked glass pendants, and a light palette juxtaposed against dark floors. WRJ reupholstered existing counter chairs to match the drapes

White chinking between logs and furniture with slim-profile legs help lighten the home's mass

A holiday palette of green, white and glass creates a simple, elegant tabletop

A shell-fronted cabinet adds a touch of brightness and a decided glam factor to the master bedroom. Says WRJ Senior Designer Sabrina Schriebes, "We like to use neutrals and add texture with furs, wools, linens and natural fibers
GET IN THE HOLIDAY SPIRIT
You won't find any stuffed Santas in this Wyoming log cabin—WRJ's Amanda Jordan took a more understated approach when it came to adding holiday cheer. Here, her tips for creating a sophisticated yet spirited décor.

The Belgian dining table, with bluestone top and fumed teak legs, is overhung by a chandelier from the owner's collection. The wool upholstered chairs were made in the U.S. ; the rug is a mosaic mix of cowhides from Brazil
Nothing says "welcome home for the holidays" more cheerfully than an EVERGREEN GARLAND draped around a custom-made door in a cozy log cabin. Select a COLOR PALETTE that harmonizes with the room. The combination of white, silver and crystal used references the snow on the nearby Teton peaks while creating a fairyland feel that is still sophisticated. Sempre Rudolf antler candleholders take pride of place, offset by simple but elegant place settings, demonstrating that LESS IS MORE. Incorporating baby's breath into the evergreen boughs on this home's mantel CREATES A VARIATION on a classic while introducing texture, scent and a softening effect. Rich textures like sheepskin throws and woven blankets in rich jewel tones add coziness and warmth while creating contrast with sleek metallic items. White lilies mixed with cedar boughs contribute seasonal scents and a connection with nature while ENGAGING ALL THE SENSES.
DESIGN DETAILS
INTERIOR DESIGN: WRJ Design Associates KITCHEN & BATH REMODEL: Vera Iconica Architecture