Heart & Home with Ray Booth
An interview with the soul-filled designer and author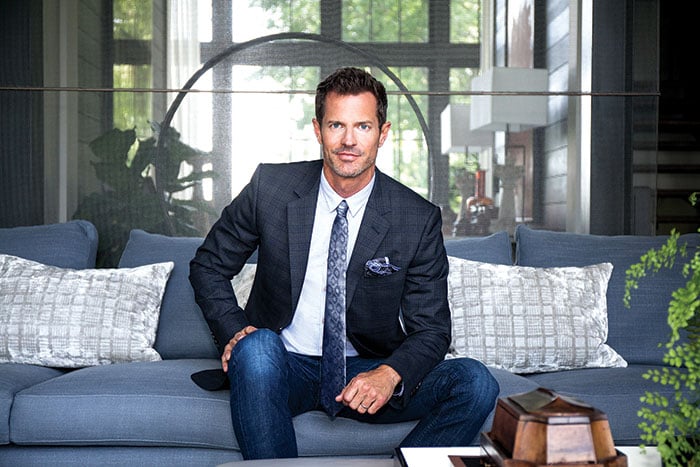 Interior design and architecture maestro Ray Booth encourages his clients to get emotional. Throughout a lifelong love affair with design—he's been sketching blueprints since he was a child—and a 20-year tenure at McAlpine in New York and Nashville, Booth has developed a design approach that explores the inner workings of each project's tenants. In turn, heart takes precedence in the home.

Photo by Pieter Estersohn
"I don't care about beauty," he says. "I care about emotion; I care about tapping somebody's soul. I want our clients to walk into their homes and see themselves reflected in them. Because ultimately, our homes are vehicles for turning our hearts inside out."
His debut book, Evocative Interiors, offers an exclusive look at some of these sentimental spaces—from his own hilltop home in Nashville to a cozy mountain getaway in Montana's Yellowstone Club. We chatted with Booth about the tome, his design process and the woman who influenced his passion for interiors.

For a Yellowstone Club master bedroom, Booth chose a simple yet dramatic open-frame canopy bed with drapes. The snow-white color palate was inspired by the landscape. Photo by Pieter Estersohn
Mountain Living: How did you get your start in design?
Ray Booth: It all started with my mother. After her parents divorced when she was 3 years old, she lived with some distant relatives in a beautiful antebellum house. She tells stories about the spiral staircase and the grand piano and the big columns. But she never talks about it without talking about the people who lived there and how kind and loving they were. She equated the emotional comfort she was getting at the time with beautiful architecture and a sense of security. When I came into the picture, we would go on house tours in Huntsville, Alabama. We'd peer through the windows, and I always knew we were looking at something more than just beauty. We were looking at something that mattered—these were emotional vessels.

Rustic meets refined in the entry of this mountainside vacation home designed by Booth. A collection of antique rings fitted with mirrors and a set of André Arbus chairs break up the expanse of sturdy stone. Photo by Pieter Estersohn
ML: What was writing your first book like?
RB: It was such a cathartic experience to write about something I do so intuitively. I had to really look back
at my own process. None of this work is done alone, and it certainly isn't done alone in our offices. Our process starts with trying to understand the clients' wants, their loves, even their hates. The book is really an attempt at exploring [the question] why does design matter? What makes it meaningful? What makes it emotional? What makes it evocative?

Booth and husband John Shea's Nashville home features a light-filled entry with a lofty cathedral window. Photo by Pieter Estersohn
ML: We love the Big Sky, Montana, home featured in Evocative Interiors. Tell us about that particular design.
RB: This project was a client of ours from Nashville with a contemporary art collection. They told us, "We want to be out West, but we don't want antlers; we don't want all this heavy stuff." We looked at textures and materials and chose planked ceilings, wire-brushed finishes and local stone that had a Western air without being so literal. We always try to take that little seed that we gather from the client and then start looking at the context in which we're building. We make sure the house has a sense of place and acknowledges where it is.

A calming palette of blues, whites and silvers echoes the colors found in the natural surroundings of Booth and Shea's hilltop home. Photo by Pieter Estersohn
ML: Describe your personal design style.
RB: My style strives to find clarity and simplicity, and tries to find harmony within a context of a room or how that room reflects what lies outside the windows. I like that contextualism. I air toward being a little more on the contemporary side, but I like to invite antiques into that for a more layered look. I feel like as people, we're composed of so many different experiences and not just a particular moment in time, so I like an interior to have those layers.
ML: When you're in need of creative inspiration, what do you do?
RB: I go to the beach, I go to nature, I go for hikes, I go to my garden. I can't tell you how many leaves and reflections off water I've photographed that have become inspiration. I have a couple of product lines with Hickory Chair and Arteriors that have been designed and are currently in development, and I really got a lot of my inspiration for those in pattern play and light reflection found in nature.

Photo by Juan Pont Lezica
ML: Your own Nashville home is featured in this book. You design so many homes for clients—what was it like to create your own?
RB: Hard! In large part, because here you are with this opportunity to create, and when you're a designer, architect, you want to do it all. For me and [my husband] John [Shea], we really looked at ourselves and our site as being the thing that guided those decisions. We knew we wanted the house to have an open and modern plan, but we didn't want it to be so modern that it felt out of place on a hilltop in Tennessee.