Everyone's Favorite Vail Jazz Party
The event that started it all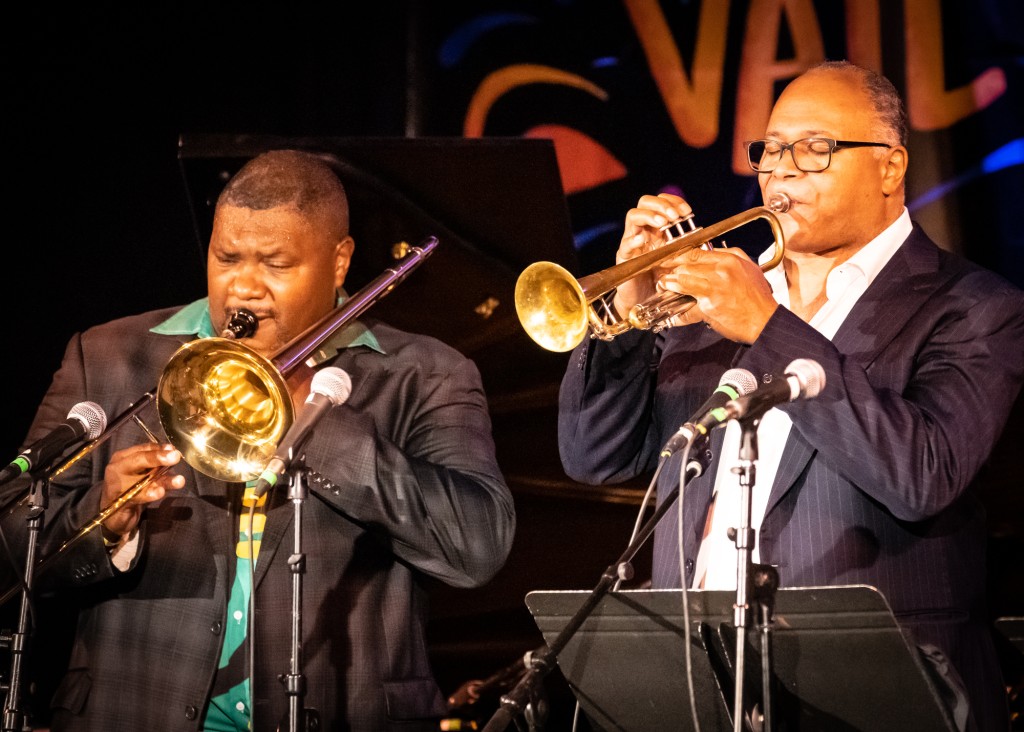 Howard Stone and his wife Cathy did not set out with the intent of founding a full-blown Vail Jazz Festival. Yet, twenty-seven years later, the Stones are still the life force behind the Festival and its culminating party that spans Labor Day weekend.
"We had on numerous occasions attended the forerunner of the VJP—Dick Gibson's Jazz Party. We loved spending our Labor Day weekends listening to jazz," notes Stone. Dick Gibson retired in '93, bringing an end to a 30-year run.
"One snowy night in '95," Stone says, "I was sitting around with like-minded friends. I drank way too much wine and the next thing you know I had made the commitment to throw the Vail Jazz Party the following Labor Day weekend." The commitment was intended to be a one-off event, with no plan for an encore the following year. But, muses Stone, "It's funny how life works out."
The party that started it all
The first Vail Jazz Party (VJP) was held at the Westin Hotel (now the Grand Hyatt) in Vail. Twenty-seven great jazz musicians performed that weekend including John and Jeff Clayton who would go on to co-found the Vail Jazz Workshop. Other notable year-one performers were Tommy Flanagan, Slide Hampton, Jack McDuff, James Moody, Joe Wilder and Phil Woods, to name just a few.
"I had a chance encounter with John Clayton at the end of our first Party," says Stone. "I went to the hotel to say goodbye to the artists and ran into John as he was leaving for Denver. I didn't know him personally at that point, having only seen him as a member of the audience. When I thanked him for his participation, he asked me, "Will you do this again?" I was so high from the three days of music and the feeling of community we engendered, that my subconscious took over and I blurted out, "I know what I'm going to do with the rest of my life!""
Build it and they will come
Howard Stone recalls that the initial reaction to the Party was a lack of interest from the community. "History is important here," he explains. "The 1995 summer season in Vail ended in mid-August because families were returning home for the start of the school year. There was a significantly smaller year-round population in Vail back then and there was no real interest in jazz in Vail at that time."
In those early years, the burgeoning multi-week Vail Jazz Festival was known as Howard's Folly. "I thought about quitting many times early on because the audience was so small and it hurt to see those remarkably talented musicians play to such a sparse crowd," Stone remembers.
But he never did quit. "Maybe I am just too stubborn," he says. Slowly, ever so slowly, the audience for both the summer Festival and the culminating Vail Jazz Party began to grow.
A one-of-a-kind celebration
The VJP is unique in that it presents a combination of bands that all play together. Soloists take the stage as well, sitting in with the bands. Everyone jams together. VJP also presents original, themed programming, such as Wycliffe Gordon's Nu Funk Machine dance party, multimedia shows, a Sunday morning gospel "prayer meetin''" and late-night jam sessions. The atmosphere is one-of-a-kind. "The audience is such a major part of the VJP because of the intimacy of our settings and the very special opportunity to 'hang' with the musicians," Stone explains.
Come for the music, stay for the friendships
Ask VJP "regulars" why their attendance has become a sacrosanct tradition and a common answer may surprise you. "I meet the most interesting people, year after year," says Bettan Laughlin, a Vail resident who has attended every VJP and most of the weekly summer performances. Workshop Committee Member Wing Mayer also cites friendships formed with audience members as well as musicians.
Twenty-seven years later, Labor Day festivities draw hundreds of jazz lovers (and the merely curious) from nearly every continent. It's not uncommon to sit next to a stranger for the Party's first show and wind up making happy hour plans with them by the time the weekend winds down.
Join us! The VJP continues this Labor Day Weekend from September 1 – 5, 2022. Lineup and tickets are available at VailJazz.org/vail-jazz-party.