Design Considerations for Porcelain
Picking the right product for the right job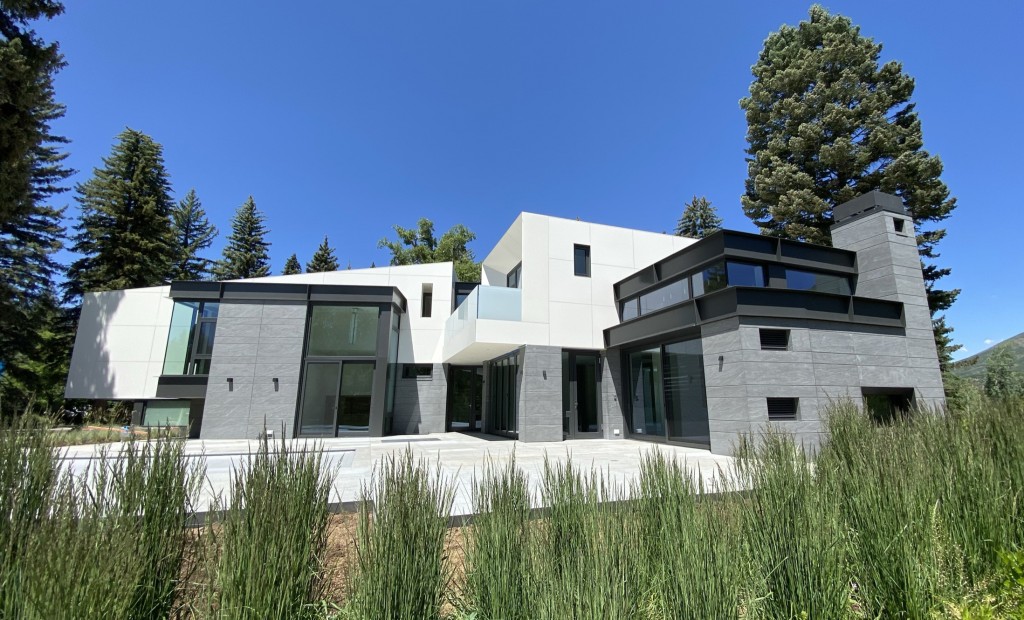 Porcelain is a timeless material that is experiencing growing popularity among homeowners. Now available in large formats, is an ideal choice for new build projects as well as renovations.
Some of the positive qualities of porcelain include heat resistance, the ability to mimic a marble look without etching, a hard durable surface, and low maintenance.
As with any project involving stone, picking the right one is very important. Here are few tips for choosing porcelain for your project.
Bookmatched Slabs
Bookmatching occurs when two or more natural or engineered stone slabs are mirrored to match the pattern, movement, and veining found in the material. When the slabs are placed end to end, the veining and movement continue from one slab into the other, creating a continuous flow or pattern.
Bookmatching is ideal for creating waterfall edges, returns and areas that require more than a single slab. Make sure you are able to get the correct thickness for your application. Most require ½" as minimum thickness for countertops. However, be aware that not all materials and patterns come in every thickness.
Core Color
If you are going to have an exposed or mitered edge, keep in mind that the core of your porcelain tile will be exposed and not all tiles have a core color that matches the surface.
Most manufacturers that are marketing their product for countertops typically do have a core color that is a close match to the surface.
Most manufacturers have 20+ print colors and patterns but maybe only 7 base core colors, so getting actual samples or looking at a full slab is best.
Slab Size
Each manufacturer has different base dimensions for their products, so always check to verify slab size to ensure it will fit in with your design plans.
Seams and Corners
Seams and corners have been a sore spot for some customers wanting that large format slab of porcelain without any visible seams, like you may be able to get with natural stone.
You really only have 2 options for any inside corner due to the nature of stress in the stone. You can choose either a radius in the corner (not allowing inside miter corners) or putting a seam at every inside corner.
When installed correctly, per the Natural Stone Institute, you could still expect a 1/16" joint at those seams and this may not fit with your vision.
Edge Options
There are many edge options available with porcelain, similar to natural stone. One difference from natural stone edges is that most manufacturers recommend a 1/8" radius on the edges to help prevent chipping, whereas normally with quartz or granite you can have a pretty sharp, durable edge. Also, sometimes the edges do not match the surface color or pattern.
Other locations that can present an issue are any openings in the stone, sinks or tub decks. In these areas we have found it best to laminate the edge to create a larger looking edge and add some durability to the area. Or, we can add our larger bevel edge to help with any potential chipping.
Selecting a Fabricator and Installer
When selecting a contractor to complete your porcelain tile work, a great resource is the manufacturer or reseller of the product. Many require fabricators to complete extensive educational and best practice trainings in order to be listed on their preferred vendor list.
An additional resource to find fabricators and installers is the Natural Stone Institute. They have a list of accredited fabricators and installers. An accredited company must comply with all basic stone standards, meet OSHA requirements, be financially responsible, offer proper warranties and be insured, to name just a few things.
One note: Since this is a new product, many manufacturers of support products like blades, bits and material handling equipment are working to make improvements to ensure a better outcome.
Following these tips will help you choose a unique porcelain product to customize your space in a fresh, unique way.
Kris Kortuem is the Marble Shop Manager at The Gallegos Corporation, a full-service specialty trades contractor dedicated to the highest standards in stone, masonry, stucco, plaster, marble, granite and structural concrete. View their profile and visit www.gallegoscorp.com for more information.
Content for this article provided by The Gallegos Corporation.