Crafting with Integrity
For New Moon Rugs, stewardship and social responsibility go hand in hand with creating beautiful, hand-knotted Tibetan rugs
At New Moon, we not only create rugs unequalled in quality, we are passionately committed to upholding socially responsible business practices. We are a small, yet mighty boutique company and we hope that they ways in which we have empowered the women in our workforce and implemented social programs has helped to pave the way for real change on a much broader scale. Each small step in the right direction creates the building blocks to making a powerful impact on the rug industry of Nepal and beyond.
Operating with integrity is of utmost importance to us. Here are a few ways we have made an impact.
Empowering a Female Employee Environment
One of the most exciting and impressive differences about the way we do business is our almost-all female employee environment. The majority of our weavers are women, as are most of our management and office staff. In fact, New Moon has the largest per capita female workforce in the Tibetan rug industry.
In Nepal, where our rugs are crafted, most job opportunities are available only to men. We take seriously the responsibility of empowering Nepalese women through employment. We help them overcome the difficulties they face from their culture working outside the home, and enable them to support their families financially. This in turn contributes to strengthening the struggling economy of Nepal.
Educating Children and Helping Families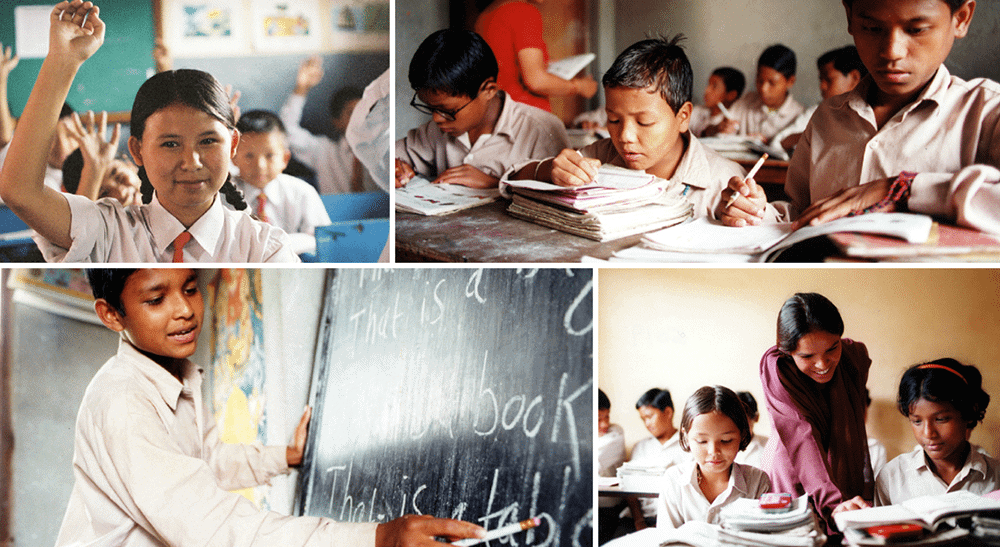 Many of our Nepalese weavers have no choice but to bring their young children with them to work, which is part of the systemic problem. Recognizing that a factory is not the ideal environment for young children, we provide day care support for our employee's children to learn and play in a healthy and supervised environment.
And once these children are of school age, we offer financial support to send them to good schools. By investing in our employees' children, we help create a more stable and healthy life for their families.
On a broader scale, we are a founding member of Goodweave, a global nonprofit organization working to end illegal child labor and offer educational opportunities for children in Nepal, India and Pakistan. All of our rugs are tagged with the Goodweave label, assuring customers that no child labor was employed for its manufacture.
Family run, family focused
We know how important family is. After all, we are a family business; it's personal for us. My father started the company in 1993 and I've literally grown up in the business. Following in the footsteps of my father, my sister and I have worked alongside him and my mother for years. Now at the helm of the ship myself, my five year old daughter Izzy eagerly joins me on all of my overseas adventures to Asia and has started dabbling at rug designing herself. Seeing her interest in carrying on the family tradition has sparked a creative energy in me as well!
Just as I am the second generation of my family at New Moon, we have families in Nepal that have been with us for generations as well. Many of the women in our company are children of weavers who have grown up, finished college and are now coming back to work in office positions.
As we continue to grow, our family takes as much pride in our beautiful rugs as we do the impact we've had on the lives of our work family halfway around the world.
Erika Kurtz is the COO and second generation owner of New Moon Rugs, a small, family-owned company dedicated to the highest standards of responsible design and workmanship. View their profile or contact Erika at 302.654.0442.
Content for this article was provided by New Moon Rugs.