Building a Legacy
On the 15th anniversary of Rowland + Broughton, Sarah Broughton reflects on the studio's past, present and very exciting future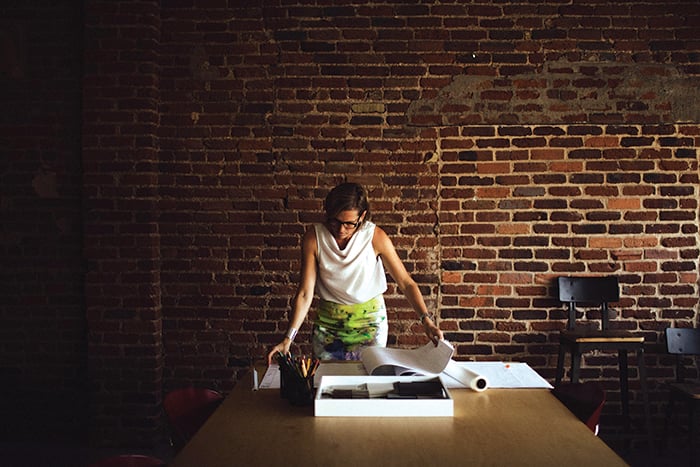 When you talk to Sarah Broughton, the word "exciting" just keeps popping up. The Aspen- and Denver-based architect—who launched Rowland+Broughton with her husband and partner, John Rowland, 15 years ago—radiates enthusiasm for her firm's achievements in architecture, urban design and interior design.
"There's been a constant striving for excellence and pushing great design and being innovative with new building materials," Broughton explains. "It's design that is based on good proportion, good scale, timeless materials, great natural light—something that doesn't go out of fashion, and therefore has legacy to it," she says.
With an impressive slate of commercial, residential and hospitality projects in the works—including a renovation of the Hotel Jerome and the old Aspen Times building, as well as Aspen's brand-new W Hotel—R+B welcomes new challenges while staying true to its local roots. "In the last 15 years we've gone away from a heavy mountain vernacular, and things have really gone to the more contemporary," Broughton notes. "I think it's going a little too far in that direction, personally, right now. It's really important as designers and architects and clients that we respond to context, and really study and understand what we're designing to and for, and not just the latest trend," she says. Case in point: R+B's plan for the W Hotel, which infuses Aspen's vintage Austrian chalet aesthetic with a modern sensibility. "What was really important to us is keeping that ski heritage vocabulary," Broughton says.
Responding to social and environmental needs is an R+B priority. "We have high sustainability goals," Broughton explains. "Whenever we are presented with a project, we try to understand if something can be reused," she says. "Over 60 percent of our work is renovation, and we feel that often that is the most sustainable thing that you can do." Putting their principles into practice, Rowland+Broughton is adapting the historic Mesa Building to become their 24-person Aspen headquarters, while their 16-person Denver office is housed in a restored 19th-century coffee beanery in LoDo.
As a design leader, Broughton takes mentorship seriously. "It's part of my day, every day," she says. The Rowland + Broughton team is nearly 50 percent female. Broughton explains, "We all know that having multi-culture, multi-gender ways of looking at things is super important, so I've always seen it as a benefit." The guidelines for success at R+B are simple and straightforward. "Regardless of whether you're a woman or a man: Be prepared, do your homework, don't take it lightly, and come to the table ready to contribute," Broughton says.
It may sound old-fashioned, but the R+B brand of responsible citizenship fueled by hard work just might be the key to the firm's future success. "We definitely feel a stewardship to the community, to the environment," Broughton says with her trademark exuberance. "That actually excites us; we like that challenge," she says. "It's thrilling."
R+B's modern transformation of this lodge-style home retained the traditional gables, but replaced the end walls with glass.
For a new home in an historic Aspen neighborhood, R+B created a sleek, modern interpretation of Victorian gable, porch and patterned siding traditions. Pocket doors open to the terrace.
To update this 1969 cliffside home for the 21st century, R+B restored its outstanding original features while making sensitive contemporary adaptions to enhance indoor-outdoor flow.
The Rowland + Broughton team designed Matsuhisa's Denver (Cherry Creek) restaurant with an under-stated, natural elegance inspired by Japan.
Sarah Broughton's List of Favorites
1. Favorite writing instrument?
Staedtler triplus fineliner in black. And a black Sign pen for big lines!
2. Favorite tool?
My mini architectural scale. It is always with me, along with a measuring tape.
3. Favorite building?
Right now it is the historic Aspen Times building that we preserved and renovated as part of Hotel Jerome. Very few historic wood storefront buildings remain. We were able to remove non-historic additions and bring this prime example of our history into full view.
4. Favorite architect?
Kengo Kuma. His innovative use of wood is beautiful! We recently experienced his buildings at the Portland, Oregon, Japanese Garden.
5. Favorite female architect?
Patricia Urquiola. I love how prolific she is! We go to Salone del Mobile in Milan every spring, and it is great to see her ever-growing collaborations.
6. An underappreciated building that people should know about? 
I love the Herbert Bayer buildings and landscape at the Aspen Institute campus in Aspen. We live across the street, and one of my favorite things to do is to walk or run through this magical place!
7. Favorite author/book?
Christopher Alexander's A Pattern Language, a bible for great, timeless, human-scaled design. Currently on my nightstand is Tim Ferriss's bookTribe of Mentors.He asks a series of questions to people who are impacting life. Their answers are inspiring, guiding and educational.
8. Favorite color? 
Green. Which is why I love Benjamin Moore's China White. There is a slight hint of green, which adds great warmth!
9. Favorite shoes to wear when you know you'll be on your feet all day?  
Vince leather sneakers.
10. Favorite artist?
I was totally blown away by Damien Hurst's exhibit at the Venice Biennale last year. It was heavily scrutinized, and when I finally saw it all the criticism went away and I was mesmerized by the scale and execution.
11. Favorite musician?
Grateful Dead or Bob Marley. I was born in the '70s and have older siblings!
12. Favorite hike?
All in Aspen:
Everyday—Smuggler Loop
Weekend half-day—American Lake
Longer—Snowmass Lake, Four Pass Loop (with a night in Crested Butte)
13. Favorite summer festival?  
This is hard! We go to the Aspen Music Festival every summer and conclude our weekends at the Orchestra in the music tent on Sunday afternoons. It is heavenly!