Art in the Mountain West
3 hotels that offer more than just elegant rooms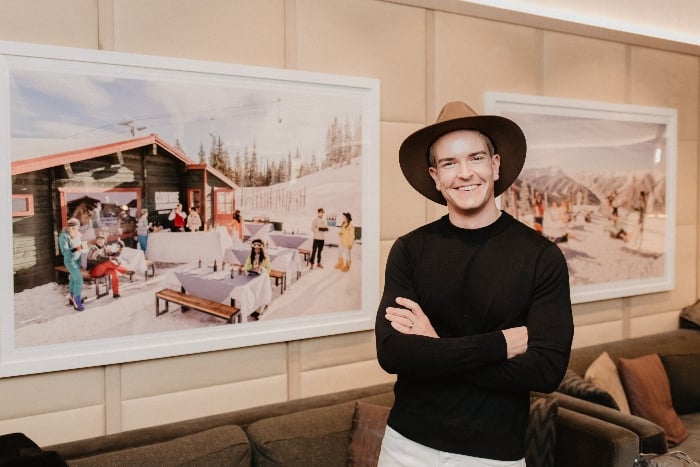 If you'd like a little culture during your next hotel stay, these three properties, located in Colorado, Wyoming and Utah, have you covered.
Celebrate Yesteryear in Aspen, Colorado
The Little Nell, one of Colorado's only five-star/five diamond hotels, has teamed up with fine art photographer Gray Malin for a new exhibition.
In the lobby and The Living Room of The Little Nell, Malin's recent project will be on display. The series is all about Aspen through a vintage and yet contemporary lense.
Conjuring up the yesteryears, the photos portray items such as a 1950s Porsche, a Bernese Mountain dog and models in classic ski fashions from a time gone by. There's even a photo of people having a good time at Cloud Nine, an on-mountain Euro bistro in Aspen.
Aspen already has a good deal of nostalgia in the air and now it has even more at The Little Nell. The images are available online at graymalin.com and will be on display at the hotel through Feb. 17, 2020.
The Wild Kingdom in Jackson, Wyoming
Jackson may be known as a ski Mecca but it is also an art hub. Perhaps unsurprisingly, wildlife art is tops around here. See it at places like the National Museum of Wildlife Art, which exhibits some of the most renowned painters who ever lived. It is across from the National Elk Refuge, so it's likely you'll see some real wildlife too.

Photo courtesy of Visit Jackson Hole
If you'd like to stay in a hotel that embraces the same type of art, Wyoming Inn is your best bet. It is home to one of the world's largest collections of Thomas Mangelsen's wildlife photography.
For over 40 years, Mangelsen has traveled the world observing and photographing the wonderful creatures that live on earth. He is considered one of the most influential nature photographers by Outdoor Photographer.
Mangelsen's first gallery was in Jackson in 1978. He still maintains a gallery here located at 170 N. Cache Street, five minutes from the hotel.
A Touch of Class in SLC
In Salt Lake City you'll find the Grand America Hotel, a place where art isn't just something on the walls, it's everywhere.
The largest hotel in Salt Lake City, it allows guests to take a self-guided art tour with a complimentary tour book, or schedule a tour with the Grand Ambassador. The hotel is home to treasures like "Le The," a painting by Henri Bouvet. Born in 1859, Bouvet's painting shows his family gathered for tea. For years, it was housed at the family home in France.
Browse antiques, tapestries and stunning chandeliers at this 775-room hotel in downtown Salt Lake City. It has a Conde Nast Traveler-rated full service spa, indoor and outdoor pools and so much more. The hotel's conference facilities have hosted the likes of Condoleezza Rice. It may be only 19 years old, but the Grand America Hotel already has many stories to tell.