A Rustic Four-Cabin Family Enclave
Montana's Western heritage comes back to life in a rustic residential compound in Big Sky's Yellowstone Club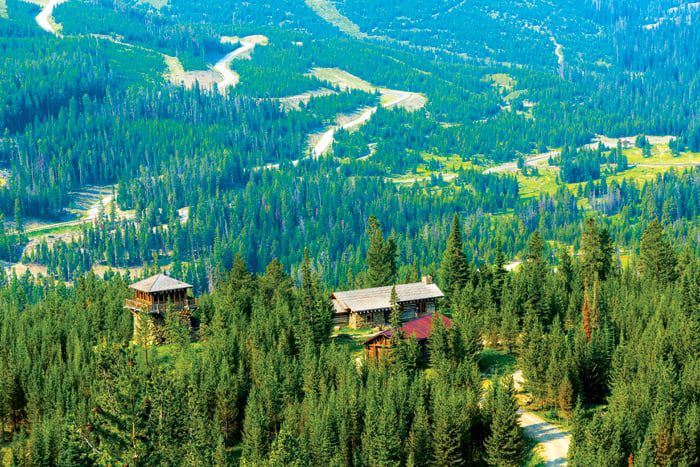 "I always imagine a creation myth at the beginning of a project," says architect Larry Pearson. The principal of Bozeman-based Pearson Design Group is well known for designing residences that faithfully re-create or imaginatively reinterpret traditional styles of the Rocky Mountain West. But of the many projects Pearson has helped bring to reality, perhaps none more closely evokes the region's history than West Fork Camp, a residential compound on 17 acres within Big Sky's exclusive Yellowstone Club.
More than 15 years ago Pearson embarked on the project with contractor Harry Howard, founding partner of Bozeman-based custom homebuilders Yellowstone Traditions, and their client, renowned cyclist Greg LeMond. Together they developed a creation myth for a great Western ranch property: an enclave of structures that though newly built and graced with modern amenities, would look like they had evolved there for more than a century and a half.
"Greg is a romantic, a very artistic man who is passionate about Western architecture and 'Parkitecture,'" Howard says. Adds Pearson, "He sponsored and inspired us to reach a level of detail that is very exceptional."
Enhancing that detail was a commitment to using "materials that came from as close to the region as possible," Howard explains, including locally cut dead-standing lodgepole pines, recycled logs and boards, and regional Harlowton fieldstone.
Of the four residences, which LeMond would use as a retreat for family and friends, the one that appears to be the oldest was inspired by 1880s trappers' cabins. The 1,100-square-foot structure was built with one stone half-wall dug into a slope that provides year-round natural thermal benefits; the above-ground portion of that wall and all other exterior walls were fashioned from stacked logs and chinked with a synthetic material that looks antique. The team positioned the house near a small pond, one of three made from natural springs on the property.
On higher ground, a "dogtrot"-style structure measuring 1,150  square feet brings to mind the homes of early settlers. To create it, the design team joined two old log homes—salvaged from the Flying D Ranch near Bozeman—with a central stone structure, just as growing pioneer families did in the late 19th century. "The logs, the thick stone walls and the stone fireplace give this cabin such a cozy warmth," Pearson says.
About 100 feet uphill from that cabin stands a third building, inspired by U.S. Forest Service fire towers built in the region in the 1920s and 1930s. "In our creation story, this structure represents the Forest Service's development of the property," Pearson explains.
Containing a ground-floor bedroom and second-story bunkhouse with kitchen, "it looks like what you might have expected when rangers were manning the tower," Pearson adds, "but there are a lot more creature comforts." The top wood-framed floor offers a comfortable interior with custom Craftsman-style leather sleeper sofas along with continuous walls of glass and a wraparound balcony offering views in every direction.
The largest—and newest-looking—residence stands within hailing distance of the trappers' cabin. Reflecting mid-20th-century building practices, the 1,900-square-foot home features frame construction clad with stones and round logs. Rustic details, including twig-and-birch-bark paneling, a majestic stone fireplace and a 600-square-foot porch, bring to mind some of the great camps of the Adirondacks, Pearson notes. "As folks came west, they brought those influences with them."
With this combination of historical building techniques and rugged local materials, not to mention a wealth of antique Western and Arts and Crafts furnishings and period accessories, the homes at West Fork Camp preserve the past in vibrant living form. "These are jewel boxes," Pearson says. "They're as hand-built and detailed as anything we've ever done." Indeed, it is precisely through such attention to detail that this creation myth was brought to vivid life.
A grove of aspens helps provide the trappers' cabin with natural shelter. In the cabin's kitchen, doors paneled in birch bark and lodgepole pine underscore the rustic look.
The cabin stands so close to the man-made pond that "you can go fishing from the front porch," architect Larry Pearson says.
A small enameled cast-iron Aga range adds a bright pop of color.
In the "dogtrot"-style cabin, the master bedroom occupies one of two old log cabins that were reassembled on the site.
In the cabin's other log structure are the kitchen and living room, which features an antique sofa, table and chairs by Wyoming-based furniture maker Thomas C. Molesworth and, over the fireplace, an early-20th-century oil painting by Taos artist Joseph Henry Sharp.
A gentle uphill walk leads to a fire pit situated midway between the cabin and fire tower.
Anchored to the hillside by its two-story stone base, the fire tower is crowned by a log-and-glass third floor with wraparound deck.
The upper floor of the fire tower offers views in every direction, making the space perfect for entertaining.
The built-in bunks and kitchen on the second level were crafted from barrel staves—richly finished with an amber-hued shellac—from an old San Francisco brewery.
Landscaping featuring native Bozeman plants surrounds the largest cabin, which has a large corner porch.
The master bedroom's log-framed bed was placed to afford views westward toward the trappers' cabin and pond.
In the master bathroom, an antique early-20th-century English freestanding tub is complemented by a his-and-hers vanity custom-built by Yellowstone Traditions.
Like the three other main structures sharing West Fork Camp, the cabin was carefully situated to look like it has occupied its site for many decades.
DESIGN DETAILS
ARCHITECTURE Pearson Design Group, Bozeman, MT 406-587-1997 GENERAL CONTRACTOR Yellowstone Traditions, Bozeman, MT 406-587-0968 LIGHTING, ELECTRICAL & CONTROLS DESIGN Jason DeCunzo, Riverhaus Design Group, Missoula, MT 406-239-2005