A Rock Star's Ranch
This Montana home belongs to Jason Newsted, former bassist of Metallica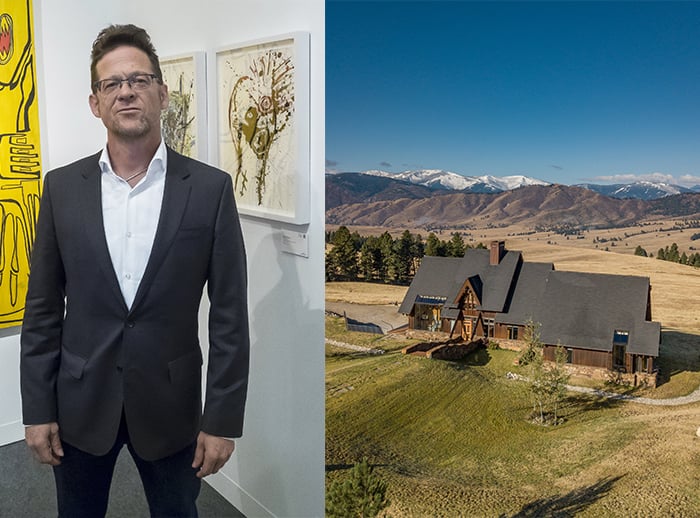 Jason Newsted is one of the most famous heavy metal bassists of all time. While he wasn't an original member of Metallica, he was playing bass with the heavy metal band when they rose from the underground scene to the top of the mainstream charts, worldwide—from the late 1980s to the turn of the 21st century. After his time with Metallica, Newsted went on to form the metal band Echobrain with Brian Sagrafena and Dylan Donkin, played with Ozzy Osbourne, and joined heavy metal band Voivod.
When he's not on stage, Newsted enjoys 545 acres in Sula, Montana—the rolling hills, mountain backdrop, and luxurious ranch house are a welcome retreat from the fast-paced world of a heavy metal musician. The custom, 5,800-square-foot, timber-frame home is sits atop a ridge and enjoys expansive views of snowcapped peaks, plenty of native topography for hiking or horseback riding, downhill skiing at Lost Trail Powder Mountain less than 30 minutes away, and wildlife sightings of deer, elk and bears.
Inside, Newsted's ranch features a chef's kitchen, with premium stainless steel appliances, walk-in pantry, and a dumbwaiter to deliver groceries. A grand stone Rumsford-style fireplace anchors the living room, surrounded by gorgeous stone and woodwork throughout.
In true rock star fashion, the home includes a guitar safe, recording studio and—as its showstopper—an entire sunburst wall, handcrafted from exotic woods from the Gibson guitar factory. Take a tour below.
Learn more about this property here.
SEE ALSO:
Melanie Griffith's Aspen Aerie
John Denver's Rocky Mountain Home
Oprah Winfrey's New Home in Telluride
High-Country Celebrity Homes