7 Tips for Turning Your Home Into a Haven For Books
Think like a librarian to add layers, character, and class to your interiors.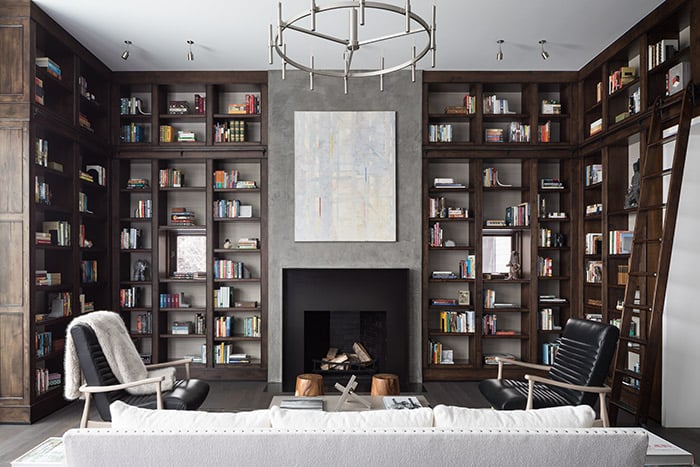 It can be challenging, particularly in a new residence, to fill in the details that make a house into a home. Being intentional in how you select, organize, and arrange your books in a home is one of the most organic parts of your interior design. Books are the most personal objects we own. Whether new or old, read or not-yet, they add texture and interest to any room. A space empty of books can feel like a vacation rental—and one with too many can feel cluttered. Think like a librarian to add layers, character, and class to your interiors.
1. Consider your relationship with books.
Are you a constant reader, a browser, or do you just like the look of them in a room? Do you use your cookbooks every day? Do you loan books out? Are most of the books on your shelves things you have already read, things you would like to read, or a mix?
2. Add topics that speak to your interests and tastes.
Do the books on your shelves reflect the many different parts of your life, your hobbies, and your tastes? Is everyone in the family represented by some of the books on the shelf? Much like adding a painting or an antique to a room in order to reflect one aspect of your life—a style or view you have enjoyed, a piece of family history, etc.—the right combination of books can tell the story of your life and of the things you might be curious to read about in years to come. There is a book for every topic under the sun. Consider adding a few that might remind you (and browsing visitors) of your background, your travels, and your dreams in life.
3. Provide books for your guests to enjoy.
We all enjoy resources to help us explore and understand a new place, whether a mountain paradise or a great city. What is special about your area, and what might help people know it better? Consider including books about your region for those who don't know as much about it as you do: natural history field guides, trail guides, history, and pictorial books to inspire day trips. You can also provide bookish hospitality by keeping a shelf of fantastic reads—books you have really enjoyed but are happy to give to a friend on their relaxing getaway, or simple collections of short stories or essays for vacation reading. Do you ever host small children in your home? We are in a golden era of illustrated children's literature: buy a few for a (literal) rainy day.
4. Downsize your collection.
Bookshelves should be easy to browse, with room for a few art objects or picture frames and—for big readers—room to grow. Keep those that you love or look forward to reading, and only keep resources like dictionaries or cookbooks if you truly use them.
5. Keep the books you love most easily accessible and at eye level.
Consider which books you use most or that mean the most to you, and also those that you think others might find interesting. Are they on a top or bottom shelf? Prioritize those that merit space on a coffee table or on the most visible shelving. And don't be afraid to change the way you organize or arrange from year to year.
6. Buy special or rare editions of titles that are dear to you or your family members.
Some people have that book—the one that has meant the world to them their entire life, or that they re-read annually, or that they buy extra copies of just to give to friends. Take "special" to a whole new level by exploring the world of rare books and limited editions. Whether a modern copy with beautiful illustrations or a true rarity such as a first edition signed by the author, unique books like these take any collection up a notch.
7. Consider spaces around the house that could use a small stack of books.
If you are reading this article, you are a Book Person. And so you know the delight of encountering a good story or an interesting volume, and especially of finding one in an unexpected location. I don't advise keeping books in every nook and cranny in a space, but I do like thinking creatively about corners of our lives that could use a few books. Pick a stack of books—large or small—from your shelves that you might enjoy crossing paths with over your morning coffee or when hosting a dinner party.
Identify surfaces where they might fit nicely and work with the art and objects in the home. Anything flat is an option, particularly spots beside chairs of any sort. If you have cocktail books, why not stack them on the liquor cart beneath your glassware? Benches that aren't practical for sitting are perfect for books. If your interior design has a more casual or bohemian vibe, try a stack of oversize art books on the hearth, atop a stool, beneath a coffee table, or even on the floor in front of an armchair. Larger coffee tables, side tables, or library tables can hold multiple stack of large books, uniformly placed.  Experiment, and change things up from time to time. The home isn't an academic library; there is no wrong way to organize and arrange your books.
Any house can become a palace for books and reading. It's simply a matter of collecting books that speak to you and placing them to be seen, to be used, to be enjoyed.
Christy Smirl, MLIS, is a librarian and the owner of Foxtail Books & Library Services. Based in Jackson Hole, Foxtail Books & Library Services curates, designs, and organizes home libraries around the country. View their website or contact Smirl at 307-264-0220.
Content for this article provided by Foxtail Books & Library Services