4 Inspiring, Eye-Catching Fireplace Designs
How to create a focal point that is both functional and beautiful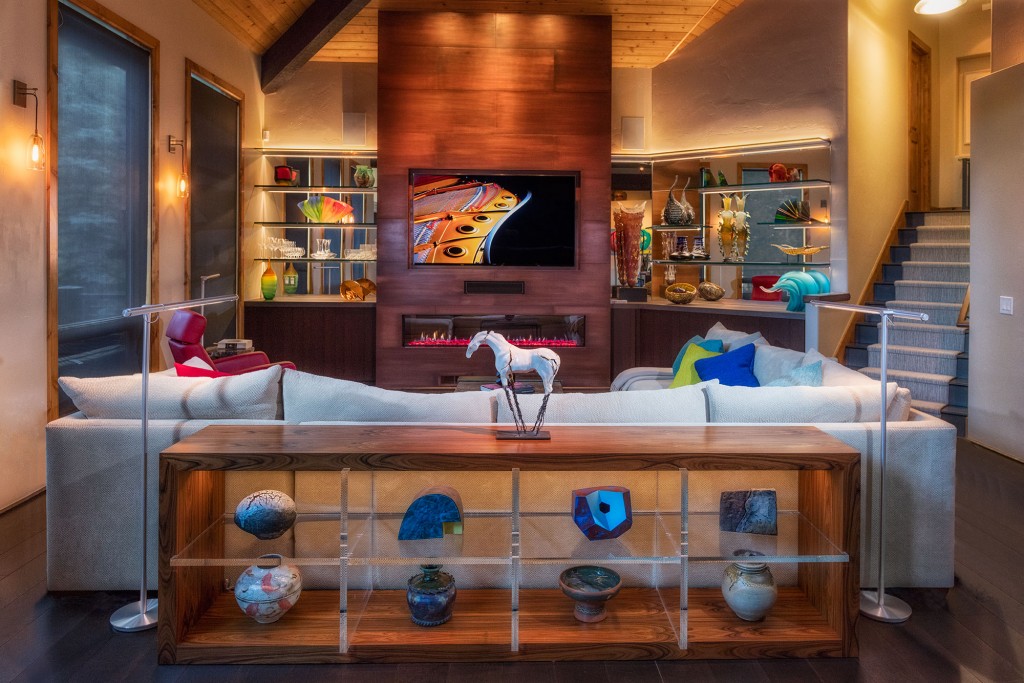 Autumn has definitely asserted its presence, especially here in the Rocky Mountains of Colorado, and with it comes the colors of vibrant aspen trees, snow-kissed peaks, and chilly evenings and mornings. With the cooler temperatures, we're spending more time indoors and more time near our fireplaces. So why not focus on awe-inspiring, functional fireplace designs that you can cozy up to all winter long?
For any homeowner, a fireplace can certainly be a statement piece within the home. But for the mountain homeowner, the fireplace is not just a statement piece; it is most likely a heavily used and practical fixture within the home as well.
When we design living rooms, we like to incorporate a show-stopper fireplace into each and every design. Typically, we choose to create a visually stunning, floor-to-ceiling display that becomes the focal point of the living room.
But we are also very intentional in selecting the proper unit—one that gives off great heat and truly warms up the room on a chilly winter's night. After all, when you live in the mountains you don't just want a beautiful fireplace. You want a functional one, too.
These days, with so many incredible fireplace units available, numerous design options unfold. You can go with a traditionally sized, square-shaped unit or a landscape unit, which has become increasingly popular over the years. Both work really well—it just depends on your design goals and personal preferences. It also depends on the space and where the fireplace unit is destined to live.
If you are building a new home, the sky's the limit. However, if you are remodeling, the fireplace unit may have to be decided based upon already-existing parameters.
A few of Kasia Karska's favorite options include:
An enclosed unit with a single pane of glass, encased within a feature wall.
A two-sided unit, with a peekaboo view to the other side of the room.
A three-sided unit with glass panes on three sides that makes it feel like the fireplace is floating within the confines of its space and is very aesthetically appealing.
Again, there is no right or wrong selection here. Rather, the space in which the fireplace unit is going will determine which one is the best selection for your design. Your personal preference plays a role as well.
As far as materials go, our favorite material selections are: tile (usually porcelain), stone (oftentimes basalt), and strips of steel. Or you can even be playful with a combination of materials. An example is this stone and steel fireplace from our Leo's Crossing custom home design-build project, below.
Whether you're in the process of building, remodeling, or just dreaming of your next space in the mountains, don't forget that there are many incredible fireplace designs out there to inspire you. They can add a visually stunning element to your home and also keep you warm on those long, chilly nights throughout winter in the Rockies.
Kasia Karska is the owner of the boutique design-build firm, Kasia Karska Design, located in Vail Valley, Colorado. Kasia's ultimate passion is creating custom homes for her clients from the ground up. This design-build firm believes in not just building a home, but in creating a sanctuary unique to each individual client. View their profile or contact Kasia and her team at 970.688.5748.
Content for this article is provided by Kasia Karska Design.
Photography provided by Brent Bingham Photography.