3 Mountain Homes With Incredible Water Elements
These Wyoming retreats feature innovative and stunning ways to incorporate water into architectural design in the mountains.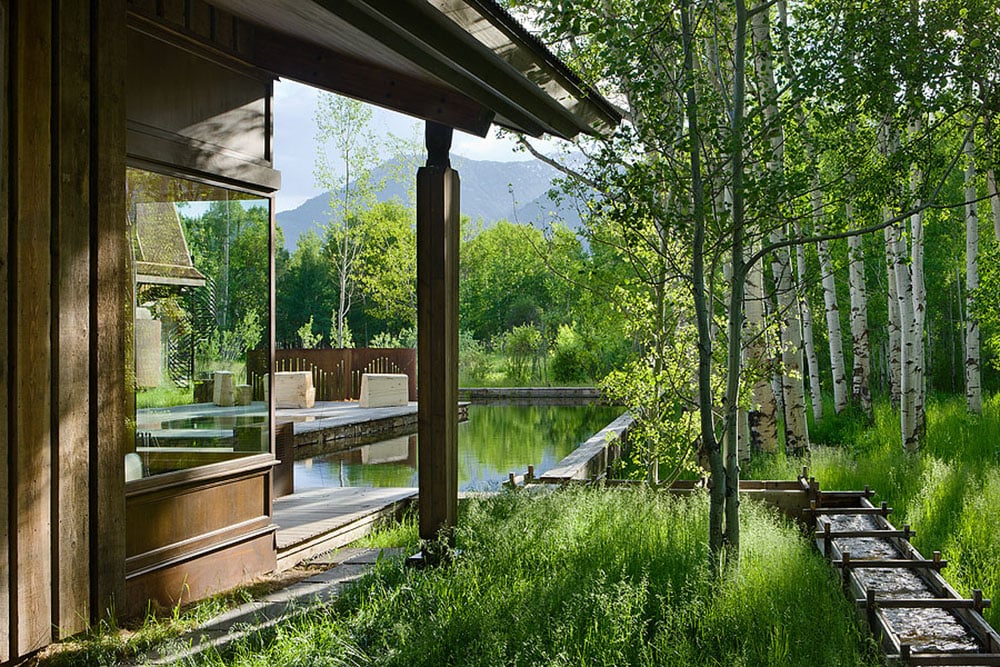 Photo above by Roger Wade
With Feng Shui elements like sky and fire already common in these mountain-home settings (think gathering around a fire pit to admire expansive views), water can be hard to come by in some parts of the Rocky Mountain West, while bountiful in others. But no matter the climate, incorporating water elements into the architectural design of your mountain home can not only serve purposes like masking highway noise—it can also take the luxury factor to a new elevation.
These three gorgeous retreats in Jackson, Wyoming, all incorporate water in unique ways and with distinct purposes. Here you can admire the end results while learning a thing or two about designing with water.
This mountain-modern home is situated up on the buttes in Jackson, where the climate can be rather harsh. Without much tree cover, the area can be arid and exposed, so in order to add a sense of coolness and refreshment, water literally runs the perimeter of this design. It starts clear at the top of the home, courses through the waterway, drops a full story to wrap around an uncovered patio, flows toward a reflecting pond, spills off and drops four feet to the first covered patio, drops another four feet to the second covered patio, hooks a left around the hot tub, and then reappears on the side of the house to a chamber that pumps the water back up to start again.
The result is a water-traced home that features the flowing element from almost every angle in an otherwise dry setting; there is even a specially designed window in the stairwell that reflects the dazzling movement of the reflecting pond into the interiors.
---
Located on the valley floor, the site of this Jackson home is the opposite of arid. The property is adjacent to an irrigation canal, and the owners saw it as a resource of the lot. They wanted to incorporate water into all elements of the architecture, which meant the design team needed a way to deliver it from one point to another. Two ponds were dug, which filled with water naturally. A mechanism, developed by Verdone Landscape Architecture, was built to move water from one pond to another. Because of the flat nature of the site, the device provides a sort of friction-free flow—moving water from one point to the next—and results in abundant views of still water, as well as the experience of a babbling brook around the outdoor spaces.
This retreat, situated in a wetland area, is an example of architecture beautifully integrated with the water that was already there—and when it's done right, Mother Nature just takes over. If you provide the right environment, plants and animals can move in, get settled, reach an ideal level of aquatic diversity, and present as if the home has been there for decades, when in fact it's only been around for a few years.
---
The owner of this home lived in Tokyo for a while and enjoyed a number of tranquil gardens there. When it became time to build a home in the mountains, they wanted a courtyard with a true Zen feel. Inspired by Japanese designs, this courtyard shines a spotlight on a large granite slab—perforated so that water percolates straight up and creates a half-inch sheet of perfectly balanced water.
The result of this unique use of water is a sense of stillness and serenity only matched by the mountains beyond.
Mitch Blake, AIA and Tom Ward, AIA are the founding architects of Ward + Blake Architects, an architecture firm based in Jackson, Wyoming, that specializes in environmentally specific design. View their profile or contact them at 307.733.6867.
Content for this article provided by Ward + Blake Architects.