3 Dreamy Rocky Mountain Ranches
A collection of jaw-dropping ranches from Colorado to Montana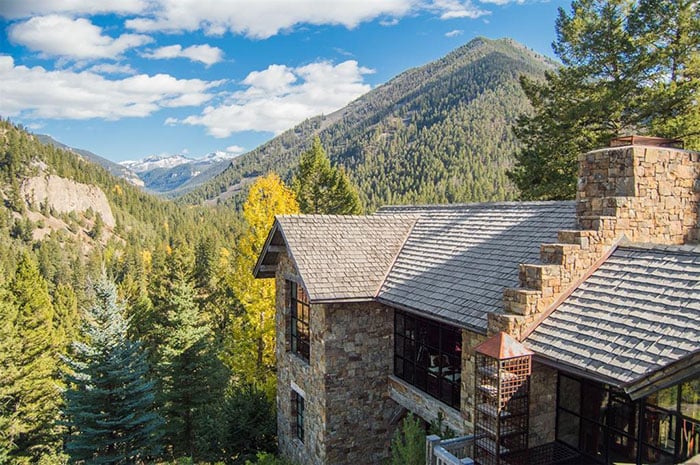 Modern mountain homes can range from a cabin in the woods to a ranch on a hill, both surrounded by picturesque landscapes and pristine wilderness. Whether you've got a cool $25 million to spend on a vacation home, or you simply enjoy gorgeous mountain real estate, this assortment of mod ranch homes is a must-see.
"Ranch properties—whether just a few acres or large tracts—give homeowners and their families nearly unlimited 'hands-on' recreational opportunities. From horses and livestock to gardens and small vineyards, these properties are homes and hobbies all wrapped up in a single package. They are also enticing to urban dwellers in the weekend home share market who are looking for fresh air and wide open spaces," says Dawn Perry, Senior Vice President, Brand Marketing at ERA Real Estate.
From rustic to modern, from Colorado to Montana, this collection of properties across the Rocky Mountain West provides some major ranch inspiration.
A Ralph Lauren-Worthy Ranch in Colorado
Price tag: $25 million
Bedrooms: 5
Bathrooms: 6.5
Don't miss the: 360 degree views of the Snowmass Ski Mountain and Wildcat Ranch, and Elk Run Ranch with 150 acres of riding trails, 4-stall Ralph Lauren-style barn facility, and state of the art riding arena. See more.
A Ranch a Stone's-Throw-from-Yellowstone Sanctuary 
Price tag: $7 million
Bedrooms: 3
Bathrooms: 4
Don't miss the: Breathtaking views of 9,000 to 11,000-foot peaks from the Absaroka Mountain Range, and the two-hundred-year-old white oak hand-hewn logs and hand forged metal hardware throughout.
A Heavenly Hideaway in Montana's Paradise Valley
Price tag: $15.9 million
Bedrooms: 8
Bathrooms: 5 Full / 7 Partial
Don't miss the: Two miles of pristine Mill Creek flow for world-class fly fishing, two vintage cabins and striking mountain views.