2 Charming Historic Telluride Cottages
Turn-of-the-century homes on East Columbia Avenue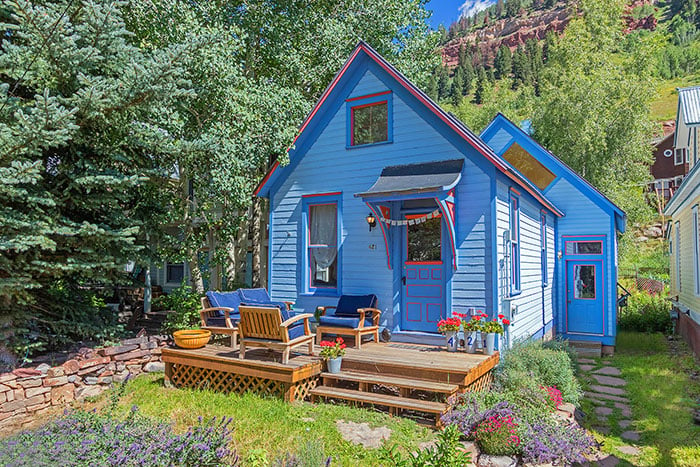 Telluride, Colorado is filled to the brim with century-old gems, adding to the community's character, as well as preserving its historic legacy. These two charming historic cottages on Telluride's East Columbia Avenue tell a quaint and simple home design story—the perfect retreats after a afternoon of hiking, fly fishing, or golfing in all that the ski town has to offer in the beautiful summer months.
A SUN-DRENCHED SPOT
This 3-bedroom, 2-bath home was built in 1899, with add-ons completed in 1988. Sitting on the sunny side of East Columbia, the cottage is designed with minimalist style and simplicity in mind. Its main aim is to bask in sunrays, great views, and the short walk to all the fun shops and restaurants in downtown Telluride.

A colorful porch greets its guests

The entryway and living room are filled with light

A brightly painted staircase leads to the upper level

A bedroom adds whimsy and pops of color to its historic frame

No opportunity for natural light goes unused on the home's upper level

The upstairs bedroom is simple, with a treetop view

On the lower level, a quaint kitchen and dining area is warm and inviting

French doors open to the back patio, complete with a small garden and hot tub
A RARE FIND REINVENTED
Located on the north end of a rare 7,000-square-foot lot in the highly desirable 100 block of East Columbia Ave, this charming historic house marries old with new. According to the Sanborn Maps, this home was built between 1908 and 1922. In 2001, the gem underwent a full renovation, led by Tommy Hein of Tommy Hein Architects. Among the update of the 2-bedroom, 2.5-bath home were: well-thought-out spaces, custom-crafted built-ins and cabinetry, stamped tin ceilings, and a commercial-grade kitchen.

The home's timeless exterior

Rustic wood finishes are found throughout the interior

The ceiling is plated with stamped tin

The historic cottage is lined with view-optimizing windows

Rolling mountains provide the backdrop for the backyard

A patio and second-story deck bring entertaining outdoors

When it's time to retreat indoors, a reading nook awaits, along with two cozy bedrooms.

See more about these two historic Telluride homes here.