You Still Have Time: Scenic Fall Destinations in Colorado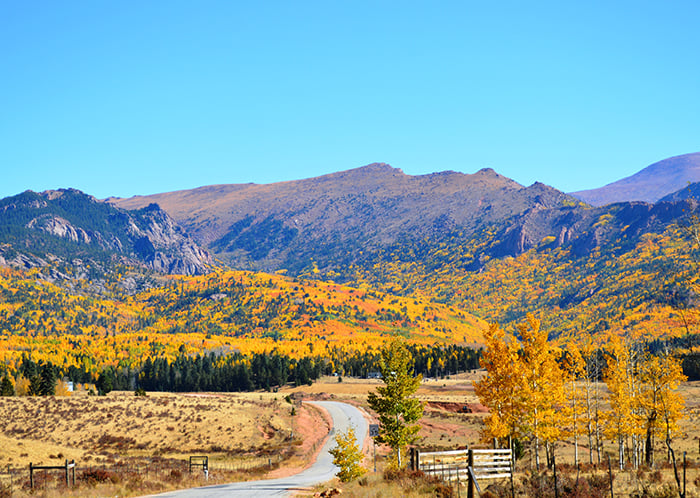 We can never predict when color will peak in Colorado and that's partly because it peaks at different times all over the state. In Denver, it's always later than at higher elevations like Leadville or Monarch Pass. However, regardless of when color peaks, the drive along these scenic routes is never a bad idea.
CRIPPLE CREEK TO VICTOR ALONG THE GOLD BELT SCENIC BYWAY:
"So close, but so desolate" is the way I would describe this area of Colorado, which is just 44 miles outside of Colorado Springs. As of September 14, the area was "nowhere close to peak color."

A grove at Mt. Pisgah [Photo by Michelle Rozell]
There are multiple drives to choose from in the area, and a simple one is Cripple Creek to Victor, a historic and extremely authentic mining town in the Pikes Peak region. Continue south out of Victor on Phantom Canyon Road and you'll eventually land in the town of Florence, Colorado. Note that Phantom Canyon Road is unpaved and narrow vehicles over 25 feet are not permitted to travel on it.
An alternative is to take Shelf Road out of Cripple Creek and drive to Canyon City. Some of it is narrow and winding with steep cliff drop-offs, but the colors and rock formations will make it worth your while.
RIDGWAY TO PLACERVILLE:

Photo courtesy of HeidiTown.com
Another one of my favorite fall scenic views is the Dallas Divide in the San Juan Mountains. You can see it in all its glory on Highway 62 from Ridgway to Placerville. There's a scenic overlook just west of Ridgway that you won't want to miss. Photographers line up here during autumn.
As of September 15, my sources in the area say that fall color is only about ten percent of the way to peak color, so you still have time to see this amazing sight.
FORT COLLINS TO STEAMBOAT SPRINGS VIA POUDRE CANYON:

Gateway Natural Area, Poudre River [Photo courtesy of Visit Fort Collins]
The stretch between Fort Collins and Steamboat Springs winds through the Poudre Canyon, up and down Cameron Pass, through the wilds of North Park and over Rabbit Ears Pass.

Cameron Pass [Photo by Sam Cox]
There are many opportunities to see the changing color along this route, and oftentimes the color in the Poudre Canyon area changes late because it's not at an extremely high elevation, and neither is Steamboat. I've seen beautiful color in Steamboat in early October and my sources in the town say that this year could be the same.
ESTES PARK TO GRAND LAKE VIA ROCKY MOUNTAIN NATIONAL PARK:

Photo courtesy of HeidiTown.com
We took this drive with my parents last fall near the end of September and it was delightful. Not only did we see fall colors, we also saw a healthy-looking coyote, lots of elk and views for miles inside Rocky Mountain National Park.

Photo courtesy of HeidiTown.com
Grand Lake is outstanding in the fall, with the emerald blue of the lake surrounded by thousands of golden aspens. One of the best views of the scenery is from the Grand Lake Lodge.
Estes Park is also gorgeous in the fall. Don't miss the elk hanging out on the front lawn at the Stanley.
MONARCH PASS, CENTRAL COLORADO:

Photo courtesy of HeidiTown.com
My research shows that this area—much of it above 11,000 feet above sea level—may have already peaked this year, but I'm including it here because it is, beyond a shadow of a doubt, my favorite autumn drive in Colorado. The entire mountainside becomes a sheet of yellow. I am convinced that it got its name because it resembles a monarch butterfly during the fall, but I can't confirm my theory. If you don't see it this year, make sure you put it on your Colorado fall drive bucket list.
DENVER BOTANIC GARDENS:

Photo courtesy of HeidiTown.com
If you don't make it to the mountains this autumn, the Denver Botanic Gardens are stunning in the fall. The gardens are one of my favorite places to take my Canon. We happened to visit during fall several years ago and now I make it a point to tell everyone about how spectacular the gardens are in September and early October.
If you visit before September 24, you'll be treated to sculptures by Alexander Calder throughout the gardens.