Wine Storage is Having a Vintage Year
From cellars tucked into mountainsides to display walls holding hundreds of bottles, wine storage has become a desirable amenity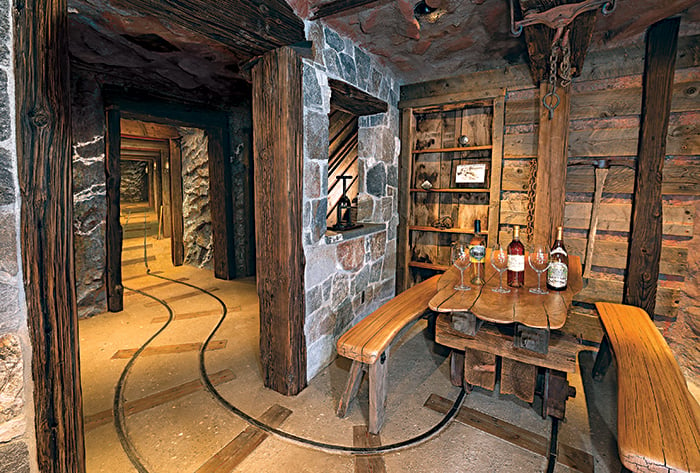 From cellars tucked into mountainsides to display walls holding hundreds of bottles, wine storage has become a desirable amenity with homeowners. Architects and builders are creating spaces large and small, above ground and in subterranean settings, for wine lovers to swirl, sip and share their favorite vintages.
Having wine storage is almost expected in luxury homes today, says Sandy Horwitz, president of Innovative Wine Cellar Designs, based in Scottsdale, Arizona. When he started his business in 2002, tradition ruled and consumers wanted wine rooms with wood storage racks and bins. That changed dramatically starting about six years ago.
"Almost everything we now do is transitional to contemporary," he says of his company's refrigerated wine walls with horizontal metal racking for bottles, which puts labels on display. "There is glass on three sides, and when it's against a wall, the back can be stone, tile or more glass. The labels are really pretty and add to the artistic value in making the wall the focal point of a room."
While wine walls can hold hundreds of bottles, larger collections pose additional design challenges. That's what led architect Eric Logan to create a wine silo for Wyoming clients. Logan, a principal at Carney Logan Burke in Jackson, describes the project as "a bit of an odyssey." With a CLB-designed home and office/shop already on the compound located in the Snake River flood plain, standard underground wine storage wasn't an option. So they came up with an innovative alternative—a three-story wine silo that holds 2,000 bottles of wine, connected to the shop via a walkway. A nod to the Western landscape, the silo features an oxidized steel-plate skin. Its concrete-filled polystyrene block insulation makes it airtight and energy-efficient as well as cool and humid, "like a refrigerator," Logan says.
Reclaimed fir warms up the interior, which is inspired by a wine cask. The wood walls showcase wine bottles on steel racks along the perimeter, and fir is also used on the treads of a spiral staircase leading to a rooftop lookout. "It has beautiful views of the Tetons with osprey that fish out of the ponds, and a resident elk herd," Logan says.
Locating the wine near a residence's cooking and living areas appeals to oenophiles who enjoy entertaining, says Tim Stone, who designed both a wine room in the main house and a nearby wine cave for a couple's home.
"They wanted to have a glassed-in wine room off the living room," says Stone, of Kelly and Stone Architects, which has offices in Steamboat Springs, Colorado; and Truckee, California.
With a glass door, tasting area, steel shelving, walnut woodwork and LED lighting, it is an inviting space. The floor is concrete tile accented with mother-of-pearl and blue glass with a grid of iridescent glass. Complementing the adjacent rooms of the home, Montana ledge stone is used on the walls.
Wine materials are also incorporated into the design of the room, which holds about 600 bottles and stays at a cool 56 degrees Fahrenheit. "They collect a lot of French and California wine that is shipped in wood boxes, so as you look through the glazed entry, you'll see one wall that is a mosaic of the wine crates," Stone explains.
The couple likes having wine handy whether they're entertaining guests or just choosing a bottle to enjoy with dinner. "Collectors like to look at their collection. They don't want it down in some dark cave out of the way," Stone says.
In the Round:

Photos by Paul Warchol
Hundreds of bottles line the perimeter of a three-story wine silo created by Eric Logan for a client's Jackson, Wyoming, compound. The walls and stair treads are made of reclaimed fir.
Bottles are within arm's reach of a spiral staircase that climbs three stories in the structure, which has a steel-plate skin.
At the top of the silo, guests can enjoy views of the Tetons.
The silo is accessed via a walkway from an office and shop.
Carney Logan Burke
​Jackson, WY
Vintages on View:

Photo by Baxter Imaging LLC
Encasing wine in glass rather than hiding it in cellars is the choice of many homeowners, who value the decorative aspects of favorite vintages as well as the ease in accessing bottles when entertaining. Systems that cool the wine and maintain proper humidity are compact and efficient, making it a convenient storage option.
Innovative Wine Cellar Designs
Scottsdale, AZ
Collector's Choice:

Photo by Tim Stone
A space that showcases wine collected on their travels was one element of the design requested by a couple for their Colorado retreat. From the leather-wrapped pull on the door to the walnut cabinetry and concrete floor flecked with mother-of-pearl, architect Tim Stone's room puts prized vintages on exhibit.
Kelly and Stone Architects
Steamboat Springs, CO
Gold Rush:

Photo by Ron Richman
Inspired by California's gold mining history, a Tahoe Donner family commissioned artist Ira Kessey to create a wine mine. He used artifacts and 400 pounds of gold ore in the project, which has storage for 1,500 bottles as well as entertaining space. A mining cart made into the tasting table sits on a steel track embedded into the floor.
Ira Kessey
Truckee, CA
SaveSave