The New West
A Sun Valley Home reinterprets Western style for a modern-minded family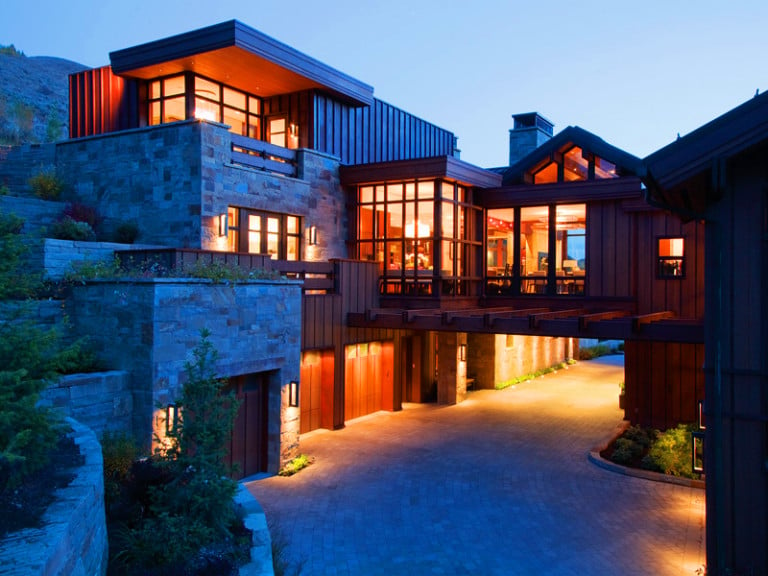 The owners of this mountain home in Sun Valley, Idaho, had a clear directive for their design team: "No antler chandeliers, no Navajo rugs, nothing really rustic," says interior designer Thomas Riker. Instead, they wanted a comfortable, family-friendly home appropriate for their three young children—but with a modern edge.
While Chicago-based Riker and James Dolenc, partners at interior design firm jamesthomas, certainly could appreciate the owners' aesthetic, they wanted to ground the home in its rugged surroundings. "We didn't want it to look harshly modern, or like it could have been anywhere. We wanted this home to feel right for its setting," Riker says. "That really forced us to think about the Western idea in a very different way."
Riker and Dolenc took cues from architect Michael Blash's contemporary take on Craftsman style, which melds pitched rooflines and thick rafters with patinated steel and floor-to-ceiling windows. Rather than drawing up one cavernous structure, the architect—based in Ketchum, Idaho—designed a cluster of five separate forms connected by glass-walled transitional spaces. "Our original concept for the structure was to create a village feel—a few buildings nestled against the hillside, which keeps it from feeling so huge and imposing," Blash says.
The interiors, too, are more intimate than the home's significant square footage would suggest. "It doesn't feel like a massive house," Riker says. "The family room is actually quite a cozy space. Nothing is out of scale or unnecessarily large."
To add warmth throughout the home, the design team employed wood and stone not only as furniture and flooring material, but also as wall and ceiling treatments. But there are no distressed ceiling beams or salvaged barn wood to be found here. The natural materials are refined rather than rugged. Custom-made cabinets and paneling feature mahogany and walnut, and modern latticework on the ceiling in the entry and master bath recall the industrial underside of a drawbridge.
Riker and Dolenc balanced the polished finishes with warmly upholstered furnishings, along with a few eclectic combinations to bring the interiors to life. In the living room, the designers paired onyx-topped coffee tables with African cup stools. In the family room, a futuristic Ellipse chair by Modernica is upholstered in an unexpected tweedy wool, and a clean-lined, custom-designed couch is wrapped in wide-wale corduroy for a "twist on rustic mountain style," Riker says.
In the entry, the designers pushed the homeowners' limits on Western design by encouraging them to buy a large-scale equestrian painting by California-based artist Ashley Collins. "They were like, 'It's a horse.' But we said, 'It's a modern horse,'" Riker explains. "It's this cool, contemporary piece of artwork, but it speaks to where you are."
They also put a modern spin on bringing the outdoors in, adding a trough of river rock under the sink in the master bath, placing a live-edge console table carved from a big chunk of tree in the entry, and filling an empty corner near a stairway with a sculptural bronze chair by Baal Creations that "looks like a dug-up boulder," Riker says.
"The home is this super-cool combination of modern and the mountains. It's so unexpected and organic," Riker says. It has all of the customary materials—stone, cedar, weathered metal—but none of the traditional trappings of Old West style. Consider this Western design for the next generation.
PUSH THE LIMITS
Every design project has its boundaries and limitations—and that can be a good thing. Restrictions can force you to be efficient, to refine your choices and to get creative.
Architect Michael Blash faced limitations when designing this expansive Sun Valley home, situated alongside a hiking trail and in close proximity to a historic ski lift. But rather than viewing the restrictions on height and building placement as impediments to the design process, Blash created solutions to address them and then worked
backward, using those solutions as inspiration for other aspects of the home's design.
For example, to keep the building within height limits, Blash had to create a flat roof over the master suite. That horizontal plane was then echoed in a roof over lower-level living spaces, as well as in the adjacent terraced landscape, which steps away from the home and down toward the driveway. The horizontal rooflines give the otherwise peak-roofed residence a contemporary edge.
INTERIOR DESIGN Thomas Riker and James Dolenc, jamesthomas, LLC, Chicago, IL, 312-738-7300, jtliving.com ARCHITECTURE Michael Blash & Associates, Ketchum, ID, 208-726-1414, michaelblashandassociates.com LANDSCAPE ARCHITECTURE Terry King,  terry@terrytking.com, terrytking.com BUILDER Jim Bishop, Bishop Builders, Ketchum, ID, 208-726-9717, bishopbuilders.net LANDSCAPE CONTRACTOR Webb Landscape, Inc., Ketchum, ID, 208-726-4927, webbland.com MASONRY The Gallegos Corporation, Glenwood Springs, CO, 970-947-0217, gallegoscorp.com CABINETS AND WALL PANELING Kevin Werbinski, Milligan Millworks STEREO Home Media, Ketchum, ID, 208-725-0075, homemedia.net ARCHITECTURAL CONCRETE Cliffhangers Decorative Concrete, Sun Valley, ID, 208-788-4196 WOOD Bill Amaya, Cimarron Lofting Inc., Hailey, ID, 208-578-0218, idahostairbuilder.com METAL Dennis Proska, Blackrock Forge, Pocatello, ID, 208-775-4975 LIGHTING DESIGN Collaboration between Michael Blash & Associates and Hefferan Partnership, Boulder, CO, 303-447-3566 MAIN STAIR LIGHTING FIXTURE Charles Loomis, Kirkland, WA, 425-823-4560, charlesloomis.com LIVING ROOM COFFEE TABLES Daryl Table with white onyx top, available at Bradley Hughes, Atlanta, GA, 404-814-9595, bradley-hughes.com STOOLS African Cup Stools by Chista, New York, NY, 212-924-0394, chista.net CHAISE Leigh Chaise by Troscan Design, available through Holly Hunt, Chicago, IL, 312-733-0158, troscandesign.com RUG Tempo Stone by Tufenkian Artisan Carpets, available through Oscar Isberian Rugs, Chicago, IL, 312-467-1212, tufenkiancarpets.com DINING ROOM LIGHT FIXTURE Pagani Studio, Brooklyn, NY, 718-246-5206, paganistudio.com TABLES Eurocraft custom furniture, available through jamesthomas, LLC, Chicago, IL, 312-738-7300, jtliving.com CHAIRS Lanai chairs by Janus et Cie ("Barcelona" lounge chair), available through Janus et Cie, Chicago, IL, 312-822-0460, janusetcie.com OFFICE WALL SYSTEM/BOOKCASES Manufactured by Porro, available through Luminaire, Chicago, IL, 312-664-9582, luminaire.com HALLWAY BRONZE CHAIR Cote d'Or chair by Baal Creations, available through Nusa Furniture, Los Angeles, CA, 323-937-7055, nusafurniture.com MASTER BEDROOM LOUNGE CHAIR Stop Club Chair by John Hutton, available through Holly Hunt, Chicago, IL, 312-329-5999, johnhutton.com MASTER BATHROOM LIGHT FIXTURE (above tub) Aqua fixture by JGood Design, New York, NY, 212-475-0479, jgooddesign.com POWDER ROOM SCONCE Alex Sconce (#9010) by Fuse Lighting, Los Angeles, CA, 310-652-2411, fuselighting.com