The Layered Look
A spacious home with spectacular Aspen Valley views gains a sense of intimacy through a rich mix of subtle luxuries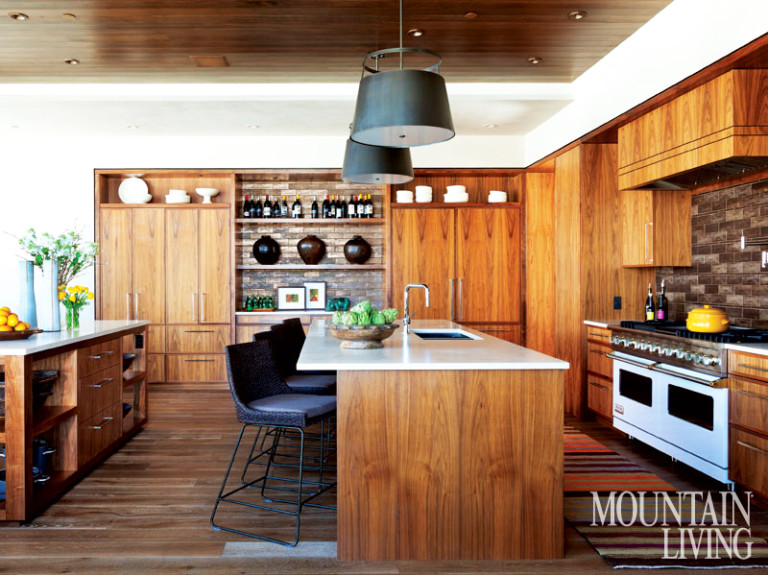 From the start, this Aspen home was literally soaring in its aspirations: Perched high on a mountainside and jutting into the air from its steeply sloping site, the sleek and spacious contemporary structure, designed by architect Doug Rager, features sweeping walls of glass displaying breathtaking views of peaks and valley from virtually every room. So the challenge facing interior designers Andrea Lawrence Wood and Colin Griffith, former partners in the Denver-based firm of Griffith Wood, was not so much to amp up the sense of awe the home already evoked so effortlessly, but rather to complement that mood with finishes and furnishings befitting the home's surroundings.
Their design solution may at first seem counterintuitive. Instead of choosing furniture and accessories with a grandeur to match that of the Rockies, they opted for an air of subtlety, adding layers of natural materials and decorative touches that, says Wood, "make every room feel warmer, more welcoming and more comfortable."
They began with the walls. For the home's public spaces they employed a two-coat plaster treatment that incorporated tiny shards of mica, resulting in a handcrafted look that sparkles slightly when the light is just right. "Plaster also absorbs sound more effectively than drywall," adds Wood, noting how much more substantial this effect feels. For the home's bedrooms, the designers selected a wallcovering made from knotted hemp fibers that looks at once luxuriously textured yet humbly handmade. "It lends a real, approachable, unpretentious feeling that is very welcoming," Griffith explains.
The home's floors received similar attention to detail. Instead of walnut, the material of choice for many mountain homes in the area, the designers opted for wide-plank French white oak in most of the public rooms and the master bedroom, rich Colorado buff sandstone in the entry foyer and cool Euro Cream limestone in the master bathroom and kitchen.
Next, the duo deployed lighting to enhance the home's human scale, selecting beautifully
crafted fixtures of natural stone, hand-blown glass, bronze and other textured materials to
bestow a unique personality on each area they illuminate. "In rooms that have a large volume," says Wood, "we like to use a lot of ceiling pendants to create a lower layer of light that makes the spaces feel more intimate."
The furniture the designers helped select complements the home's finishes and views. Their vision: modernist pieces with clean, understated lines, epitomized by the dining room's classic chrome-framed Midcentury Modern seats by Marcel Breuer. Here too, they subtly customized the look, upholstering the chairs with hair-on horsehide and gathering them around a custom-made Balinese table with petrified wood bases and an ironwood top. To balance any sense of too-glossy newness, they added a few carefully chosen antique pieces throughout the house.
Wood and Griffith took extra care to include thoughtfully chosen personal touches as well. From the polo gear displayed in the foyer in honor of two grown children who love equestrian sports, to a freestanding tub in which the owners can soak while taking in the views, to a small powder room that dazzles with the designers' own backlit zigzag pattern of glass tiles, the house brims with deft little details that bestow as much pleasure as the spectacular mountainscape just outside.
Layering on the Luxury
Interior designers Andrea Lawrence Wood and Colin Griffith share some subtle ways to add layers of luxury to any home.
EMPLOY TEXTURE  "Textured wallcoverings don't make themselves known in a big way," says Wood, "but you're nonetheless aware of them. And they're classic, tasteful and never go out of style."
EMBRACE IMPERFECTIONS  Natural materials, notes Griffith, often contain tiny flaws that quietly convey their origins, such as the way this home's lengths of woven wallcovering don't align perfectly. "Imperfections like that can really make the space feel more handcrafted," he explains.
OPT FOR CLASSIC FURNISHINGS  "I think strong, well-designed forms can be very important for a sophisticated look," says Wood. Adds Griffith, "Not every piece needs to be a statement piece."
ADD A SUBTLE SENSE OF HISTORY  Thoughtfully chosen touches like a few well-placed antiques or some faded vintage rugs can add points of interest and personality to any home.
ARCHITECTURE Doug Rager, Snowmass, CO, dougragerarchitect.com INTERIOR DESIGN Andrea Lawrence Wood, Andrea Lawrence Wood Interior Design, Denver, CO, 303-333-0599 and Colin Griffith, Griffith Interior Design, LLC, Denver, CO, 303-945-1212, griffithid.com