The Design Must-Have for the Luxury Lodge Aesthetic
These hand-knotted Tibetan wool rugs pay gorgeous homage to alpine surroundings—the perfect choice for a high-end mountain retreat.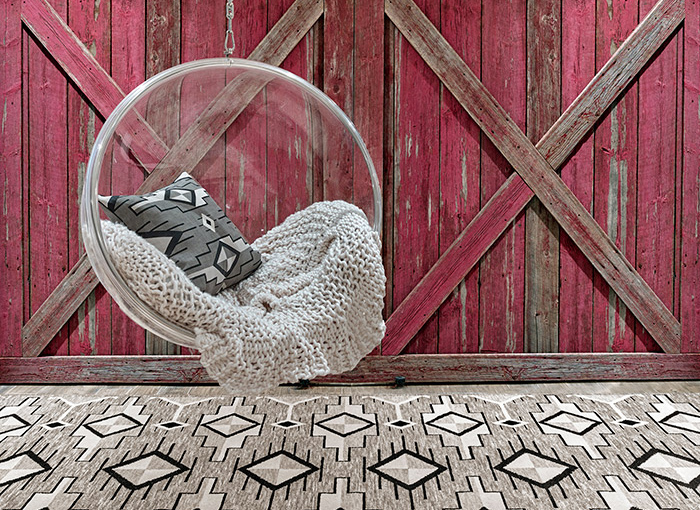 There is something extra magical about living in the mountains—from the Rockies to the summits of Tibet. When you peer out your window, you're met with an undiscovered world where everything around you feels bigger, somehow wiser, and in more technicolor; the fall is more vivid, the spring brighter, the summer more golden. This setting drives a deep, soulful connection to nature—one that is not quite captured by city life—and serves as a reminder of humanity's roots. You stand in awe of this mountainous beauty and hope to honor it in some way.
Enter: thoughtful, nature-inspired home design. Mountain architecture allows you to maximize your views of such breathtaking surroundings, and mountain-home interior design is the punctuation to this experience, a way to connect to the broader picture and invite this magical essence indoors. We like to call this style "luxury lodge."
At the heart of the luxury lodge design aesthetic is a desire to balance the interiors of the home with the majesty and beauty of what is right outside the window—never competing but always working in harmony between the two spaces. The natural materials and traditional construction of Tibetan rugs allows them to become artful anchors to a contemporary mountain design aesthetic. An added bonus? They are built to stand up to generations of use.
These Tibetan wool rugs do just that. While they were hand-knotted half a world away, their alpine influence translates seamlessly to the Rocky Mountain West. Traditions of the past meet modern needs for quality, beauty, and comfort in their unique and timeless designs, inspired by global motifs with a mid-century flair. Woven by hand with the finest Tibetan wool using a vegetal dye blend, the following rugs are natural in every sense of the word, developing their own patina and shine with use—the perfect choice for a mountain modern aesthetic. Have your pick.
And perhaps the best part about these rugs: They're crafted with socially responsible business practices. Timeless style with a side of integrity? Yes, please. An homage to Mother Nature, indeed.
Erika Kurtz is Designer and COO at New Moon Rugs, a small, family-owned company dedicated to the highest standards of responsible design and workmanship. View their profile or contact Erika at 302.654.0442.
Content for this article provided by New Moon Rugs.