Rod Refinement
John Hollifield's bamboo rods are almost too handsome to use...almost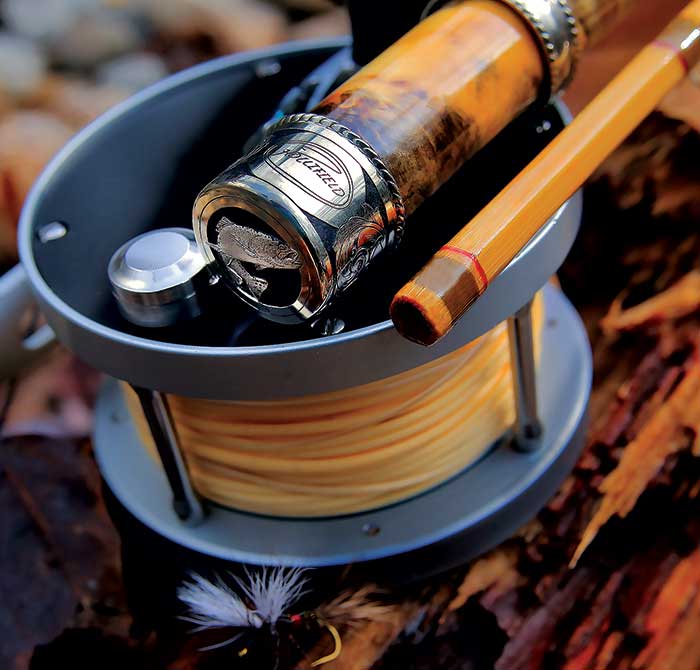 In his basement workshop in the mountains of North Carolina, John Hollifield makes bespoke bamboo fishing rods the old-fashioned way—entirely by hand. Construction of a rod can take a week, or it can take several weeks. The engraving takes from three weeks to a month, depending on the intricacy of the design. "I don't put a clock on it," Hollifield says with a gentle, distinctly Southern accent. His goal is not to see how fast he can make a rod, because he knows that given the proper care, a bamboo rod can last several lifetimes. "I often fish with a rod that's a hundred years old," he says.

Hollifield has won numerous awards for the images he engraves.
"I learned to fish at my father's right-hand side," notes Hollifield, who started fishing when he was eight years old and began tying trout flies about the same time. Even as a lad, he enjoyed making things by hand.

Largely self-taught—in rod making and in fine engraving—Hollifield says that, basically, he takes a few lessons on fundamental techniques, buys the equipment and sequesters himself in his shop "until the wee hours of the morning, practicing my trade."
Now, working with strong and flexible Tonkin cane that grows in the silica soil and windy conditions of China's Guangdong Province, Hollifield creates one-of-a-kind rods for avid fly fishers. "The first discussion I have with prospective clients is where will they be fishing," he says. He has made 2-weight rods (perfect for landing brook trout in small mountain streams), 10-weight rods for catching feisty salmon, and "everything in between."
Why fish with bamboo? Because a bamboo rod is more forgiving and you can be more relaxed with it. "You can feel the line pull against the rod on both the back and the forward cast," says Hollifield, who is a certified casting instructor with the Federation of Fly Fishers.

Working in his 25-by-15-foot studio, Hollifield splits the strong and flexible Tonkin cane in preparation for building fly rods. Every bit of the work is done by hand.
In the past few years Hollifield has won numerous awards for the images he engraves on the reel seats, ferrules and butt ends of his custom rods. Using a hand-held, air-assisted engraving tool and a stereo microscope, he carefully cuts away tiny slivers of metal, some thinner than a human hair. "Yes, it takes a long time, but I am not finished until I am satisfied that I have done the best I can do," he says.
One of Hollifield's rods, called "Teton Catch," won Best of Show at the 2018 Western Design Conference in Jackson Hole, Wyoming. Hollifield makes seasonal trips to fish the fabled rivers of the West, including the challenging Henrys Fork of the Snake River and some of the smaller freestone streams in Wyoming.

The engraving on the reel seats, ferrules and butt ends (above) of Hollifield's custom rods can take from three weeks to a month, depending on the intricacy of the design.
Each Hollifield rod is finished with spar varnish. "It is a durable and supple finish with a high resistance to ultraviolet light," he explains. "That's why it is used on wooden boats." Still, if you've been fishing in the rain, Hollifield recommends thoroughly drying your bamboo rod with a soft cloth before storing it. His wife, a retired home economics teacher, makes canvas rod bags to fit the rods. Top-end models come with custom leather cases, handmade by a retired saddle maker in Calgary, Alberta.

For high-end rods, Hollifield offers a 24-karat gold inlay, as well as sterling silver. A retired Canadian saddle maker (in Calgary, Alberta) makes the custom leather rod cases.
Basic rods start at $2,900. Engraved rods can cost upwards of $6,000. hollifieldbamboo.com