Modern by Design
A classic creation provides the perfect frame for an Aspen couple's contemporary art collection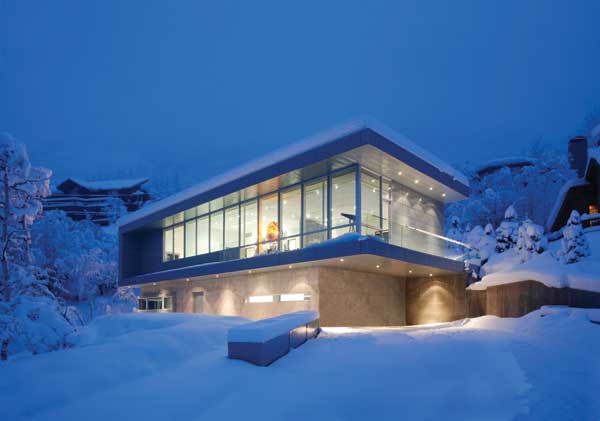 Upon entering the three-story, 6,000-square-foot Aspen residence of Dennis and Debra Scholl designed by Studio B Architects, it quickly becomes clear this is no ordinary home. Instead of flowing window treatments and plush designer carpets, visitors come face to face with intense and thought-provoking works of art. Longtime supporters of the contemporary genre, the Scholls are passionate about their art, which they've been amassing for 31 years, and have gone to great lengths to not only collect and display the work, but also to share it with the world. Pick up a copy of the January/February 2010 issue of Mountain Living to see how the couple worked with Studio B Architects to bring art into their home in dynamic fashion; here, read the story of how they showcase another sophisticated passion: wine.
Of Art and Wine
It all began with a bold idea. Richard Betts, a Master Sommelier, conceived the idea to create a new wine using the underappreciated Grenache grape from Australia. Betts knew that with his sensitive palate and Dennis Scholl's business acumen, he could create an award-winning wine to rival all its competitors. Launching Betts & Scholl in 2003, the duo began producing highly acclaimed wines that have taken the wine world by storm.
"I took a chance on this venture because I always bet on people," Scholl explains. "I knew Richard was a savant when it came to wine; he has one of the best palates in the world, with the ability to taste wine while blindfolded, detail where it came from and in what year it was made. He has a great gift. My only question was, 'can he make great wine?'"
Six years and nine varietals later, not to mention numerous awards and Wine Spectator's coveted 90-plus points rating, Scholl's question has been answered. Today, his goal is to make great wine less intimidating and more accessible to even the most modest consumer. "Wine is supposed to be fun," Scholl says. "It's not a luxury to be enjoyed only on special occasions. Wine should be a staple, like salt or pepper, that is naturally placed on the table at every meal."
Betts & Scholl has allowed Dennis to pair his passion for wine with his other passion, for contemporary art. Relying on his relationships with numerous artists, Scholl commissioned works by a select few to grace the labels of his wines. "We weren't sure how the artists would react to our request, but we soon learned that artists love the romance of wine, so they were prepared to try many different things for us," he says. "Some of the best contemporary artists in the world created drawings, sculptures and serigraphs that now grace our bottles."
At home, Scholl's collection of wine resides in his sub-grade wine cellar just off the gallery. Precisely sculpted of glass and aluminum frames, the cellar has a contemporary edge that easily complements the art beyond its door. With a bottle capacity in the thousands, the cellar offers plenty of room for Scholl to add to his collection, as well as his personal repertoire. "When Richard and I first started this venture, we decided we would make a lot of wine, and if no one liked it, we would just drink it ourselves," he says. "Luckily, our wine has been a great success, though we never pass up the opportunity for a sample."
Learn more about Betts & Scholl wines at www.bettsandscholl.com.