Keeping It Wild
A Colorado ranch is designed to live lightly on the land in a remote mountain valley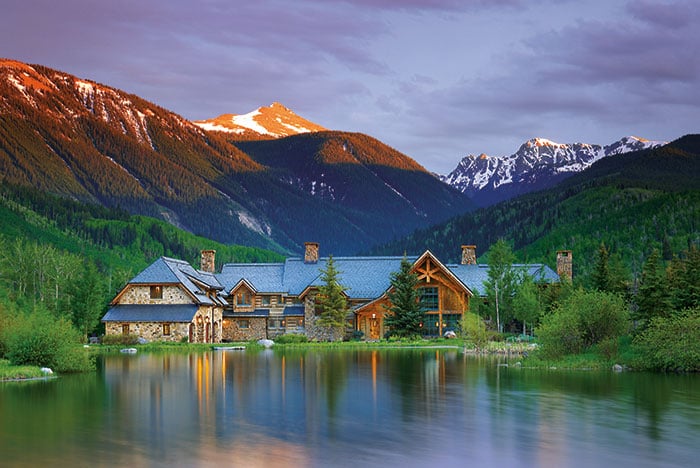 A winding road climbs through pine forests and groves of aspen until it crests a hill—a moraine left after glaciers receded millions of years ago. From this vantage point, the West Lake Creek Valley unfolds below with the snow-capped peaks of the Sawatch Range looming large in the background.
"The moment we drove over that hill, we knew this was the place for us," says Cleon T. "Bud" Knapp. "It took us a less than a nanosecond to say 'yes.'"

Hand-adzed square beams frame the view into the dining room in the main lodge. The wrought-iron light fixture is adorned with wildlife and tree silhouettes. [Photo by David O. Marlow]
This pristine valley—at 9,000 feet in the heart of the Colorado Rockies, just 20 minutes from Vail but virtually untouched—was to be an Olympic Village, but after Colorado voters turned down the 1976 Winter Olympics the project was abandoned. The property stayed mostly wild—the habitat of mountain lions, mule deer, bear, beaver, red fox, coyote and the occasional moose.
"We were enthralled by the beauty and the openness of the land and wanted a home that would sit lightly on it," says Bud. He and his wife Betsy dreamed of a home—several log cabins—that looked 100 years old and that would last at least 100 more.

Framed using a traditional French technique introduced by fur trappers, the Anglers Cabin was built pièce-sur-pièce à coulisse (to slide one piece on top of the other). The front porch provides comfortable sheltered space for enjoying the outdoors. [Photo by Todd Winslow Pierce]
Bud and Betsy Knapp's vision was inspired by three things: the ruins of a 19th-century miner's cabin that still sits on the property, the National Park lodges of the early 20th century ("Parkitecture") and the rustic structures built by the Civilian Conservation Corps during the 1930s Great Depression. "We also tore pages out of countless design magazines, including our own," recalls Bud, who was the publisher of Architectural Digest.
Vail-based builder George Shaeffer, of Shaeffer Hyde Construction, recalls sitting with Bud on the side of a hill, chewing on blades of grass and hearing Bud say that stewardship of the land and preserving nature were the primary considerations of this project.

Guests enter the main lodge compound over a rumbly bridge, passing through a rough stone-surfaced tunnel. [Photo by Todd Winslow Pierce]

Even the wayfinding signs at Knapp Ranch have been carefully crafted to be unobtrusive. [Photo by Todd Winslow Pierce]
Bud challenged the team—from the architect, builder and interior designer to the iron forgers and stonemasons—to give up their polished ideas of building in the 21st century. He asked them to envision themselves as 19th-century settlers and to produce the most beautiful things they could fashion by hand. Authenticity was the project's driver.

Tucked into a valley with No Name Peak glowing above it, the main lodge of Knapp Ranch offers privacy and serenity. The lake at eye level has an infinity pool effect. [Photo by Todd Winslow Pierce]
"Betsy thought it would be interesting to re-create the evolution of the different architectural styles that were brought to the American West—beginning with the trappers and miners and ending with the ranchers," says Bud. So, each cabin and lodge has a story. Silver Sal, for example, an authentic reproduction of a miner's cabin, is small with a sod roof. It was named for Bud's indomitable mother, Sarah "Sally" Brasfield. The Macpherson Cabin, named after a Scottish clan on Betsy's side of the family, features sophisticated stonework (including a fireplace with a massive sandstone mantle), burled "character" logs and decorative hand painting on cabinetry, ceilings and the front door.

A light-filled kitchen, flanked by a band of windows, is connected to the porch by a Dutch door; a broad sandstone-topped island is the room's focal point. [Photo by David O. Marlow]
Although the buildings' plans were drawn by architect Gordon Pierce of Resort Design Associates, the Knapps were clear that the structures shouldn't look "designed." Rather, they should seem as though they had been constructed by 19th-century artisans and craftsmen using the tools and materials available to them.

Despite its rustic appearance, the cabin's interior is elegant and comfortable, harkening to a previous time with wide-plank floors and iron-and-wood furniture. [Photo by David O. Marlow]
"A lot of thought, research and discussion went into what the settlers would have brought with them when they came to Colorado," says Kari Foster, of Denver-based Associates III Interior Design. The antiques that she and Betsy Knapp chose and polished with beeswax are "well-loved and lovingly made by hand." Fabrics are natural—homespun, linen, cotton, flax and quilts of the era ("nothing made after the 1920s").

The guest bedrooms are influenced by the original homesteader's English roots, with hand-plastered walls, exposed timber frame beams and window alcoves. [Photo by David O. Marlow]
The building project lasted five years, during which the Knapps lived in a Minnie Winnie RV and conducted their business from a telephone attached to a pole in the middle of the job site.
As their passion for living sustainably grew, the Knapps began raising honeybees and experimenting with organic, high-altitude agriculture. Wanting to carry their vision forward, they established the Knapp Ranch Foundation as a living laboratory for horticulture, land management, conservation and climate science. "Betsy and I built this place to encourage innovation, creativity and industry," says Bud, "and we are forever committed to accepting what Mother Nature gives us rather than taking from Mother Nature."

A claw-foot tub in one of the two master bathrooms is positioned near the corner windows to take in the view. [Photo by David O. Marlow]
Traditional Craftsmanship in Your Home
Knapp Ranch's all-star design team along with owner Bud Knapp offer tips about how to incorporate handcrafted beauty into a home: 
If you can afford only one handmade element, budget for the objects you touch every day—like hand-forged door handles, drawer pulls and cabinet pulls. Use wood of varying lengths and sizes for floors and cabinets. It's what 19th-century craftsmen would have done. Expect traditional building methods to take time—custom ironwork and hand-carved stone offer a sense of uniqueness but often require the presence of skilled craftsmen on the job site. Build green by including handcrafted products—work done by hand uses less energy than work done in a factory. Celebrate the beauty of imperfection. Understand that anything made by hand may not have the standardization of factory-made products.
For more on the Knapp Ranch project, read Living Beneath the Colorado Peaks: The Story of Knapp Ranch (written by Sarah Chase Shaw with photography by Todd Winslow Pierce), 282 pages, $70, The Knapp Press, 2018. 
DESIGN DETAILS
ARCHITECTURE Resort Design Associates INTERIOR DESIGN Associates III CONSTRUCTION Shaeffer Hyde LANDSCAPE ARCHITECTURE Rick Lamb Associates
As seen in the September/October 2019 issue